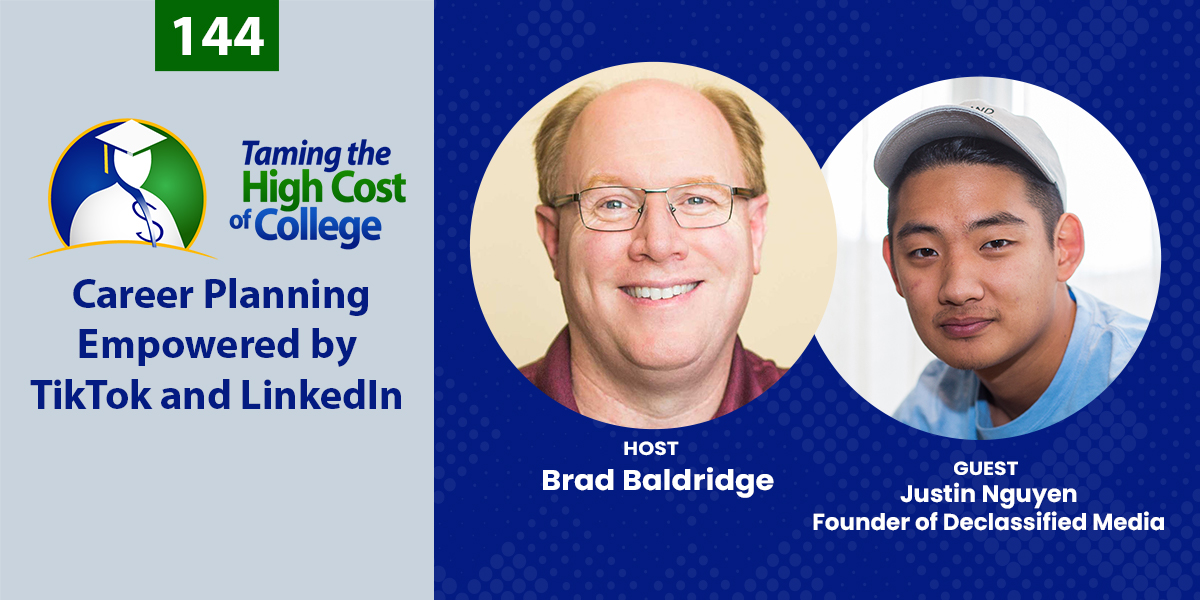 ---
Today's Guest:
Justin Nguyen, founder of Declassified Media
Justin is on a mission to educate younger audiences about the importance of career planning, and he's doing it in ways that younger people understand. The biggest platform he uses to share his advice is TikTok, where he has over 250,000 followers.
Justin also manages Declassified Media, which he calls "the BuzzFeed of career education." It's a website that releases news about career-related subjects for millennials and Gen Zs.
Justin hosts a podcast called Declassified College. It's a college and career podcast that aims to get the perspectives of students from different universities across the world as well as professionals from various industries.
Questions Answered Today:
How is this 'edutainment' from TikTok and YouTube different from what I typically see on Facebook?
Edutainment, which is short for educational entertainment, has made noise over time because it can be easily accessed by younger audiences. Unlike before, where kids watched educational content on TV, there's almost no limit to the content that kids can access using their phones today. Content creators usually use TikTok or YouTube for their edutainment content.
It pays for parents to be attentive to what their kids follow online to see if it's appropriate. This could also be a perfect opportunity to see if parents can learn alongside their kids.
Edutainment, which garners hundreds of thousands of followers (if not millions) provides information that may be credible or not. What's for sure is they present information in a way that younger audiences will patronize.
Some edutainment content focuses on topics such as finances and career readiness, which can be helpful for students gearing toward college preparation.
When's the best time to think of my student's career?
For Justin, the best time should be no later than freshman year in college. Justin notes that this doesn't mean knowing exactly what the student wants to do but at least having options to choose from.
Statistics show that there's a good chance a student won't be practicing their degree in college, so it's understandable to be unsure, but it's important that the student try to think of their future.
If the student keeps on saying and thinking that they don't know what to do, they will probably reach senior year with nothing in their resume. Here are some ideas for those who are saying they don't know what they want to do:
Try crossing things off a list. This can at least tell you what you would not want to do.
Build a spectrum of different experiences in the student's resume.
Justin remarks that these strategies would be beneficial as skills gained from jobs and internships are applicable for many entry level jobs.
What's the best way to communicate to my student about finances and their career?
Pay attention to the resources they use for learning.
Don't just speak numbers. Your kids probably won't understand how big $25,000 is. They might get it if you quantify it in a way that they can grasp, such as:
'That's more than 7,000 cups of Starbucks'
'That's a year's worth of rent'
Ask hyper-specific questions—they show that you're truly interested and that you care. For Justin, asking broad questions such as "What do you like to do?" will only result in the student being unable to answer. Specific questions like this will promote more genuine answers:
Have you ever looked into working in sports (granting the student is into sports, of course)?
Brad also recommends that parents introduce their students to professionals that parents know. Opportunities to shadow a certain professional or opportunities to ask questions can go quite a long way.
How can my student use LinkedIn to their advantage?
These days, a good GPA and a good resume are not enough. A college degree no longer guarantees a good job. Justin himself can attest to this, after submitting around 50 applications and not even getting a call back. Justin had to use a friend's referral in order to get an interview.
What Justin found out is that the key is connections. It's great if parents can introduce their kids to other professionals in the industry, but how about for students who don't have those kinds of parents?
That's when LinkedIn comes into play. It's possible to start from zero to tens of thousands of followers and connections as Justin did it.
What's the trick? While you're a student (15 to 20 years old), connect to as many professionals as you can. Here's why:
If you connect early, many professionals are willing to help you. They're more open to providing advice and assistance as they see it as help to someone starting early on in their career.
If you're past that age, when you connect to professionals, people think you're selling something.
Note: Not many students know this about LinkedIn, so be sure to help them and encourage them to take advantage of LinkedIn in the best phase of their lives.
---
Links and Resources
Helpful Articles and Resources
Justin Nguyen's Contact Info:
---
---
THANKS FOR JOINING US!
We'd like to extend an invitation to our listeners to share their feedback and questions. Contact us to submit a question.
If you find our podcasts helpful, please share us on social media and tell your friends!
The bottom line is that we care what you think and want to help you out, so we'd appreciate you reviewing us on your favorite podcast platform. Even better, receive automatic updates by subscribing to the show through your preferred podcast service.
Brad Baldridge
Today we're going to learn about what our students are doing online. Things like TikTok and LinkedIn and how they can use them to their advantage.
Presenter
You have kids, they grow up and before you know it, it's time to plan for college. Where do you start? How much is it going to cost? Will you qualify for financial aid? Should you be looking into scholarships? When will you be able to retire? What about student loans? The list of questions is never-ending. The good news is all the answers are right here. Welcome to the Taming the High Cost of College podcast. Here is your host, certified financial planner, Brad Baldridge.
Brad Baldridge
Hello and welcome to Taming the High Cost of College. I'm your host Brad Baldridge. Today we have a great interview with Justin Nguyen. He's a Gen Z expert. He's out there providing content that our students are pursuing and learning about how to network, how to use LinkedIn, how to pursue jobs. He's providing a lot of great information, but he's providing it on the new platforms, TikTok and other locations where our students actually go. Facebook is the location where we go as parents. But as we've all learned, right, most of our students choose to go to TikTok and other, Snapchat, and other places because Facebook is where the old people are. But Justin is working in TikTok and LinkedIn and other places and providing good information about pursuing careers and how to network and that type of stuff. Again, where our students are. So if you want to check out some of Justin's stuff, what I recommend of course, is perhaps you get your student to show you what's going on on TikTok and go to his location on TikTok. Again, I'm not even sure what that means. I don't use TikTok all that often. Alright, let's go ahead and jump into the interview. Today I'm talking with Justin Nguyen. He's the founder of Declassified Media. Welcome, Justin.
Justin Nguyen
Hey, how's it going? Excited to be on the show.
Brad Baldridge
Yes. So can you tell us a little bit more about what Declassified Media is about and why you got involved?
Justin Nguyen
Yeah, totally so declassified media, you can think of this as like the BuzzFeed of career education. So the same way that BuzzFeed made news cool for millennials, we're looking to make topics around career-related stuff like LinkedIn and resumes interesting so that students actually pay attention to it and they can graduate with jobs. So we've been doing that on TikTok, with our podcast, Declassified College, and numerous other mainly social media platforms. And we're hitting around like we've got around 300,000 followers that are mostly students across those platforms, and reaching millions every month.
Brad Baldridge
Wow, that's fantastic.
Justin Nguyen
Thank you.
Brad Baldridge
As you're working with this now, you mentioned you meet a lot of college students. So can you tell us a little bit more about what the college students are looking for when they're or what you feel like they're looking for what they're telling you they're looking for when they're coming to you?
Justin Nguyen
Yeah, I mean, I think a lot of our audience is college students, of course, but also a lot of young high school students, too. It actually was really interesting. On my end, when we started interacting with some of them, we're talking with freshmen, sophomores and juniors in high school. And I was just like, 'You guys are way ahead of the curve in terms of if you're thinking about how to navigate college and you're paying attention to our stuff.' The biggest kind of concerns is very stereotypical of young people. And what I mean by that is, a lot of them just feel lost, and they feel a lot of pressure to have to take that next step. And like figuring out what that major is, figuring out what that internship is, figuring out what that job opportunity is upon graduation. Like I remember talking with freshmen and sophomores in high school, where they felt like they were going to be failures, because they didn't have an internship on their resume yet. And a lot of my sort of explanation to them was like, 'Hey, if you're thinking about internships, when you're in high school, you're probably going to set yourself up for success in the future. All because you don't have something right now, is like most kids don't even think about internships in high school. And you're probably way smarter than you're giving yourself credit for.' So I think a lot of it is just self pressure through a lot of the stuff that Gen Z is seeing online, and especially through their influencers and creators that they're following.
Brad Baldridge
Right, absolutely. So let's talk a little bit about that. Because I think a lot of parents are a little, I know I am as a Gen X and a parent of a number of Gen Z students, I mean, they spend a lot of time on TikTok and Discord and video games and all that kind of stuff. But it sounds like obviously, you're providing content that has some value. So how do we know, tell a parent what you think they should be concerned with and what they shouldn't be concerned with and explain what's going on?
Justin Nguyen
Yeah, I think when it comes to trying to understand what content your students is paying attention to, is going to be really tough, right? Because when I was growing up, I'm like Gen Z, I'm like the first round of Gen Z. So I still had TVs and those watching on TV and stuff growing up. So like if you're watching stuff on TV, and that's very easy for your parents to come in or go downstairs to wherever the TV is, and be like, 'Hey, turn off South Park, or turn off Family Guy,' or whatever it is, because you can easily see that. But nowadays, kids have iPhones, they've got the AirPods, and you can't even hear what they're saying. And they're probably turning their screen away from you. You can't really tell what they're watching. So I would just see if there's ways to have open conversations around like building relationship with your child to see what they're actually watching, like, who are the creators that they're paying attention to? Are they watching the Mr. Beast of the World? Are they watching ASMR content? Are they watching DIY content, like all of these different sort of niches in the world of content for Gen Z, there's so many things out there, that I'm not going to put a blanket statement of saying like you need to pay attention to XYZ, I think it's more of having an open conversation of like, 'Hey, like, who are some of the creators that you're following? Maybe I can take a look at their content, just to see if that's something that I would either approve, or like, maybe even watch with you.' Because that's the same thing of Mr. Beast is now the new Disney Channel or the new Nickelodeon the same way that I would watch those growing up, but on a TV, and now your kids just have that on their phone.
Brad Baldridge
Right. So they're looking for entertainment, but it sounds like they're also potentially looking for information and help as what you're providing, right? I mean, you're you're putting it out there on TikTok. So, as an example, so they could be consuming career advice. And parents wouldn't even know it.
Justin Nguyen
Exactly. Right. So we've got over 250,000 followers on Tiktok. Again, we've done that with zero dancing, you will not see me dancing on the screen. A lot of it is like voiceovers and educational content. And a lot of parents especially don't realize that there is so much educational stuff out there. And there are creators that are happy that have hundreds of thousands, if not millions, upon millions of followers that follow their stuff, like somebody that you might relate to, because I looked up your LinkedIn profile, a little background to see where you're coming from, you deal a lot in like the financial services space
Brad Baldridge
Right.
Justin Nguyen
And there are creators out there that aren't financial advisors, but create finance related content on places like YouTube, where some of their stuff is credible. Some of their stuff is not that's kind of up to debate. And obviously, they don't have to deal with SEC restrictions there. But they have created these huge audiences because they're providing typically good financial knowledge and education out there. So I think that's where education and what does sort of term is coined, 'edutainment' really plays a role of being able to not just have great knowledge what to say, but finding an interesting way that encapsulates the audience that's watching them to actually pay attention to it.
Brad Baldridge
Right. Now, do you feel like the content that's being consumed by the typical high school and college kid is created differently? Or is it just served up on different platforms? In other words, is what's on TikTok and whatever other new locations? Is that stuff? Pretty much the same stuff that used to be on YouTube or on Facebook, with the parents is just put on a platform that the kids use? Or is it actually written or created differently?
Justin Nguyen
In my perspective, I think it's written and created differently, right? The same way that a YouTube video is very different than any TV show is the same way that a TikTok is very different than a YouTube video, I've done a lot of research just because of course, this is kind of the space that I play with. And I would encourage anyone who's interested in actually diving deeper into that to look up any Mr. Beast interview. So Mr. Beast, for those who may have not heard of who he is, he's probably the biggest US-based YouTuber and probably like top five in the world right now. Pretty much every video that he releases gets over 50 million views, which is absolutely insane. But the way that he talks about content is if you're watching a, let's just say, a show on, I don't know, Disney Channel or something, right, the scene might cut every 30 seconds to 60 seconds or something like that. In a Mr. Beast video, there is something going on and the screen is transitioning, a new characters being introduced, a giveaway is happening every three to five seconds. And that is, the reason that he does that is to keep your attention. And the reason that he wants to keep your attention is because unlike TV where it doesn't necessarily matter if you click off to the next channel or whatever, with YouTube, if someone clicks off your video, that means that you rank less than the algorithm, which means that you get sent to less people. So all YouTubers and all TikTokers are trying to do is try to keep you to watch all the way to the end of the video. So that's why they try to have as many engaging things typically as possible.
Brad Baldridge
Right? Absolutely. So you're working a lot with again, that younger generation and one of the things you mentioned is they're still, you know, they're struggling with choosing majors and choosing career paths and all that type of thing as well. What other things do you see that parents might need to be aware of as far as where the students might need some help or other services or whatever it might be, as you're working with that generation?
Justin Nguyen
Yeah, I think with Gen Z, specifically, we're very conscious about money. And what I mean by that is, we have gone through middle school and high school. And we've seen the newsletter or like the news headlines, or maybe we've got older siblings or older cousins and stuff that have gone through college, where college debt is on top of mine for a lot of like high school students going into college. And whether that's trying to figure out how to apply to scholarships, trying to figure out funding for school, or whatever may be, that seems to be the main concern of, 'How am I actually going to be paying for this education, if I'm getting it?' because I know that now getting a college degree doesn't necessarily guarantee a job. So I need to make sure that, 'Okay, if I'm going to make this venture, I need to make sure that I'm de-risking myself as much as possible from a financial standpoint.' So I think that's the big shift between Gen Z and millennials, millennials didn't really understand college debt. And that's why there's so much college that mainly due to millennials, whereas Gen Z is a little bit more cognizant of it. And they're asking more questions.
Brad Baldridge
Right. So if parents, and again, I always encourage parents to have that discussion with their students around the finances. And be honest, as far as how much parents can help, and what the rules are going to be, so to speak, as far as picking schools and what it might cost. Any advice there as far as would help to get through to the students, or what do they want to hear? Or it's just total communication is the key there?
Justin Nguyen
I think a lot of it is not necessarily what you say, I think most parents say the right thing. I think it's mainly how you say it and how you explain it, right? So if you're saying that, again, this is to the average high school student, if you're saying that, 'Oh, this university is going to cost $25,000 a year,' most high school students are not going to be able to understand what $25,000 really is, and how that can lead to $100,000 in debt and how interest accrues on that and can really be detrimental to making money once you come off on the other end of college. I think ways that you can explain it is like try to find terms that they understand of maybe not necessarily like $25,000, but maybe you ask them to keep track of how many times they bought Starbucks this month, or something like that. And then you say, Oh, this was, I don't know, $500 worth of Starbucks this month, this is going that is $500. Now we're talking about $25,000. And then finding ways to compare it that way. And using terms again, or objects or items that they understand, because that'll explain it a little bit more. But when you're mentioning numbers, like 25,000, 50,000, 100,000 dollars, like I've talked with my younger cousins, and they're like, 'Oh, that doesn't seem like a lot.' And I'm like, 'Well, how much do you think I pay for rent here?' And then I start going through that and they're like, 'Oh, now I start to see what you're talking about.' So I think breaking it down into ways that they can actually understand rather than just viewing huge numbers to like, try and scare them. It's just like when we hear that the US is in trillions of dollars of debt. Like, it's hard to fathom what that even means. Right? So it's kind of like the same exact thing when you're trying to explain $25,000 to a high school student.
Brad Baldridge
Right. So, again, he's giving some concrete examples of what those numbers might mean. I think that makes sense as well. So as students are kind of rolling in the college, and I guess one of the things that I've seen on your podcast is how to find a job and how to prepare for the next phase, which is right, I mean, students are scrambling to figure out how to get into high school and then once they're in high school, they immediately need to start thinking about college. At least that's kind of the way it's leaning right now and that you don't really get that break like you used to. It's like as a sophomore, you should start thinking about college potentially while in high school? Is there a similar correlation in college, like once you're a sophomore in college, do you need to be starting to think about the next phase as well?
Justin Nguyen
In my personal opinion, I think you should be thinking about what you want to do when you're in like as early as possible if you're a freshman in college, if not earlier. And what I mean by that is obviously like you're not going to know exactly what you want to do for the rest of your life when you're 18, 19, 20, even 21 years old, right? But it's bringing out the culture of at least trying to figure out what you want to do. And what I mean by that, again, is when I talk to these college students and high school students, they're like, 'Oh, I don't know what I want to be.' And then because they say that they don't know what they want to be, they end up not doing anything until their senior year of college. And then they end up being left in the dust because they've got nothing on their resume, since they didn't necessarily know where to start. But in my personal opinion, and with the many people that I've talked with, the best way to figure out what you want to do is to actually be able to cross things off the list, right? So, for instance, with you, right, I saw that you have an engineering degree, you probably didn't know that you would go into financial advising, right, until you maybe did an internship or like you talk to someone who was a financial advisor, or something like that, like, 'Oh, this might be something interesting that I might want to do.' I think that's the same sort of mindset that we need to start incorporate, like, start teaching the younger generations, especially Gen Z, of like, 'Hey, it's okay to not know what you want to do. Statistics show that you probably aren't going to be doing what you get your degree in, I think what's more important is that you actually have a bunch of trial and error on your resume to show that you're willing to try something.' Personally, I would like to see someone that has tried numerous different things throughout their four years of college, rather than someone who has one internship their senior year that is specifically towards their major. But that's just my opinion. And personally, just with the recruiters and people that I've talked to, most people would rather pick the person that has at least tried something and found out that they didn't like it. Because let's be honest, most of the skills that you've learned in most jobs and internships are pretty transferable for most entry level jobs.
Brad Baldridge
Right? Absolutely. So how do parents help with that process then, as students are trying to figure out their life, either at high school or into college? Is it the students' problem if the parents tried to help, is that just making things worse? What is your advice there?
Justin Nguyen
Yeah, I mean, I think it's a tough line to balance on, right? Because you want to be like the loving parent, right, that gives your son or daughter the opportunity to try and do whatever they want. But at the same time, if you see your son or daughter not doing anything, you don't want to be that overbearing parent that's like, 'Hey, Justin, you need to start doing this. Here's your resume, blah, blah, blah.' Because of course, when you're a kid, you're not going to listen to that either. I think the best way to kind of go about this is actually from the lens of having a quick conversation once a while, seeing what the appetite is, and then just asking them questions, and not just the basic questions of like, Hey, Justin, like, what do you like to do? I think that's very just broad and broad questions typically don't get answered. It's more of specific things of like, 'Hey, Justin, have you ever looked into working in sports? I saw obviously, you really liked soccer when you grew up in high school? Have you looked into working in sports?' Then maybe I say, I might say yes or no. And then depending on that answer, that's when you can start to dive deeper. But if you ask me something like, 'Hey, Justin, like, what are you? Like, what do you like to do?' That's such a hard question to ask. And I think for me, from a Gen Z perspective, if a parent or someone older, comes to me with, 'Hey, Justin, I saw that you really liked sports growing up, or whatever it may be.' That question means a lot more to me, because it seems like you're actually paying attention to how I grew up and what I like to do, versus the secondary question of, 'Hey, Justin, what do you like to do?' is just super broad. And that feels like a forced question of, you're just asking this because you're my parents. And that's not the lens. That's not the perspective that you want to be showcasing.
Brad Baldridge
Right, absolutely. So another area to talk a little bit about is as not only do we want to start figuring out what's going on, but also kind of building our networks and our LinkedIn, and our that type of thing. Number of podcasts that you've that I've previewed, you talked a lot about that. Can you explain a little bit more about how the world works with a college student today with everything electronic? I mean, a lot of parents maybe have been in the same job for the last 15-20 years. So they haven't really been looking for work. And the last time that they did it, they word processed a resume, and they mailed it somewhere. What is it like today? And what are the students up against?
Justin Nguyen
Yeah, it's a blessing and a curse. And what I mean by that is, it's a blessing if you understand the game and you know how to use it in your favor. It's a curse if you don't understand the game, and you're still playing by the old rules. And so I was the person that was playing by the old rules at the very beginning of my sort of career in college and trying to find internships. Both of my parents are Vietnamese refugees. They came over here when they were super young, and they were brought up on the merit of like, 'Hey, if you get a college degree, you're going to end up getting a job.' So that's what they just forced upon me. And that's what I thought like, 'Hey, if I get good grades, I'm going to get an internship. It should be easy peasy.' So I went to college. I was I had like a near 4.0 GPA, join the student clubs and had, quote unquote, like the "perfect resume." And I started to shoot it out to internships and shout out to 50 plus applications, didn't even get a call back. And I was like what the heck is going on? I've done everything that not only my parents have told me, but my school was telling me, but I still can't find a job. So that's when I figured out sort of like my first cheat code is, it's not necessarily what you know, it's not necessarily who you know, it's actually who knows you. So what I did was, I messaged one of my best, not my best friends, but one of my friends from my high school soccer team, who happened to be an intern. What happened to be like the number one finance financial planning internship in the US at the time, which was Northwestern Mutual, and he was like the number one intern there. And I asked him to grab some ice cream with made. And from that conversation, he was like, 'Yo, you can't find an internship?' I was like, 'No,' he's like, 'Okay, well, I'll put you on.' And I had a referral, and I got an interview. And it was like, the easiest interview of my life, because I got a referral from one of the top producers at the company. And that's when I started to figure out these cheat codes. And to your question about LinkedIn, this is where I think it's a blessing or a curse. If you understand how to use LinkedIn, you can be someone like myself who, I have zero network in terms of in the corporate professional world, my mom works in corporate America, but she's, like a very stereotypical computer science person of stays very to yourself. And I love that about her. That's amazing. But it doesn't necessarily help me from a career standpoint. Like she wasn't introducing me to anyone.
Brad Baldridge
Right.
Justin Nguyen
So I had to figure out that that network myself, so I literally started from network of zero. Now I've met with, and I've messaged people that are executives at Fortune 500 companies, I've got friends who have millions of followers. And that's all from literally starting from zero. And having the perspective of understanding that the younger that you start this, the easier it actually is for you. And I'll end on this because this is the perspective that I didn't know growing up. And I thought the complete opposite was, I'm a student, why would anyone want to talk to me, when the actual thing is, the younger you are, the more motivated you look. And the more open, people are actually looking to talk to you and provide advice to you, because everyone wants to help the younger version of themselves, right? So if you're 15, 16, 17, 18, 19, 20 years old, use that to your advantage. Because once you walk across that stage, or once your son or daughter walks across that stage, anytime you hit up someone on LinkedIn, or you message them, people are going to think that you're trying to sell them something. And but when you're students, you come from this innocent perspective, and you're able to get into a lot of doors that you won't be able to get to once you cross that stage.
Brad Baldridge
Right? Absolutely. And I think of from a parent perspective, it's pretty easy for parents to work their network and say, 'Hey, can you meet with my son or daughter? They're trying to figure out what they want to be when they grow up? Can they shadow you for a day? Or can they have lunch with you and talk about what it's like to work as an engineer at that company, or work as a doctor or lawyer at this type of career?' And I think most professionals are very open to that. Having that, they'll figure it out and make it happen. Again, because they do want to help in your right, as the student gets older, it's less, will you help my, again, if someone was 60, and their kid was 40, that would be a completely different conversation. Then, again, the high school or early college kid that's just looking for information and trying to find their place, and I think many adults are more than happy to do what they can and make the time where they wouldn't necessarily do that, for people that are older or more networked, as they they can become peers, now it's more of a well, I want to network in a situation where I know it's going to be a two way street.
Justin Nguyen
Right, exactly.
Brad Baldridge
It's, I have no problem building my network, but I want to build my network with people that I can help but they can also helped me. Whereas with a student, you have no expectation of help, certainly not in the short term, maybe maybe 20 years down the road or something as the student graduates and gets out in the world. But I think that's something that parents need to pay attention to and take advantage of where they can. And if you're not that type of parent where you don't have a big network, then help your student find mentors and others that do have those types of network. Alright, so let's talk a little bit more about what you offer and and what's out there. I know you have a podcast. Can you tell us a little bit about what that's about? And then where else can people hook up with you or get your information?
Justin Nguyen
Totally, so with the Declassified Media, we've got our podcast Declassified College. It's a very different different type of show than you might be used to. It's not like this in terms of it's not two talking heads talking back and forth together and having a conversation. What it actually is, is a short form 5 to 15-minute long podcast where we incorporate different perspectives, all the way from featuring different students at different universities across the world, to different professionals in different industries, to share their perspective on things. So the reason that we did that is it's a very Gen Z focus show, you can listen to it, but it's most likely geared towards like your sons or daughters, typically, but we wanted to make a show that's for Gen Z run by Gen Z. That's all based around career education. So that's the podcast side of things, our biggest platform is probably going to be TikTok where you can find a lot of the career related information and jobs related stuff in quick 30-second videos. That's kind of our sweet point on there.
Brad Baldridge
Alright, and obviously podcasts wherever podcasts are sold, and then for TikTok, I guess for parents, they'd actually at you know, probably ask your student right? 'Hey, let's go to this and, and check this out. I want to learn about it,' because I think your student could, most likely is on TikTok, and can get you right there. Whereas most parents, I don't think would even have an account. So they probably asked their student. Alright, well, I think that was a lot of good information. I appreciate it. Any last words for parents as far as keeping them motivated? Or, you know, things to avoid?
Justin Nguyen
I think this question is both for the parents and for their students is being able to understand how to ask the right question will open up a lot of doors in your life, whether that's networking doors, or whether that's better relationships with your son or daughter. That's where I think the beauty lies is within those questions that you ask. Don't do the broad ones do hyper specific ones, I guarantee that your the answers that you get will be way more beneficial than the broad ones that you asked.
Brad Baldridge
All right. Well, I appreciate it, Justin, and we'll stay in touch.
Justin Nguyen
Thank you. I'm looking forward to it.
Brad Baldridge
All right, that was great. I know I learned a lot about what's going on in the younger generation from this interview. As always, show notes are available at tamingthehighcostofcollege/144. If you want to reach out to Justin, I would encourage that and go ahead and check out TikTok and see what your kids are doing there. Because I think it's very interesting. That's all we have for you today. But as always, we appreciate any sort of reviews that you can give us in Apple, iTunes, or Google podcasts or wherever you're getting your podcast. That's all for today. We'll see you next week.
Presenter
Thank you for listening to the Taming the High Cost of College podcast. Now it's time for you to take action head to tamingthehighcostofcollege.com for show notes, bonus content, and to leave feedback for Brad. The next step on your college journey starts now.
Brad Baldridge is a registered representative of Cambridge Investment Research and an investment advisor representative of Cambridge Investment Research Advisors, a registered investment advisor. Securities are offered through Cambridge Investment Research Incorporated, a broker dealer and member of FINRA and SIPC. Brad owns two companies, Baldridge Wealth Management and Baldridge College Solutions. The Baldridge companies are not affiliated with Cambridge Investment Research.
Transcribed by https://otter.ai
Sign up to receive email updates
Enter your name and email address below and I'll send you periodic updates about the podcast.