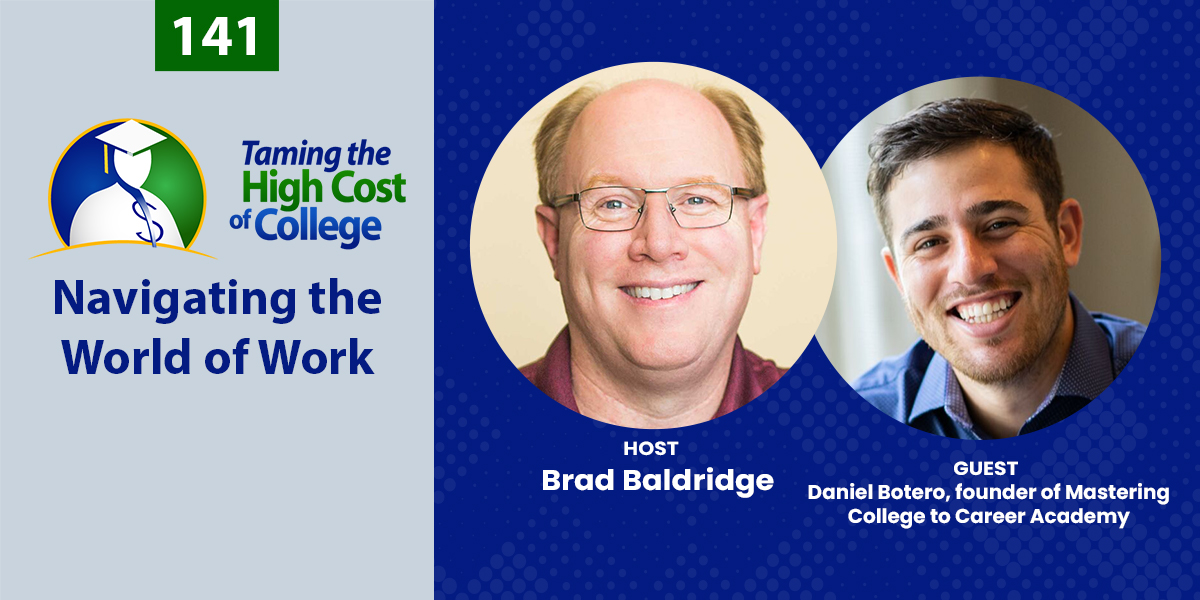 ---
Today's Guest:
Daniel Botero, founder of Mastering College to Career
Daniel is on a mission to help students land their dream jobs, and this is why he founded his company, Mastering College to Career.
His company's focus is to help first-generation minority and international students get into industry giants such as Google, Amazon, Goldman, Disney, etc. The company does this with its specialized, proven process that starts with gaining visibility to recruiters and leverages Daniel's expertise.
Daniel has helped many individuals succeed and land their dream jobs through the many mentoring programs he offers.
Daniel also hosts a top-rated podcast called the How to Get a Job Podcast: A College Student Edition, which tackles topics that are relevant to students getting ready to navigate the professional world.
Questions Answered Today:
What do most people not know about the hiring process?
Most schools work on ensuring their graduates will have jobs. They do this by strengthening their career services and holding events such as semestral career fairs and virtual career fairs.
Many also seek numerous job opportunities on giant platforms such as LinkedIn and Indeed.
While knowing these sources is truly help, Daniel offers some interesting perspectives that most of us probably don't really think about. Some of these include:
Because of COVID, many job offerings have completely switched to becoming virtual, causing competition to skyrocket. Statistically, for every job posting, there are about 250 applicants. If you're applying to big companies such as Google or Apple, the number increases by 10 times, if not more.
Some companies screen applicants using an applicant tracking system (ATS), which bases its search through keywords. Some use the seven-second recruiter check, which then classifies applicants into 'yes, no, or maybe' category. There are also companies who don't look at resumes at all and only do when they're interviewing applicants.
Therefore, according to Daniel, when going through the hiring process, being visible to recruiters is just as important, if not more important, as being capable and having good credentials.
There are various ways to 'become visible' to the job of your dreams, and this is what Daniel specializes in. Some of the tips and tricks he provided include utilizing LinkedIn and alumni relations, which will be discussed more thoroughly in the next sections.
How does utilizing LinkedIn and alumni relationships increase the chances of my student getting a job?
Alumni Relations
For Daniel, it's human nature to help out people of the same kind, or those you have a commonality with. This is where students who went to great schools (MIT, Harvard, etc.) have an advantage, as they have better chances of meeting alumni who work for great companies. Look at this scenario:
An MIT graduate got a job at Google and became a really valuable asset for the company. So when a position opened for an engineer, they decided to go with an MIT graduate again, fully knowing that someone who came from the same university would do an equally good job.
Daniel's pro-tip: Find that commonality you have with other successful professionals. Commonality is not limited to graduating from the same school. It can be people with the same hobbies, interests, etc.
LinkedIn
Daniel thinks that, in the near future, LinkedIn will become every professional's universal, digital resume. Therefore, he highly recommends that students should build their LinkedIn profile as early as high school, if they can.
Here are some reasons why your student should build their LinkedIn profile:
LinkedIn is partnered with third-party companies to validate the level of skills and skill proficiency (e.g. Excel skill) users put in their profile. This makes one's 'level of proficiency' objective.
Studies show that 3 out of 4 applicants either lie or exaggerate on their resumes. On the other hand, since what users put in their LinkedIn account is often publicized, it will be harder to lie or exaggerate.
LinkedIn provides ways for users to meet people and build social capital they can later use. In fact, based on a poll that Daniel hosted on LinkedIn, 97% of 1,000 professionals said they'd be willing to help out if a high school/college student asked them for profession-related help.
According to Daniel, a community college graduate that has an established LinkedIn profile can land a better job than a Harvard graduate that doesn't! This means that your student can still have a fair chance to land their dream job even if they did not graduate from top schools. In the end, finding a good job is all about building connections.
This also means that you don't have to risk thousands of dollars of debt for your student to get a good job. There are other ways, and you just have to be smart!
What other questions should I ask when choosing a college, career-wise?
Ask these questions:
What does my student want to be?
Where does my student want to go after graduating?
One thing that's being overlooked and also not talked about is considering a college's industry partners, which is linked to what kind of job/company the student wants after college. This is very important as this provides numerous opportunities for students to get a job that they'd like.
Industry partners are basically companies/organizations with whom a college has a special partnership. Daniel considers researching a college's industry partners a better career move than choosing a college because of its prestige or better university ranking.
Let's take the University of Florida and University of Central Florida (UCF) as examples. For many, the University of Florida is obviously a better choice due to its higher prestige. However, UCF has great partnerships with industry giants such as Lockheed Martin and Disney World. These companies, because of their partnership, have to hire a certain number of students from their partner university.
This is why many career services would point students interested in aerospace or defense contracting to UCF rather than the more prestigious University of Florida.
What do I need to know about internships?
Daniel says that paid internships are one the best ways to get a full-time job. However, there are so many things we don't know about internships. Some of the things Daniel and Brad unpacked about internships include:
Students can start taking free internships as early as their freshman or sophomore year, so they can get paid internships in their junior and senior year. Watch out for those companies that especially look for freshman/sophomore interns.
Companies have a goal of converting about 80% of their interns to full-time employees, so take advantage of this. Some can become really generous, especially if the position is hard to fill.
Colleges have career services that should guide students to find companies with whom their college is partners. Also, students can take advantage of these tools:
Fortune 500 companies and other large companies usually recruit interns a year in advance. If your student misses out, there are always those small and medium-sized companies who are also willing to help out students.
Disney, Boeing and Google's internships are usually open in early August. Their recruitment starts in the fall and extends to December, and the internships start in the following summer. Internship information is available on the web, so make sure to do your research and pay attention!
What other helpful tips and resources does Daniel have?
For Daniel, the most important things for students to move forward is clarity as everything else follows once the student decides what they want to do. Here are some things parents can do to help them find that clarity:
Hire career experts like Daniel for guidance. Daniel's team uses an assessment called Kobe 8, which measures student strengths.
Encourage students to start thinking about their career as early as possible, so they can have all the time they need to decide.
Delay college if the student is not ready. Students can take a gap year or go to a community college to avoid the unnecessary debt that unpreparedness may bring.
Daniel offers helpful resources for students who want a successful career.
---
Links and Resources
Helpful Articles and Resources
Daniel Botero's Contact Info:
Daniel Botero – LinkedIn
---
---
THANKS FOR JOINING US!
We'd like to extend an invitation to our listeners to share their feedback and questions. Contact us to submit a question.
If you find our podcasts helpful, please share us on social media and tell your friends!
The bottom line is that we care what you think and want to help you out, so we'd appreciate you reviewing us on your favorite podcast platform. Even better, receive automatic updates by subscribing to the show through your preferred podcast service.
Brad Baldridge
Today we learn about the world of work. We talk about internships, your first job after college, and why high school students need to understand how the process works.
Presenter
You have kids, they grow up, and before you know it, it's time to plan for college. Where do you start? How much is it going to cost?Will you qualify for financial aid? Should you be looking into scholarships? Will you be able to retire? What about student loans? The list of questions is never ending. The good news is all the answers are right here. Welcome to the Taming the High Cost of College Podcast. Here is your host, certified financial planner, Brad Baldridge.
Brad Baldridge
Hello and welcome to Taming the High Cost of College. I'm your host Brad Baldridge. Today's episode I have a great interview with Daniel Botero. He has some podcast and other great information where he helps college students figure out how to land their first job and understand the whole resume and pursuing work process. I'm gonna ask him a ton of questions about why high school kids need to understand how work works. We'll get into things like finding an internship and finding your first job out of college, and how it has drastically changed perhaps since we as parents have pursued any sort of work. As always show notes are available at our website. And this is episode 141. So if you go to tamingthehighcostofcollege/141, there'll be a link to Daniel's work, podcast, and other information. Let's go ahead and jump into the interview.
Today we're sitting down with Daniel Botero. He's the host of the How To Get A Job Podcast. Welcome, Daniel.
Daniel Botero
Hey, thank you so much for having me, Brad.
Brad Baldridge
All right, so we were just chatting a little bit earlier. And the work that you do is a little bit downstream from the work that I do. In other words, I tend to work with kids that are rolling into college, you tend to work with kids that are rolling out of college. And so I think we've got some interesting things to talk a little bit about. First of all, can you talk a little bit about the hiring process in general for a new grad? What can they expect? What are they dealing with? What types of things are they doing? How do they get interviews, that type of thing?
Daniel Botero
Yeah, so it's gonna vary from school to school. But ultimately, most schools have the best inches of making sure that every single one of their graduates graduates with a job, and ultimately going to college has a good return on investment. Now, when new grads are graduating, right, they're one of thousands of students, depending on their school that are looking for jobs. Now, every university has some sort of career services, that is in charge of building relationships, and connecting students with opportunities. So there's career services, there's career fairs every semester, and there's also virtual career fairs where students can get access to these companies. Now, thanks to the internet, right, obviously, a lot of this can be done virtually, in companies I can't shake, Indeed, LinkedIn, allows students to have access to even more opportunities that they can go into and submit their resume to to be considered for those roles.
Brad Baldridge
Right. So if I'm a parent of a high school junior, so I'm 45, and my kid is 17. Obviously, a lot has changed. So what do you think would be most surprising to a parent as far as how it works compared to the way it worked when we graduated from college,
Daniel Botero
So I don't know exactly what it was like 45 years ago, or even 30 years ago, but I could tell you some of the statistics that were really shocking to me, when I first got into understanding what this problem was. And if I think about it, like before, maybe you would only apply to things in your city. But now even post-COVID, or even as we still experienced some of the things that are the effects of COVID, so many more virtual jobs are available. So now you're not only competing to everybody, so I'm here in Orlando, Florida, where if a company had a job listing, you would get students from the University of Central Florida, University of Florida, University of South Florida, and maybe five other, four other universities that are drivable driving distance here. But now I can have students from New York and California and Texas, we're also applying for jobs in Orlando because they're virtual. Right? So I would tell you that one of the things that you need to understand is that in this world, now that you get, for every job posting available, there's over 250 applicants.
Brad Baldridge
Wow.
Daniel Botero
Right. And if you're going after the Googles and the Apples of the world now multiply that times 10, if not more, so they get thousands of applicants. So one of the things that I would tell you that it's really important is to understand is that visibility is actually more important than ability when it comes to landing your first job.
Brad Baldridge
Right? So what does that mean?
Daniel Botero
Right? So let's say right, I mean, you have identical or let's say you have a better resume. Let's say you went to Harvard and I went to the University of Central Florida. Let's say you have a 4.0 and I have a 2.9, right?
Brad Baldridge
Mm-hmm.
Daniel Botero
If we compare it, just me and you, you would get the job probably 10 out of 10 times, right?
Brad Baldridge
Right.
Daniel Botero
But if you submit your resume online, and I submit my resume online, right, the way that companies review resumes are through software that's called Applicant Tracking Systems or ATS, which are looking for specific keywords, right? And if I have a referral, and you don't, even though you have a better experience, better school, better GPA, better, better internship experience, I will get invited to the interview because of the people I know, the visibility, me being visible and knowing someone that works for the company, and you would be overlooked, because maybe they're only going to interview 10 people for that role. And all those 10 people have referrals. So you can go to the best school you can have the best GPA, but if you're not visible, and people don't know that you exist, it doesn't matter.
Brad Baldridge
Right? So it sounds like the first cut is often some sort of computer or algorithm that says 2000 resumes is way too many, let's get it down to 50 or 10 or something? Is that...
Daniel Botero
Right? So it's all obviously, I'm going to generalize a lot, every company has different hiring processes, but some utilize the system and really won't even look at resumes until they're interviewing them. Others will review every resume, and it's called the 'recruiter check,' but on average, are recruiter's only spending 7 to 10 seconds on a resume, and then categorizing it, 'yes, maybe, and no' pile. And so I guess the biggest takeaway here, whether you're going through 100%, through the applicant tracking system, or you're going through a seven-second recruiter check, because of the vast amount of applicants in the front end of the funnel, let's say that this is a funnel, right? There's so many applicants in the top end of the funnel, visibility becomes so important, and it's going to outweigh all the experience that you have.
Brad Baldridge
Right.
Daniel Botero
Because it's gonna be really hard for a recruiter to really understand what you bring to the table in seven seconds or for a machine to look at your resume and pull out really relevant information.
Brad Baldridge
Right. Absolutely. All right. So where does LinkedIn fit into the puzzle these days? I mean, I've heard a lot about LinkedIn being the the 100-pound gorilla in the process. Is that still true? And what do we do about it?
Daniel Botero
Yeah, I mean, I think it is very true now. And I think is going to continue to be really true, right? And your audience here are parents of the job seekers. And so by the time your high school juniors get to college, think about this for a second. Right now, the way that you communicate to employers, what you bring to the table is through a sheet of paper we call the resume, right? That was probably the same when your listeners were applying for jobs. Right?
Brad Baldridge
Absolutely, yeah, I had a resume when I started the process. And even my parents probably did it that way. So it's been it's been around for 100 years, probably.
Daniel Botero
Right? I think that the idea of what a resume does won't change. Now, I'm going to go and predict that your LinkedIn will become your resume, right, your LinkedIn and I'm seeing this this progression change, right? Your LinkedIn profile will become your digital resume, and actually be more important than your traditional resume. And this is why, if we think about what a resume is, is the most biased document in the world, right? All of the good things you've ever done in your life, and none of the bad, right?
Brad Baldridge
Absolutely.
Daniel Botero
Can we agree on that?
Brad Baldridge
Oh, sure.
Daniel Botero
And even if you look at studies, data is shown and proven that like 77%, so three out of four people lie or exaggerate on their resumes. And a lot of that is because, 'Hey, I created a sheet of paper I submitted to a company, no one sees it. So if I say that I used to manage 15 people, but I only managed three, no one's really gonna know.' Right? So I can kind of like, put a little white lie there. Now, you can still do that in a way on LinkedIn, but it's a lot harder for you to do that because pf the public thing. Somebody, 'I worked at PepsiCo for six years, if I go and I say I was the CFO of PepsiCo, like how many people actually say, "Hey, that's not true,"' right?
Brad Baldridge
For sure
Daniel Botero
You're not nowhere near to a sea level of PepsiCo? Right. So there's one thing. The second thing is when we think about a traditional resume and why LinkedIn is a better way of doing this is you're interviewing, and I say, 'Hey, Brad, how good are you in Excel?'
Brad Baldridge
Mm hmm.
Daniel Botero
And then you reply to me like, 'Hey, I'm proficient in Excel.'
Brad Baldridge
Right?
Daniel Botero
Well, your definition of proficient is much, much different than mine. Right?
Brad Baldridge
For sure.
Daniel Botero
And so how do I really know how good you are in Excel? Now, what happens if you can actually take an assessment on LinkedIn, which you could do this right now, and get a badge from a third party company that actually tells you how good you are in Excel.
Brad Baldridge
Right
Daniel Botero
Right? So now a third party company is letting me know how good you are in particular skills that are really useful for the job that I'm applying for. So it's just a way and you can do that through LinkedIn badges and it's called, if you go down licenses certifications, right? So I looked at yours and you're a CFP, right? That's a certification as a certified financial planner. Well, other certifications can be put on your resume, but you can maybe lie on it and but here, you can be vetted through a third party system like LinkedIn. And if you think about the future, just LinkedIn really quick, it was LinkedIn bought lynda.com, which is like a company that you can watch videos and then take tests and get certification, and Microsoft that owns the Word, the world of work, buys LinkedIn, most resumes are done on Microsoft Word. And so LinkedIn essentially will become your resume. And so if you're not on LinkedIn now, you're really missing the boat, because building those relationships and community on LinkedIn is gonna give you that visibility that we spoke to earlier. That is so critical to your landing the interview, therefore landing the job.
Brad Baldridge
Right. So Should my high school sophomore, junior, senior, get involved in LinkedIn already?
Daniel Botero
Oh, absolutely. And it's going to be, it's the early adopters, are going to have a massive, massive, advantage, right? I did a poll on this, actually. And it was a poll I said, 'If a high school student reached out to you, would you give them 10 minutes of your time?'
Brad Baldridge
Mm hmm.
Daniel Botero
Right. And 97%? I think over 1000 people voted, said, yes, they would do it. 97%. So think about this, I am a high school student, I'm a junior, senior, I have aspirations to be a investment banker, a consultant, you know, going to a really, or, you know, go work at Google, like whatever that dream is, I am even willing to bet with any parent, that them starting a LinkedIn now and using it to network and create content, will have a much better impact on whether they get into their dream company than the university they attend. I am willing to bet that if I have a son, that open their account on LinkedIn, went to a community college and got their degree there. And someone who just went to Harvard, and did not have a LinkedIn, that my son will have a better job than the individual that went to Harvard.
Brad Baldridge
Mm hmm. Right. Okay. So we have our students get started on LinkedIn. Any ideas on what, I mean, again, a student isn't go into conference, well, maybe they are, but who would they link to, so to speak? Or what would they do on LinkedIn to get it rolling?
Daniel Botero
So when I think about high school, I thought about the people who go to college or the high school students that have a little bit of clarity, right? They're involved in maybe student government they're involved in and magnet school, they're involved in AP and honors classes. They're involved like for myself, I was involved in the business academy or the medical academy right? Now, so you might have an idea of what you want to do. I think LinkedIn is an amazing way to explore those career options that you might have in your head. Want to be an engineer? Why don't you reach out to the Google engineers? Say, 'Hey, I'm a high school student, right? You know, before I go to college and pick my major, I want to learn a little bit more about algorithms. I want to learn a little bit more about app development. I want to learn more about driverless cars.' Right? Whatever you're passionate about, like, you're passionate about videogames? Why don't you go talk to the person who designed your favorite Fortnite game, right? And here's the thing, the younger you are, the more they're willing to help you.
Brad Baldridge
Yeah, that makes sense. I would agree with that. All right, so let's talk about some of the things we hear out there. The kind of the extreme thing that I hear occasionally is, 'I've got to get my kid into the right kindergarten so that I can get him into the right grade school. So I get them into the right middle school, so I get them to the right high school. So I get them into the right college so that they can have a great life.' Obviously, that's, you know, I'm a little facetious there, but a lot of people stress about getting into that right college, or whatever it is. From a hiring perspective, does that, how much of an impact does it really have? If you're targeting, I don't know, say Google, or Boeing or some other large, Disney would be another dream job for a lot of people. If you're targeting those kinds of careers. Does it matter which schools you pick? Or what path you take?
Daniel Botero
Absolutely. Let's talk about it. Right. I'm not here to say that going to Harvard and MIT is not going to obviously benefit your future, because it absolutely would. Now, I want to, you know, take a step back and understand why that is, right. And the reason is, because of that alumni network that you have available, right? The reason is for the people that you meet, right? The reason is that if you go to Harvard, and it's really hard to get in, you're essentially the cream of the crop, right? That you're surrounding yourself with individuals who are cream of the crop as well, therefore, build a network that then obviously has a flywheel effect.
Brad Baldridge
Right.
Daniel Botero
And so the reason why you put your son and daughter into a really good kindergarten, again, is because of the people that you're going to meet, right, the people in the in that private school, that people that go to that university, so it's all about who you get to meet and who you know that's really, really important. Now, that is the traditional way and I think that way will still be true 20 years from now, and I think all has to do with human nature, right? We want to help and our species all by community. And we want to help people that are like us that went through the same situation as us, that are that we can relate to the most. So there is a benefit to going to all those great schools to get into those jobs, right. That's why if I go to MIT, and I went to apply for Google, there's probably tens of thousands of people from MIT that work at Google. So that alumni network works, right? Like, 'Hey, I'm doing a good job at Google. I went to MIT, I want to hire somebody from MIT, because I know they're gonna come do a good job.'
Brad Baldridge
Right?
Daniel Botero
Right. So all that is true. What I am saying is, if you don't get into the schools, it's not game over for you. Like, it's all about relationships at the end of the day, and we're complex creatures, like we have a lot more than just this, the university has commonality, like me, and you might not have gotten to know each other that much. But we're both passionate about helping young people, right?
Brad Baldridge
Right.
Daniel Botero
So there is commonality there. So it's just about finding that commonality. And if you can focus on finding that commonality you can overcome not going to the best school.
Brad Baldridge
Absolutely, yeah. And I think that's where I do it when I'm working with families. A lot of times getting accepted to that dream school is the challenge, in which case, it's kind of out of your control. If you can't get accepted, there's not much that can happen. But even tougher situation is when it's just unaffordable to go to that school, where
Daniel Botero
Yeah
Brad Baldridge
And now parents feel like, they're the limiting factor, because they can't raise 75,000 a year to cover an expensive school. And they feel like they're holding their their kids back. And in reality, I think it's, I always tell people, it's not where you go, necessarily, it's what you do when you get there.
Daniel Botero
Yeah
Brad Baldridge
And again, so there's lots of ways to get to your destination, there isn't only one road. And, I think taking on that kind of debt, either as a parent or a student may, may hold you back to the point where it's not worth it. So let's talk about, you mentioned there's a career services at every college. So if I'm looking at colleges, should they be part of my criteriam when I'm picking the college? Or should I talk to somebody there? Or if I did, what would I do?
Daniel Botero
You know, the Career Services Department at universities, obviously, some are better than ours, like anything else, right? And the problem is that most of the departments are a little understaffed, more than just checking out the Career Services. What I would want to know is what are the industry partners that the university has? So let me give you some examples. University of Central Florida, here in Orlando, Florida. It's in Orlando and has great partnerships with Lockheed Martin, which is a huge defense contractor, and Disney World. Right?
Brad Baldridge
Okay, yep.
Daniel Botero
Now, we can argue and say the University of Florida, which is two hours away from Orlando, up north, which is in a little town where there's nothing except that university is a better university, right? If you look at the university ranking is a better university, right? If I have an engineer student who wants to go into aerospace or defense contracting, right, right, they would 100% tell him to go to UCF. Why? Because UCF has a partnership with Lockheed Martin, and they have to hire a certain amount of students from UCF.
Brad Baldridge
Right.
Daniel Botero
Now, let me give you a real-life example. My wife's brother, extremely smart individual went to the University of Florida, applied to Lockheed Martin, and they literally told them, 'Hey, we've already, we can't hire any more students from that university. We have to hire people from the UCF.'
Brad Baldridge
Right.
Daniel Botero
He could have went to UCF right?
Brad Baldridge
Right
Daniel Botero
But he chose the better school, right? Like, though, arguably better school, maybe more expensive? I don't know, in state tuition. You might know more about that. Right?
Brad Baldridge
Right.
Daniel Botero
So I think what you need to look at is okay, what is my children passionate about? Let's say they love Disney, to your point, Disney? Well, there's no better university who has a better partnership in Disney than the University of Central Florida.
Brad Baldridge
Right.
Daniel Botero
So that is the best university and it's a lot cheaper than, let's say, going to I don't know, University of Notre Dame, or...
Brad Baldridge
Right. Certainly a lot cheaper for anybody in Florida, because it'd be an in-state school. With an out-of-state student, it may still be reasonable, we'd have to look at the numbers. But yeah, so absolutely. So what about things like internships and co-ops? Are they a big piece of the puzzle as well for students these days?
Daniel Botero
Yeah, I think anytime that you can have relevant experience, it's really important. And here's a big thing that most people don't think about. You can do an internship in your freshman year, and the sooner you do this, the better off you're going to be. And there's even companies that have internships for lower classmen that are only for freshmen and sophomores, right? So definitely taking advantage of those are going to be really helpful. And starting doing those internships early when you can do them for free and you don't have a lot of bills. That way, when you do get to your junior and senior year, you can actually do paid internships because the best way to get a full-time job is through an internship. So what you ideally want to do is do your last summer, so your junior going into senior year internship to be with your dream company, because most internships, I guess, a company, they have a goal of converting 80 plus percent of their interest into full time jobs. So imagine that would be a starting, like ideal scenario, you start doing internships early on, your second internship, be a paid internship with your dream company, your junior year going into your senior year, and by August, two semesters before you graduate, you would have a job offer lined up.
Brad Baldridge
Right? Yeah, and I've seen that actually play out with a number of families that I've worked with where, again, that offer comes. And I think a lot of employers use the intern system as a way to kind of vet potential employees and or get employees that are at a tight market. You know, if they, I don't know, nursing and engineering and some of those things, where it's really hard for them to fill positions. They're happy to do internships, even though that might cost them and a little bit and be very generous to those students, because they just want to build a relationship and have it shot at them when they get it.
Daniel Botero
That's it. Yeah, I mean, that's the only reason companies have internships is to is to build a pipeline of candidates. And when they find a good candidate, because it's a 10 to 12 week interview process, right? Like an internship, it's a 10 to 12 week interview, right? And if they're the right fit, we want to offer them and try to give them an offer right away. And that's why companies are even trying to be proactive and starting freshmen and sophomore year.
Brad Baldridge
Right. So how do we find internships in general? What's the the methods today again, for a parent that used to literally lick stamps and send out resumes? How would we do that today?
Daniel Botero
LinkedIn, your university career services has those relationships. So that's where like career services come come to play. There's companies like Handshake that are just for college students, Indeed, Monster, or once you have some clarity about the companies that you want. So you share like a sample of Disney, or Boeing or Google, just Google their internships, like they generally open in early August, their recruitment is in fall, and then by December, they have offers extended and then the internship during the summer.
Brad Baldridge
Wow. So if you're interested in a internship, this is, we're probably listening to this in January, February. It's almost too late for the upcoming summer for some of these bigger programs.
Daniel Botero
Yes, so large companies are very proactive. So Fortune 500 companies, large companies, are very proactive about their recruitment, and they're pretty much recruiting a year in advance. But you still have opportunities with small and medium-sized companies that generally tend to be more reactive, right? Like what you and me have, what we can say a small business, right?
Brad Baldridge
Right.
Daniel Botero
It's hard for me and you to predict that, 'Hey, we're gonna need an intern for 2024, right?
Brad Baldridge
Right.
Daniel Botero
But Google can probably predict that they're gonna need 100, and there'll be fine.
Brad Baldridge
Right? Exactly. Yes. That makes sense. All right. So any other ideas? So if again, if I'm a parent of a high school student, maybe working with my student to get started on a LinkedIn profile, talking about internships and co-ops, and picking the right college, any other ideas that would help prevent the challenges that sometimes you might see, when you look at a candidate, you're saying, 'Well, man, if I'd have gotten with this person three or four or five years ago, I'd have not I just told him to not do this, and instead do that,' or whatever it might be.
Daniel Botero
Yeah, I think it comes down to clarity, the sooner your son or daughter can get clarity on what they want in their career, the better off they're going to be, right? And here's why one, I think I, maybe you know the right statistic. But I think I read a couple years ago that 80% of college students change their majors, right? And then the average college student take six years to graduate with a four-year degree. And that just happens because of, 'Hey, I'm not sure what I want to do,' right? Like maybe you you go like, 'Hey, I want to be in Public Relations,' then you change to Accounting, then you change to Finance, right, and you're changing majors. And every time you change, some of those credits, don't transfer over, therefore extending your time at college, making it more expensive as a whole. Now, the sooner, if you're a sophomore and junior, as a parent, my priority would be to help them understand what industry they want to go into. Right? If it's engineering, what type of engineering, if it's business, at least get them towards, have more clarity on that. And then from there, start exploring. I think that there's having jobs or having conversations that people have done, who do the job that your children might say, 'Hey, that's my dream. job right now,' having this conversation and maybe job shadowing, helping you get clarity on that is going to save you time. Because once you have clarity, then that should help you select the university that has the best corporate partners that should help you select what type of internships or jobs or clubs or organizations to get involved with. And that kind of like dictates everything. But one of the biggest mistakes that I've seen is I see a lot of students from earlier on, who maybe are overachievers, and they're involved in so many different things, and they're all over the place, but then fail to have a focus, therefore delaying them in the long term.
Brad Baldridge
Right, absolutely. So I guess first of all, I think there's a challenge out there. And I think, you know, a high percentage of my parents are very frustrated on what you just said of, the sooner they can have a focus. And they immediately thought, 'Oh, great, another strike against us, because my student just doesn't know what they want to be when they grow up.' They're 17. And it's a doctor this week, and it's a lawyer next week and, you know?
Daniel Botero
Yeah
Brad Baldridge
I think one of the problems is most students don't really, at the high school level, don't have a good understanding of what types of careers are out there. And how many different jobs and directions that you can go? Do you think it's any better with a typical college graduate where, if you ask them to name 10 professions, they would come up with the 10, obvious doctor, lawyer, teacher, engineer, and at about eight, they'd start slowing down, because they just don't understand the wide, wide worlds of work.
Daniel Botero
I think there's a little bit of difference, because by then, by the time I'm working with them, they're already a senior, or I already kind of say, 'I'm an engineer, whether I like it or not, I mean, I'm already going to graduate with this degree, because I'm already too far into switch,' so they have a little bit more clarity. Now, obviously, they still have to kind of maybe point it down a little bit more. And I think that that's where I don't see a lot of the work that needs to happen. As a high school student, or you know, or even earlier, right? There's this amazing assessment called the Kobe 8 Assessment. And I don't know if you've ever heard of it, I work with a coach. So when a client comes to me, they're like, 'Hey, I'm really lost. I really don't know what to do.' I have them work with Emily, who then has them take that assessment. That's who helps them get clarity. And then once they have clarity, they she sends them back to me, because it's just so much harder to try to work with someone when they don't have clarity, because I feel like we're running in circles, it's not fair to them, it's not fair as a whole. So I would have them figure out an assessment like the Kobe 8 Assessment that doesn't measure their IQ, and it doesn't measure their personality, but it actually measured how they do things. And then from there, there's jobs that just play with your strengths. And that's where I would start focusing on. But I think, as a college, as a high school student, you have the time to figure that out then, right? And that's where if I'm a parent, and my son, or children don't know what to do, honestly, I would even delay going to college for six months, because I rather them figure that out. Not perfectly, you might not figure this out perfectly, some is easier than others, but at least have a little bit more clarity before spending money in college. Right? And then change majors.
Brad Baldridge
Right, and I would agree with that. And I think you need to change the rules a little bit, depending on what type of student we're talking about. I mean, there's the academic overachiever that's gonna go to college, and they're going to be fine no matter what they do. But I think there's a lot of students that go to college as kind of a default, 'I don't really know my direction, but I just been told all my life, I'm going to college. So therefore I'm going, I'm not exactly sure why I'm here. I have struggles, picking majors and that kind of stuff,' where I think a gap year or other things may be very important, or working with some sort of consultant. And on previous podcasts, we've had some of those types of consultants as well that to help students come in with a focus, and then realize a lot of people do a, and I'm sure you've seen this, we'll do a hard left turn in their career, right?
Daniel Botero
Yep.
Brad Baldridge
I have an engineering degree. And I am not really doing engineering anymore. I'm more in the college planning and financial planning and all that kind of stuff. So and that's inevitable, I think, and most people when they, when you ask them all, 'Because you're not using your degree, do you regret it?' Most people are gonna say no. It's like, 'Well, I needed this path to find where I am today. And if I didn't go down my path, I wouldn't be here. And I like where I am.' So I think in most cases, that windy road that people take is not often regretted. I think unless there's a big debt attached to it.
Daniel Botero
Yeah
Brad Baldridge
That's where there might be some frustration of, 'I paid 100,000 or 200,000 dollars with student loans to get this degree. And now I'm not using it.' And I think I hear some frustration there occasionally, but... All right, any other AHA! things that parents might want to put into place, whether they've got a high school kid or maybe they've got, let's say they have to in college and there's an high school kid, is there any other quick things you can point out?
Daniel Botero
A couple of things. I know that you're a lot saving them money and maybe you speak about this before. A couple of things that I'm really intrigued and passionate about. One thing is when your listeners probably went to college, research institutions were the big ones, right? So like University of Florida, it's those university that were kind of like in the outskirts of major cities, they're really not close to a city where a University of Michigan and Harvard or University of Florida right? The college is the city, there's nothing else. Right?
Brad Baldridge
Right.
Daniel Botero
That was where the main, it was cheaper to buy land, it was really good to be able to build research institutions around that. But I'm going to challenge you. And I've actually had some university professors on my podcast where like this idea was going, it's not my idea by any means. But the future of education, like the university that are going to flourish in the next 10 to 20 years are universities that are inside of cities, where there's better partnership between corporate and higher ed, right?
Brad Baldridge
Right.
Daniel Botero
So like, I give you that example of the University of Central Florida, being inside of Orlando, and having partnerships with big corporate, Disney and Lockheed Martin having better relationships, the University of Florida, right, so if I am a parent, I would encourage my children to look into the universities that are in cities, not in the outskirts of cities. So that would be a really big one. The second thing I would say is, starting at a community college, you still, like, for the first two years to get your AA, can save you a lot of money
Brad Baldridge
Right
Daniel Botero
And can be a direct way to, a for sure way to get accepted into some good in-state universities. And so like in Florida, there's a Direct Connect, community colleges can get you to any of the state universities that are really hard to get into, automate it. And then when you graduate, your degree still says from University of Florida, so you still get the same level of degree and save money. But if you don't have complete clarity about what you want to do, take a gap year, like you said, right, or start in a community college where you're not going to get yourself into debt. And then remember, like, it's who you know, a lot of times, so build those relationships, utilize LinkedIn that can make up so much ground.
Brad Baldridge
Right? Yeah, and I would say coach your student a little bit when you say use LinkedIn that, again, oftentimes, if they're a student, they're not able to link to faculty and staff of this college and or the high school that they're currently at. But once they've graduated, then it's generally fair game where you have the opportunity to link with certainly fellow students and faculty and staff and other people that you run across, starting when you're 16, instead of starting when you're 26. All right, well, I appreciate it. Now you've got a lot of great resources. I know you have a podcast, I've listened to a couple episodes and you're doing good work. Tell us a little bit more about what you have out there in case people want to learn more.
Daniel Botero
Yeah. So thank you for the opportunity to talk about this. I am the founder of Mastering College to Career which is a company that focuses on helping non-traditional college students transition from college to career and land their dream job. So we focus primarily on first generation minority and international students. And we help them get jobs in really huge companies like the Googles, the Amazons, the Apples, the Goldmans, Zach's of the world, and Disney and so on. Now, some of the resources that we have available is I have a podcast like Brad says, so if you're listening, wherever you're listening to this, you can check it out, it's How To Get A Job Podcast: A College Student Edition, where we have a weekly episode talking about different topics about interviewing, networking, LinkedIn, and so on. We also on our website have three different mentoring programs. And the one that's really most fit for anybody that's starting their college career out is our subscription program where you have access to hundreds of videos. Think about it like a Netflix but for career development for young professionals.
Brad Baldridge
Right. Okay. Great. And we'll put links to all your various web pages and podcasts and that type of thing in our show notes so people can... taming the high cost of college and get all the details there as well. I really appreciate it. And we'll talk again soon, I'm sure.
Daniel Botero
Thanks for having me.
Brad Baldridge
Alright, that was a great interview. Thank you, Daniel. Hopefully we learned a lot about the world of work. If you enjoyed this episode, or you want to learn more, feel free to get to our website at tamingthehighcostofcollege.com. There, we've got a number of free resources, as well as you can sign up for our newsletter. As always, we appreciate any sort of reviews and Apple iTunes or Apple podcasts or Google or wherever it is you're getting this podcast. Please share this podcast with others and we'll see you next week.
Presenter
Thank you for listening to the Taming the High Cost of College Podcast. Now it's time for you to take action. Head to tamingthehighcostofcollege.com for show notes, bonus content, and to leave feedback for Brad. The next step on your college journey starts now.
Brad Baldridge is a registered representative of Cambridge Investment Research and an investment advisor representative of Cambridge Investment Research Advisors, a registered investment advisor. Securities are offered through Cambridge Investment Research Incorporated, a broker dealer and member of FINRA and SIPC. Brad owns two companies, Baldridge Wealth Management and Baldridge College Solutions. The Baldrige companies are not affiliated with Cambridge Investment Research.
Transcribed by https://otter.ai
Sign up to receive email updates
Enter your name and email address below and I'll send you periodic updates about the podcast.