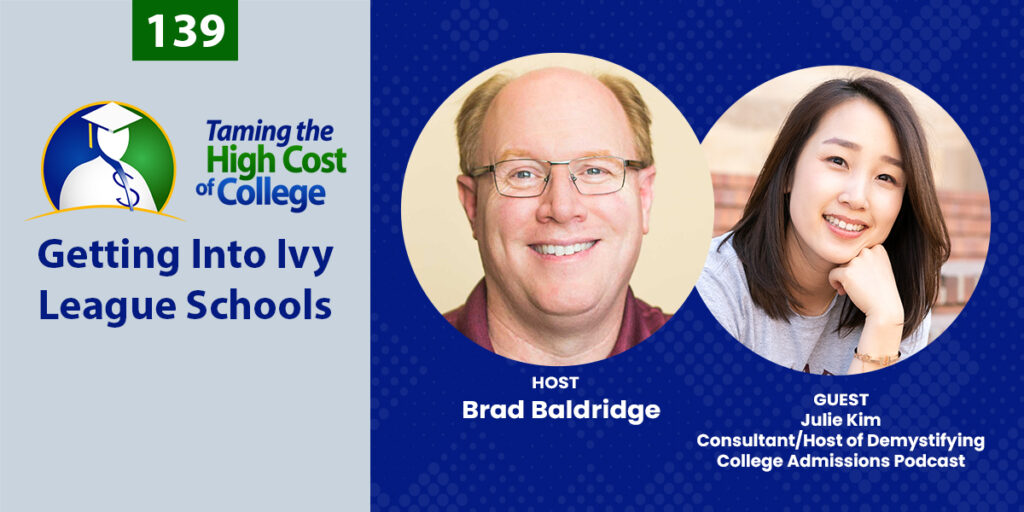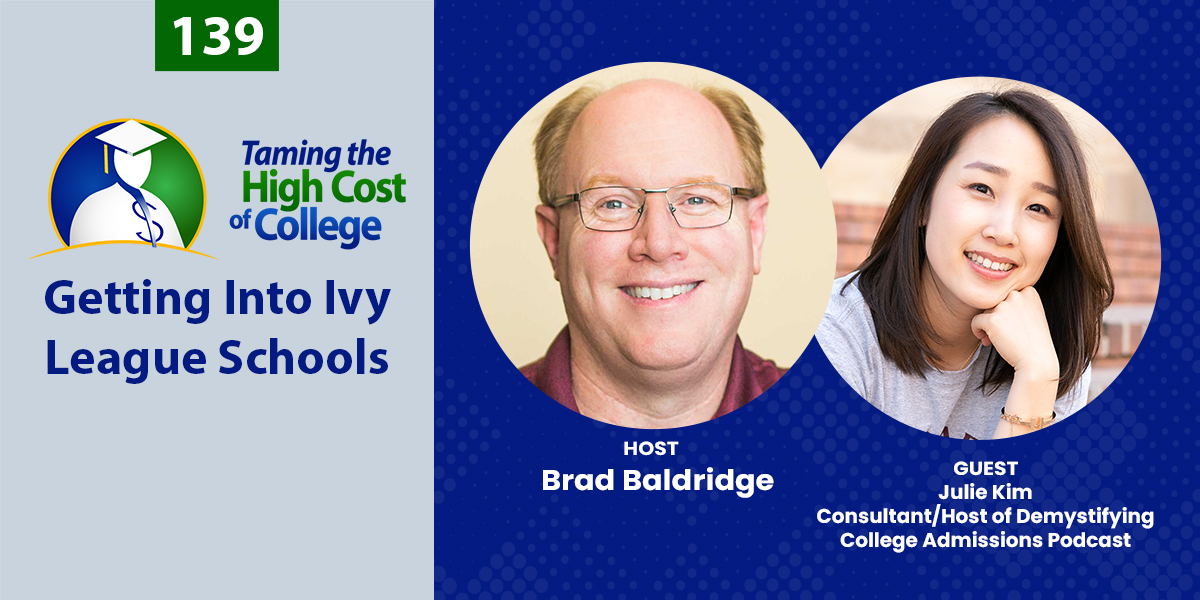 ---
Today's Guest:
Julie Kim, founder of Julie Kim Consulting
Julie Kim, a Harvard graduate, is the founder of Julie Kim Consulting. She helps high school students get accepted into dream colleges using the Passion Project system. This approach highlights students' academic interests, personal hobbies, strengths, personalities, and values, and it uses them to make the students' applications stand out while engaging with the application process.
While most of Julie's students get into Ivy League schools, her main priority is to send them to schools where they will fit well and grow.
Questions Answered Today:
How do I know if my student is "Ivy League material?"
Normally, students ask the questions like, "Do I want to go to an Ivy League school?" of "Am I cut out for this process?"
However, according to Julie, what you need to ask is, "What do I want out of this education?" It's really a matter of what's the best fit for the student. Hence, she asks questions such as:
What are your values?
Where do you want to spend your money?
In the end, parents need to remember that their student will spend four years of their time and energy at the school they pick, so it doesn't have to be the best out of all schools but rather the best for the student.
If we're being technical, what makes a student qualified to an Ivy League school?
In reality, Ivy League schools look at a student's:
GPA. Straight A's (or nearly) is absolutely necessary. There are students with B's and C's that get in, but if you'd like to secure a spot, aim for straight A's. Julie emphasizes that with colleges slowly transitioning to optional test scores, students should start giving an even higher regard to GPAs.
SAT and ACT scores. The ideal SAT score is 1520-1600, while the ideal ACT score is 34-36.
Intellectual curiosity. You need to have lots of experiences and perspectives related to your field of interest. As an example, if you want to be a doctor and study pre-med, Ivy League schools may ask:
Are you doing research?
Are you taking advanced biology classes?
Are you volunteering at the hospital?
Is there a certain area in medicine that you're particularly passionate about?
Is there anything we can do to increase the chance of getting into Ivy League schools?
"The moment you decide to not be yourself, that's the exact moment that you lose your chance of getting in, because you've got to be authentic."

— Julie Kim
For students:
Don't pretend to be someone you're not. Colleges always try to form a 'well-rounded' class that has the best of the best. Don't try to be strong, competitive and outgoing if that's not you.
Be intuitive and honest with yourself, but also work hard. Julie had B's and C's on her transcript, and her test scores were not the ideal score, but she compensated for those by showing grit, being passionate, and reaching out to professors when needed.
For parents:
Step aside and let your student make a decision. Often, what parents want gets mixed up with what the student wants, causing the student to become stressed and pressured by expectations.
Ask good questions as they lead to good answers. You may ask:
Where do you want to go?
Did you research some schools?
What's important to you?
What matters in your life?
"Let questions guide the discussion, versus setting them a rigid expectation of where they should go."

— Julie Kim
What's your perspective about expensive colleges?
Students should be able to go where they want to go as long as they have no issues with the price tag.
However, Julie hopes parents will keep in mind that:
Education is education, no matter where you go. Julie has been in a community college, USC, UCLA, and Harvard, and the best classes she experienced were at the community college.
The best part about college is going to dorms, meeting friends, and building relationships. Do parents really need to pay $70,000-80,000 per year for that?
Students can get to a high-end grad school without getting an undergraduate degree from a high-end college. Students can go to a state college and still get into a high-end grad school.
If the best schools aren't necessarily the best for my student, how do I make sure my student finds the best fit?
Research and educate yourself. Use the following as a guide when choosing the best fit:
Class sizes. For some schools, their introductory classes have a huge class size. Can you excel in a class of 400?
Professors. Some schools provide opportunities to research with professors, but some don't.
Classes offered. Some schools, like UCLA, have some of the classes taught by graduate student teaching assistants (TAs). Are you fine with that?
Internships. For example, it's hard to get internships at UCLA, unlike at USC.
Brand name. Are you willing to pay more for the brand name? For example, a student got into Harvard and USC at the same time. For USC, she could get a full-ride scholarship, but at Harvard, she couldn't. She ended up choosing USC.
The bottom line is to find a school that will provide the most and best opportunities.
Make sure your student has a good reason for choosing a specific college. That tells you about their values. Ask your students questions such as:
Why do you want to go to UCLA?
Will you explain to me why this school is worth $50,000 a year more than another school?
Listen to how they articulate an answer. Of course, their answer must be more than "because of its location" or because they offer a specific major that is available everywhere else.
How can Julie help my student get into their dream school?
Julie offers an introductory 60-minute training where she:
Goes over three essential strategies that students can use in their applications
Breaks down misconceptions and mistakes that students commit in the application process.
Click here to learn more about her free training!
Brad Recommends
Today, I recommend taking advantage of the net price calculator, which should be available on colleges' websites and especially the high-end ones.
A net price calculator helps you:
Understand how financial aid works
Calculate the need-based aid you may qualify for.
Using net price calculators also allow you to compare schools, so you can pick the one where you will get the most value.
If you're wondering how to access it, just Google the name of the school (e.g. New York University) and "net price calculator."
When using a net price calculator, make sure to:
Watch out for the rules, explanations, or disclaimers that they have on the website
Enter the data they need accurately in return for an accurate result
Reach out to colleges to verify.
Note that when you have family situations such as a blended family or divorce, it may get a little more complicated. However, it will ultimately provide an estimate of how much you will pay minus financial aid.
MyinTuition is a simpler version of a net price calculator. It asks for less information, although, in some cases, it may ask for additional details for accuracy purposes.
---
Links and Resources
Helpful Articles and Resources
---
---
THANKS FOR JOINING US!
We'd like to extend an invitation to our listeners to share their feedback and questions. Contact us to submit a question.
If you find our podcasts helpful, please share us on social media and tell your friends!
The bottom line is that we care what you think and want to help you out, so we'd appreciate you reviewing us on iTunes or on Stitcher. And even better, receive automatic updates by subscribing to the show on iTunes or Stitcher.