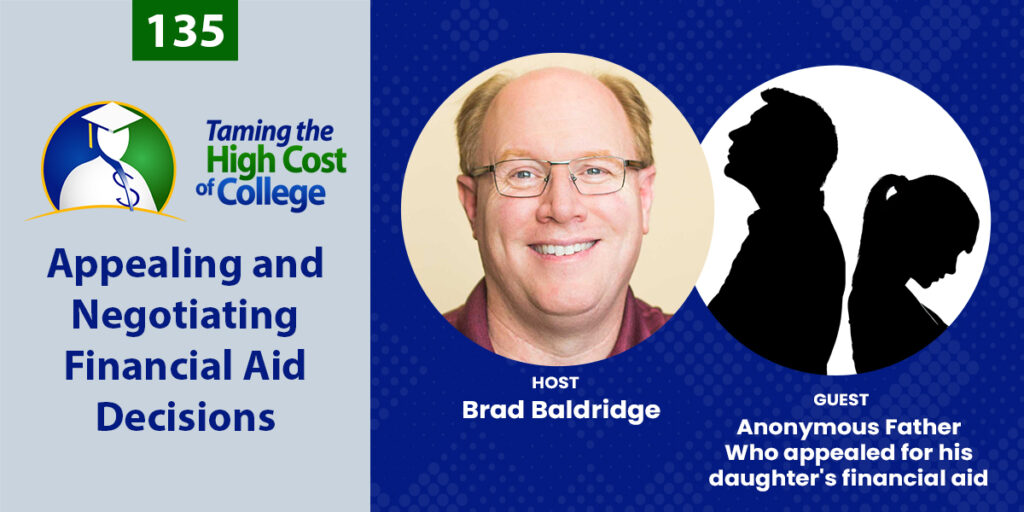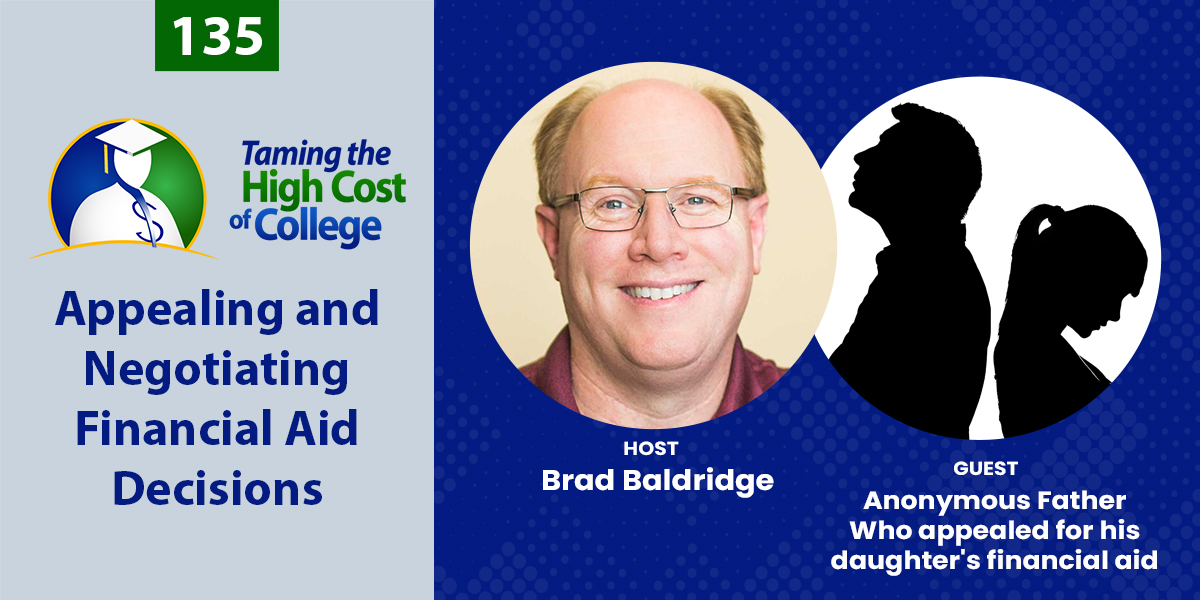 ---
Today's Guest:
Anonymous, a father of two college students
Today's guest requested not to be named since we discussed some personal family financial matters. We'll call him "Anonymous," but his story is an important one that every family should know. He's a father and a small business owner who talks about what his family went through when his daughter's need-based college financial aid was removed by her school, and what happened when he filed an appeal for the aid to be restored.
Listen to this episode to know more about appealing financial aid decisions and negotiating the cost of college, including what to expect and whom you should talk to if you're in the same situation.
Questions Answered Today:
If my income changes, does my student's financial aid change too?
Yes. A student's eligibility for need-based aid depends on the family's income bracket, among other things.
As Brad has discussed previously, colleges consider the "prior prior" tax year when assessing family income. This means they look at the period two years prior to the student's application. In other words, if you're applying for financial aid for the 2021-22 school year, colleges look at your 2019 income.
Based on Anonymous' experience, his daughter's college reviewed his family's 2019 income, which was way higher compared to their current 2021 income. As a result, for the following semester, his daughter lost her existing need-based financial aid because the college felt she no longer needed it. She ended up losing $11,000 per semester!
What if my income for the tax year the college considers is not reflective of my current income?
Change of income happens to many families. Some reasons for change in income include, but are not limited to:
Divorce
Business closure
Natural disasters (e.g. hurricane).
Fortunately, there's a way to turn this around by asking colleges to reconsider. Although it may be a tedious process, filing an appeal could give you what you want and the help you need.
Disclaimer: The process presented below is entirely based on our podcast guest's experience. The process for each college is different, so make sure to talk to your college and ask.
Here are some things you can do if you're denied need-based financial aid or lose existing aid, especially if you've had a change in income:
Communicate with the right person. This is very important because you can use all your time calling and emailing people, but if you're not talking to the person that can actually help you, your efforts will only be in vain.
Know the process for submitting an appeal. Before wasting your time doing all sorts of things to attempt to resolve the matter, make sure that what you do follows the college's policies and procedures. Colleges are big on procedures and especially appeals, so keep this in mind.
Scenario: A father anticipates that his daughter will lose her need-based aid because of their change in income from two years ago. He wanted to make an appeal because his current income is low, and they need the aid. As a remedy, he emailed the school to warn them about this. But, in the end, they still lost the aid. When they checked why, it turned out that what he did was not part of the "reconsideration process" the school follows.
Follow the college's appeal process, no matter how hard it becomes. In my guest's words, his appeal experience was "torture," and it's certainly something you wouldn't want to endure. He experienced several technical issues (e.g. website down) while in the process of submitting the appeal, and he was on the verge of giving up. But he finished the process all the way to the end, which resulted in getting what he appealed for: he got his daughter's aid back!
What tips can you give to others who will encounter the same problem?
My guest, Anonymous, learned a lot from his experience. He shared the following tips:
Be polite when talking to people. As the guest said, "I was as nice and polite as I could be because I don't need any enemies over there."
Be persistent. The authorities who can make decisions won't be available all the time. Most of the time you'll have to talk to people who don't know the process.
Proactively learn how the system works. This comes in handy when you get tangled up in a conflict that's complex. It becomes an advantage to know the possibilities. This also saves tons of time.
Be open-minded. Keep in mind that you are dealing with systems. Sometimes, it will feel like you are dealing with an automated process because you won't be getting clear and defined answers. You may even feel like it's difficult on purpose! But you have to get to the end of the process. Only then will you have an actual chance of getting what you want.
---
Links and Resources
Helpful Articles and Resources
---
Brad Recommends:
Today, I recommend taking advantage of the appeal process, or negotiating with your college to get the best offer. You can use the appeal process to:
Correct, restore or appeal for more financial aid (similar to what was discussed in this episode)
Increase scholarship awards
Scenario: You are an incoming student with a great academic standing. You can use this to your advantage to increase the aid the college offers.
Negotiate costs based on financial issues (e.g. experiencing bankruptcy)
Pro Tip: Start learning about negotiating and appeals opportunities as early as you can. Remember, you can only take advantage of the process if you know it's possible.
Also, remember that each process is different per college. So be sure to familiarize yourself with the appeal process at your college.
Now, how do you increase the success of your appeal? There are four things you can do:
Be persistent.
Find the decision maker/s. It's best if you're actively working with one person who will help you throughout the process.
Follow the process. If they ask you to submit a document, do it. Make sure to also follow up to keep your request running.
Understand that the process can be difficult on purpose. Some colleges may intentionally design the process to be complicated, so not everyone is compelled to do it.
Lastly, educate yourself and talk to experts. Contact a financial expert and ask questions before making any decision. Gather everything that you can about the appeal process by:
Asking about it during college visits
Talking about it within the family
Looking at the school's website.
---
THANKS FOR JOINING US!
We'd like to extend an invitation to our listeners to share their feedback and questions. Contact us to submit a question.
If you find our podcasts helpful, please share us on social media and tell your friends!
The bottom line is that we care what you think and want to help you out, so we'd appreciate you reviewing us on iTunes or on Stitcher. And even better, receive automatic updates by subscribing to the show on iTunes or Stitcher.