---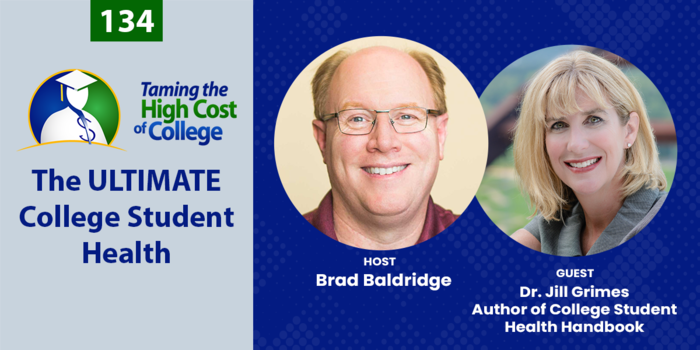 Today's Guest:
Dr. Jill Grimes, author of The ULTIMATE College Student Health Handbook: Your Guide for Everything from Hangovers to Homesickness
Jill Grimes, MD, is an award-winning author, medical editor, speaker, and medical media expert. She is passionate about prevention, and as a Fellow of the American Academy of Family Physicians (FAAFP), her practical advice covers all ages, genders and body parts. After over 20 years of private practice, Dr. Grimes now focuses on college health, and she works part-time in a university setting in Austin, TX. She also remains a clinical instructor for the UMass Medical School.
Her most recently published book is The ULTIMATE College Student Health Handbook: Your Guide for Everything from Hangovers to Homesickness (2020, Skyhorse Publishing).
Questions Answered Today:
How do I take care of my student's health and medical needs when they're in college?
Dr. Jill says a student should always have a physician nearby. It's something that parents should not compromise. While telehealth/teleconsult are available, there are issues that require face-to-face interaction with doctors (e.g. ear infections).
Luckily, most universities (especially the big ones) have reliable health centers that take care of students' physical and mental health. These centers have the capability to address problems such as:
Asthma
Diabetes
Migraines
Anxiety
Depression.
Despite the wide spectrum of medical help universities can provide, Dr. Jill notes that most universities don't deal with attention deficit disorder (ADD).
What if my student has attention deficit disorder (ADD)?
There are two possible reasons why school health centers don't service students with ADD:
ADD medications can potentially be abused.
There is no staff that handles such cases.
ADD medications are controlled substances, so their prescriptions are not allowed across states. Hence, if your student goes to an out-of-state college, their prescriptions won't be honored. Make sure to find a local doctor near their school who will provide their prescriptions.
Also, if your student has ADD, warn them about drinking. If they drink while on medications, they could get drunk without noticing, even up to the point of blacking out, which could be really dangerous.
What are the potential harms I should warn my college student about?
Riding electric scooters. There is a significant number of accidents related to scooters, and Dr. Jill warns that scooters are dangerous, especially when used late at night. In fact, there are campuses that have already banned electric scooters. The best way to avoid the risk is to encourage the use of safer modes of transportation such as Uber.
Drinking and driving. Be a role model to your student and never drink and drive. When going out, it is best to designate someone to drive, and make sure that person spends the night alcohol-free.
Too much drinking. Remind your student to drink in moderation. A third of college student populations are heavy drinkers to the point of alcohol abusers, so it's hard for students not to be swayed. But it's doable, especially when the student succeeds in finding the right clique. Here are some tips Dr. Jill provided for students that are at risk of peer pressure:
Have the confidence to say that you won't drink, and be firm.
Drink beer or wine because not many students drink those.
Avoid doing vodka shots, as you can get really drunk without noticing.
Smoking pot. Dr. Jill warns about the dangers of smoking pot. What many students don't know is that some drug dealers mix other particles into marijuana, such as sand and glass particles that could be really harmful when inhaled. Marijuana could be laced with other even more harmful substances such as formaldehyde or LSD. Lastly, in some states, it's illegal.
Smoking pot may not only have long-term effects on the student's health, but also on the student's academic standing.
Scenario: A straight-A student's dream internship got forfeited because drugs were detected when they did a hair test.
How can I support my kid's mental health?
According to Dr. Jill, about one thousand students die of suicide yearly. This is attributed to many things, including anxiety and depression. Because of this, she has many recommendations to keep a student's mind healthy. You can introduce the following to them:
Undergoing 'cognitive behavioral therapy.' This helps the student get over their current cause of depression or anxiety (e.g. a failed test), so that it doesn't progress to something that can cause an even greater disappointment (e.g. a failed class because of a series of failed tests). This is highly recommended, as it takes only about 2-3 sessions,
Practicing breathing exercises. While many don't believe in the power of breathing exercises, Dr. Jill does. Breathing exercises lower the blood pressure and slow down the heart rate, which is similar to the effect of an anxiety medication.
What do colleges do to support my kid's mental health?
Colleges are well-aware that the rates of anxiety and depression have gone up, so they also have services that support their students' mental health. Here are some of Dr. Jill's recommendations:
Apply for 'personal training sessions.' This could be through daily walking, or any physical activity that makes your brain active and boosts your serotonin levels. Dr. Jill says that it's particularly good for students having difficulty interacting with others as this helps them get out and meet people. And it's not costly—most colleges offer it for a really low cost (as low as $10), if not completely free.
Join group classes. This is for competitive students that are looking into learning new skills or honing their existing skills.
Brad adds that tutoring sessions are a great idea, too. It allows the student to provide help to someone who needs it, as well as get help when they're the one needing it.
Look for 'academic success centers.' These are teams dedicated to ensuring that students succeed academically, but, at the same time, they're concerned with the student's wellness.
When doing college tours, asking enrolled students the following questions may help:
How accessible are the professors?
How do you ask for help when you need it?
What do you do that's not hardcore academics?
Asking these questions can further help in identifying what the school does to support and accommodate the mental health needs of students.
Join clubs. For Dr. Jill, it's best to have at least three non-academic school organizations you'd want to join. Explore clubs because there are so many fun clubs that most students don't know about. Juggling Club and a Bad Movie Club are two fun examples.
What else should I keep in mind when sending my student off to college?
Establish a relationship with the campus physician, especially when your student has regular medications and medical needs (e.g. allergies, asthma, diabetes, ADHD). This is so, when the student gets sick, they are already familiar with the system.
Make sure the student has access to an insurance card. Take a picture and save it to your student's smartphone gallery. Health centers ask for insurance cards first during visits.
Get the names of the doctors you may need to contact.
Provide your student with a first aid kit. This helps them greatly in emergencies.

Dr. Jill recommends getting quality Band-Aids since wounds and blisters happen, especially for ladies wearing a certain type of shoes.
Get your student a copy of Dr. Jill Grimes' College Student Health Handbook: Your Guide for Everything from Hangovers to Homesickness. It contains fixes to medical needs that may arise when your student is off to college. It gives information about:
The newest edition (2022) includes topics such as COVID and Zoom fatigue.
As Dr. Jill says, "Build the anticipation but temper it with some realistic expectations." Don't tell your kid too much about how perfect your college experience was because they may have different experiences—not everyone's is the same.
---
Links and Resources
Helpful Articles and Resources
---
Brad Recommends:
Today, I recommend student's health insurance, which you can normally get through:
Colleges (as part of tuition)
Family insurance plan
Health maintenance organization (HMO).
Typically, a family insurance plan can cover dependents up until the age of 26. But how do you decide which one you want to keep and remove, so you don't pay double? Which one makes the most sense for your family?
Here are some things you can look at:
The health of the student
Is the student healthy?
Is the student in need of regular medical assistance (e.g. diabetic)?
Scenario: A student has diabetes. The family decided to keep both the college insurance and family insurance. As a result, the two plans co-pay for the monthly insulin, which is about 700 dollars a month.
Someone else's experience. It may also help to ask around to make sure you understand coverages. If you have a co-worker or a friend that has experience taking advantage of their insurance, ask them how exactly it works.
Note that a college insurance plan's cost is normally around a couple of thousand dollars per year or per semester, so be sure to be smart about it!
---
THANKS FOR JOINING US!
We'd like to extend an invitation to our listeners to share their feedback and questions. Contact us to submit a question.
If you find our podcasts helpful, please share us on social media and tell your friends!
The bottom line is that we care what you think and want to help you out, so we'd appreciate you reviewing us on iTunes or on Stitcher. And even better, receive automatic updates by subscribing to the show on iTunes or Stitcher.