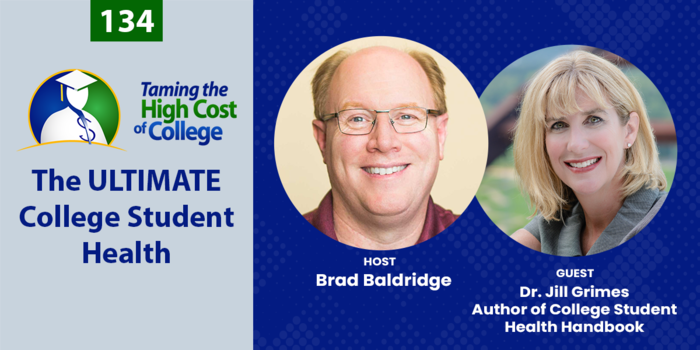 ---
Today's Guest:
Dr. Jill Grimes, author of The ULTIMATE College Student Health Handbook: Your Guide for Everything from Hangovers to Homesickness
Jill Grimes, MD, is an award-winning author, medical editor, speaker, and medical media expert. She is passionate about prevention, and as a Fellow of the American Academy of Family Physicians (FAAFP), her practical advice covers all ages, genders and body parts. After over 20 years of private practice, Dr. Grimes now focuses on college health, and she works part-time in a university setting in Austin, TX. She also remains a clinical instructor for the UMass Medical School.
Her most recently published book is The ULTIMATE College Student Health Handbook: Your Guide for Everything from Hangovers to Homesickness (2020, Skyhorse Publishing).
Questions Answered Today:
How do I take care of my student's health and medical needs when they're in college?
Dr. Jill says a student should always have a physician nearby. It's something that parents should not compromise. While telehealth/teleconsult are available, there are issues that require face-to-face interaction with doctors (e.g. ear infections).
Luckily, most universities (especially the big ones) have reliable health centers that take care of students' physical and mental health. These centers have the capability to address problems such as:
Asthma
Diabetes
Migraines
Anxiety
Depression.
Despite the wide spectrum of medical help universities can provide, Dr. Jill notes that most universities don't deal with attention deficit disorder (ADD).
What if my student has attention deficit disorder (ADD)?
There are two possible reasons why school health centers don't service students with ADD:
ADD medications can potentially be abused.
There is no staff that handles such cases.
ADD medications are controlled substances, so their prescriptions are not allowed across states. Hence, if your student goes to an out-of-state college, their prescriptions won't be honored. Make sure to find a local doctor near their school who will provide their prescriptions.
Also, if your student has ADD, warn them about drinking. If they drink while on medications, they could get drunk without noticing, even up to the point of blacking out, which could be really dangerous.
What are the potential harms I should warn my college student about?
Riding electric scooters. There is a significant number of accidents related to scooters, and Dr. Jill warns that scooters are dangerous, especially when used late at night. In fact, there are campuses that have already banned electric scooters. The best way to avoid the risk is to encourage the use of safer modes of transportation such as Uber.
Drinking and driving. Be a role model to your student and never drink and drive. When going out, it is best to designate someone to drive, and make sure that person spends the night alcohol-free.
Too much drinking. Remind your student to drink in moderation. A third of college student populations are heavy drinkers to the point of alcohol abusers, so it's hard for students not to be swayed. But it's doable, especially when the student succeeds in finding the right clique. Here are some tips Dr. Jill provided for students that are at risk of peer pressure:
Have the confidence to say that you won't drink, and be firm.
Drink beer or wine because not many students drink those.
Avoid doing vodka shots, as you can get really drunk without noticing.
Smoking pot. Dr. Jill warns about the dangers of smoking pot. What many students don't know is that some drug dealers mix other particles into marijuana, such as sand and glass particles that could be really harmful when inhaled. Marijuana could be laced with other even more harmful substances such as formaldehyde or LSD. Lastly, in some states, it's illegal.
Smoking pot may not only have long-term effects on the student's health, but also on the student's academic standing.
Scenario: A straight-A student's dream internship got forfeited because drugs were detected when they did a hair test.
How can I support my kid's mental health?
According to Dr. Jill, about one thousand students die of suicide yearly. This is attributed to many things, including anxiety and depression. Because of this, she has many recommendations to keep a student's mind healthy. You can introduce the following to them:
Undergoing 'cognitive behavioral therapy.' This helps the student get over their current cause of depression or anxiety (e.g. a failed test), so that it doesn't progress to something that can cause an even greater disappointment (e.g. a failed class because of a series of failed tests). This is highly recommended, as it takes only about 2-3 sessions.
Practicing breathing exercises. While many don't believe in the power of breathing exercises, Dr. Jill does. Breathing exercises lower the blood pressure and slow down the heart rate, which is similar to the effect of an anxiety medication.
What do colleges do to support my kid's mental health?
Colleges are well-aware that the rates of anxiety and depression have gone up, so they also have services that support their students' mental health. Here are some of Dr. Jill's recommendations:
Apply for 'personal training sessions.' This could be through daily walking, or any physical activity that makes your brain active and boosts your serotonin levels. Dr. Jill says that it's particularly good for students having difficulty interacting with others as this helps them get out and meet people. And it's not costly—most colleges offer it for a really low cost (as low as $10), if not completely free.
Join group classes. This is for competitive students that are looking into learning new skills or honing their existing skills.
Brad adds that tutoring sessions are a great idea, too. It allows the student to provide help to someone who needs it, as well as get help when they're the one needing it.
Look for 'academic success centers.' These are teams dedicated to ensuring that students succeed academically, but, at the same time, they're concerned with the student's wellness.
When doing college tours, asking enrolled students the following questions may help:
How accessible are the professors?
How do you ask for help when you need it?
What do you do that's not hardcore academics?
Asking these questions can further help in identifying what the school does to support and accommodate the mental health needs of students.
Join clubs. For Dr. Jill, it's best to have at least three non-academic school organizations you'd want to join. Explore clubs because there are so many fun clubs that most students don't know about. Juggling Club and a Bad Movie Club are two fun examples.
What else should I keep in mind when sending my student off to college?
Establish a relationship with the campus physician, especially when your student has regular medications and medical needs (e.g. allergies, asthma, diabetes, ADHD). This is so, when the student gets sick, they are already familiar with the system.
Make sure the student has access to an insurance card. Take a picture and save it to your student's smartphone gallery. Health centers ask for insurance cards first during visits.
Get the names of the doctors you may need to contact.
Provide your student with a first aid kit. This helps them greatly in emergencies.

Dr. Jill recommends getting quality Band-Aids since wounds and blisters happen, especially for ladies wearing a certain type of shoes.

Get your student a copy of Dr. Jill Grimes' College Student Health Handbook: Your Guide for Everything from Hangovers to Homesickness. It contains fixes to medical needs that may arise when your student is off to college. It gives information about:
STDS
Drinking
Drugs
The newest edition (2022) includes topics such as COVID and Zoom fatigue.
As Dr. Jill says, "Build the anticipation but temper it with some realistic expectations." Don't tell your kid too much about how perfect your college experience was because they may have different experiences—not everyone's is the same.
---
Links and Resources
Helpful Articles and Resources
---
Brad Recommends:
Today, I recommend student's health insurance, which you can normally get through:
Colleges (as part of tuition)
Family insurance plan
Health maintenance organization (HMO).
Typically, a family insurance plan can cover dependents up until the age of 26. But how do you decide which one you want to keep and remove, so you don't pay double? Which one makes the most sense for your family?
Here are some things you can look at:
The health of the student
Is the student healthy?
Is the student in need of regular medical assistance (e.g. diabetic)?
Scenario: A student has diabetes. The family decided to keep both the college insurance and family insurance. As a result, the two plans co-pay for the monthly insulin, which is about 700 dollars a month.
Someone else's experience. It may also help to ask around to make sure you understand coverages. If you have a co-worker or a friend that has experience taking advantage of their insurance, ask them how exactly it works.
Note that a college insurance plan's cost is normally around a couple of thousand dollars per year or per semester, so be sure to be smart about it!
---
THANKS FOR JOINING US!
We'd like to extend an invitation to our listeners to share their feedback and questions. Contact us to submit a question.
If you find our podcasts helpful, please share us on social media and tell your friends!
The bottom line is that we care what you think and want to help you out, so we'd appreciate you reviewing us on Apple Podcasts, Spotify or your preferred podcast platform. Even better, to receive automatic updates, please subscribe to Taming the High Cost of College on Apple Podcasts, Spotify, or wherever you listen to your favorite shows.
Brad Baldridge
Welcome to Taming the High Cost of College. This episode is all about student health.
Presenter
You have kids, they grow up, and before you know it, it's time to plan for college. Where do you start? How much is it going to cost? Will you qualify for financial aid? Should you be looking into scholarships? When will you be able to retire? What about student loans? The list of questions is never-ending. The good news is all the answers are right here. Welcome to the Taming the High Cost of College Podcast, here is your host certified financial planner, Brad Baldridge.
Brad Baldridge
Hey, welcome to Taming the High Cost of College. I'm your host Brad Baldridge. Today we have a great episode where we're going to talk about student health care. I have an interview with Dr. Jill Grimes, she has a great book out around college student health. I think she's a straight shooter, she's got a lot of good information about the things that a lot of parents worry about, things like depression and mental health and drinking and drugs and all the other things that families are potentially thinking about, worrying about, and hoping that our students have a good quality education and don't get bad advice around. So we're gonna cover a lot of those topics. And then at the end, in Brad Recommends, I spent a few minutes talking about health insurance. A lot of colleges now require some form of health insurance for their students. A lot of them also have health insurance available where you can just pay for it because it's added on to the tuition. But for many families, you can save that money by opting to use the coverage that's already covering the student through your family plan at work, or other health insurance options. As always, show notes are available at tamingthehighcostofcollege/134. As this is the 134th episode, let's go ahead and jump into the interview.
Brad Baldridge
All right, today I'm sitting down with Jill Grimes. She is the author of The Ultimate College Student Health Handbook. And it covers everything from hangovers to homesickness as what the secondary title is about. Welcome, Jill.
Jill Grimes
Thanks so much for having me. I'm excited to chat today.
Brad Baldridge
Great. So I guess let's start at the beginning. Obviously, you wrote a book about student health. What prompted you to write such a book?
Jill Grimes
Well, this is my passion project. I'm a family physician. And I was in private practice for over 20 years. And then I sort of had a career expansion, where I wrote some other books and started speaking on a variety of health topics, kind of the drugs, sex and rock'n'roll aspect of being an adolescent and moving on to college. And this particular book came about because for many years now, probably a dozen, at least, I have been making college first aid kits as a high school graduation present. And first one went to my next door neighbor, and dear friend for her daughter, she actually asked me she's like, Hey, can you just help me put this together since you're a family doc, and you know what she needs?' And I said, 'Sure.' So I decided that I was gonna do this. I'm also a very crafty person. So I've been a Girl Scout leader for a decade. I love doing all kinds of arts and crafts. So I made this cute little personalized first aid kit had everything in there from Tylenol and Advil to ace wraps and different things. And I thought it was really great. And my friend's like, 'Well, I'm not sure she's gonna know how to use it. Can you please just like write some directions on it? Just say, just tell her what cream does she use for rashes? Is that steroid thing? Are they antibiotic? When does she use what and when does she use Tylenol versus Advil because I always call you for that?' So literally what started off is scribbled notes on an index card that we shoved in this first aid kit at the last minute, as Elise was heading off to school, developed over the years into this about 20-page laminated booklet, because being crafty, I love to laminate, as I added more and more tips in there on what to do. And subsequently, I also started working on a large university campus, literally on campus seeing patients. And so instead of having an expanded family practice, my patient population became purely college students. And boy, did I learn quickly, what they needed to know. Because there's a lot of things that they knew, there's a lot of things they thought they knew. And then there's other things that they had no idea was even a possibility that they were that they actually were presenting with. So anyways, I started collecting all of these things. I continued making these kits, our daughters grew up, got to be high school age as they went off to college. I was really putting more stuff in there because I wanted them to have it with them. And eventually it was enough to expand into a full book.
Brad Baldridge
Right.
Jill Grimes
So long answer, but that's how it happened.
Brad Baldridge
Right? Exactly. And I happen to have a college freshman. And my wife and I talked about, 'Oh, we should get some of these things organized and send them with him.' And we thought about the basic first aid kit, we need to find some band aids and some various medicines. But then we never executed and we only got it half done. And within the first week, he's like, 'Do we never pack those band aids? Where are the band aids?' And it's like, 'Well, I don't know, I didn't put it in there anywhere.' So he ended up having to go within the first few days, figure out where to go buy band aids, which I guess is a good life lesson for him. But we intended to have some of the very basics, at least available, and we didn't do it.
Jill Grimes
And I will say, good band aids, that's part of my list, I have a list of the book of everything I think you should include. But when I say good band aids, I'm telling you not because they'll go in and they'll buy those cheap, flimsy little dollar box of band aids. They don't stick, they don't work for blisters, the first band aids that most college students need is they got blisters on their heels, especially girls from wearing cute shoes that are not so cute for your feet.
Brad Baldridge
Right.
Jill Grimes
And so that's the very first thing.
Brad Baldridge
Right? Absolutely. So I guess, as parents that are thinking about sending their students off to college, and you mentioned have worked in a university setting in the past, what are some of the key things that, let's start with a parent that has known health issues, let's say you have a student that I know is type one diabetic, or has ongoing prescriptions that they need a lot of, or maybe they suffer from migraines.
Jill Grimes
Or asthma
Brad Baldridge
Asthma, all those types of things where they regularly see a doctor at home, and have prescriptions and all that kind of stuff. And now they're going to be like, in my son's case, another seven hour drive away, their local family physician can't be as helpful. I've always tell him and maybe it works, maybe it doesn't now. But should they be finding a doctor where they go with what's available on a typical university? How does it work?
Jill Grimes
So this is a great question. And absolutely, it is ideal for them to have physician where they are. Because as a family physician and certainly the last two years have changed everything with telehealth. So yes, I can do more on telehealth, but I can't look in your ear and see whether or not you've got an ear infection, or whether you've just got wax packed in there, if you've got a really sore ear, I can't help but that hands on. And most universities now have really, the bigger the university, the bigger their health centers are. And they address not only physical needs, like the diabetes and asthma, but also mental health needs, which obviously, there's so much anxiety and depression that college students are dealing with, if you have a child who has ADD, so attention deficit disorder, and they are on ADD medications, these are controlled substances and the vast majority of the time, your primary care or your neurologist, whoever is seeing them, and writing those prescriptions cannot do those prescriptions across state lines. There are exceptions, but the general rule is that doesn't happen, so they're going to definitely need a doctor to prescribe that locally. Now, the caveat there is that most universities do not actually deal, surprising to everybody, that they don't deal with ADD. Part of it's because of the abuse potential of those medications. But part of its just pure staffing, that they just don't have the manpower to do it. So you may need to find either, again, a primary care physician, and if you've been using a pediatrician, not just because I'm a family medicine doctor, but it's time to move on to the family medicine doctor, when you hit college, all my pediatrician colleagues, we are very good friends, we swap out patients and they're all in agreement with that. They don't want to take on a brand new patient that's 18, 19 or 20. Some pediatricians see kids up 'ti 21. But that's not their general preference.
Brad Baldridge
Right.
Jill Grimes
One of the things I say is that in the first couple of weeks of school, that's when health centers are the least busy, bun tip. And that's when they need to go in and they just need to go in to establish, they don't wait until they're sick. Because remember that most likely, this is going to be your kids first time to get themselves physically to the doctor. That's the last thing we give up. You know, we're still taking them to the dentist, we're still taking them to the doctor, especially when they're sick. We want to drive them and mother then and or rather than parent them. And so it's the first time they're accessing the system. And if you do that when you've got 102 fever or a really bad sprained ankle and you're in pain, I mean it's really a lot of extra stress. They don't, so I encourage them, go in. If you have an on-campus health center, go in just to establish with a doctor, get a refill or get in, not a refill. Get a new prescription from that doctor which is really a refill for your established medications, whether it's an allergy medication, or asthma, diabetes, any of that stuff.
Brad Baldridge
Right.
Jill Grimes
And have it be just a low pressure, this is just getting established visit, then, when they're sick, they'll already know all those logistics of what they have to do when they get to the health center. And again, this is true, whether it's an urgent care near the school, or whether it's an on-campus center, but they'll know how to fill out those forms, most of it will already be filled out, if they've already done it once, they'll know that they have to have their insurance card, we were chatting a little bit before we started and I want to be sure parents, definitely if your kid does not have a lot of us, send them off with their insurance card. But they carry everything on their phones.
Brad Baldridge
Right
Jill Grimes
So just take a picture of your insurance card, front and back. And go ahead and send it to your kid today, if they're already off at college or do this before you send them off next year, if you've got a high school student, and favorite it, tell them to have it in their pictures and favorite it so that then when they have the occasion to go into the health center, that's the very first question the receptionist is going to ask them is, do you have an insurance card?
Brad Baldridge
Right
Jill Grimes
So now they'll have it.
Brad Baldridge
Right. So I guess it sounds to me like if you know there's certain services, you're gonna need, ongoing prescription maintenance and that type of thing. ADHD sounds like a challenging one, or that you need to establish that relationship. And that could be a doctor in the health center.
Jill Grimes
Mm hmm.
Brad Baldridge
Although it sounds like there's certain things maybe they shy away from so and then maybe you need to find a doctor outside the health system. So that might be an important step is to figure that out of, is the doctor I need available? Will my health center do what I need? Or do I have to find an established relationship outside the school?
Jill Grimes
Right? I will say that we're very good about if a student comes in and say they've got type one diabetes, and really, we're monitoring most of their care, but they may want to also establish with an endocrinologist in the community, we're going to give them here's five and no. So a bad example, depends how big your community is, here's a few names of doctors that you may need. Or if they've got ADD and they go in and that health center doesn't do that services. Even before you go in. If you called specifically with that question, they will give you names of people in the community, you're not just floundering on your own to just Google it and figure it out.
Brad Baldridge
Right. Now. I've heard you there. Brian gets an experience a little bit myself that, especially for ADHD medicines, it's hard to get establish with somebody. And again, this is I know, you don't know everything about every place, but what a relationship that a health center has with the community help you get in, at a reasonable time. I mean, I think sometimes it's like, 'We gotta wait six months,' and it's like, okay, well
Jill Grimes
That's not gonna work, right?
Brad Baldridge
First semester is gonna be over before I can actually get a chance to talk to the doctor for the very first time, let alone get prescriptions going.
Jill Grimes
Right. And that's a really excellent point to bring up. And it's sometimes it's easier than others. But the real take home here is that if your child is on ADD meds in particular, again, because it's a controlled substance, and you already know, I don't have to tell you anything, you know that you have to get those prescriptions refilled every month. It's not like you get a three-month supply. But talk with your doctor where you are now about how they suggest transitioning that care, and how long are they willing to refill medications? Most doctors are pretty reasonable about it, as long as they know that you've got an appointment set in the future, they'll be 'Okay, well, I'll refill it up until that point.'
Brad Baldridge
Right.
Jill Grimes
But that one issue is in constant, ongoing challenge for sure.
Brad Baldridge
Right. Absolutely. So my second medical story is about two or three weeks ago, my son's roommate had a collision, his bicycle hit somebody on a skateboard or scooter or something like that. And he ended up
Jill Grimes
On electric scooters.
Brad Baldridge
Yes, I don't know if it was electric or not. But he ended up needing stitches, a little road rash. And I think he bit his lip or something. And so it was nothing like earth shattering, nothing broken. But he did need to have stitches and that type of thing. So is there anything we need to do to prevent that? I guess I envision that call right? Of
Jill Grimes
Right.
Brad Baldridge
You know, you're, it's Saturday night at 1am. And it's like, 'I was a little drunk, and I fell down the stairs, and I think I might need stitches and I don't know what to do. And can you help me?' And of course, we're seven or eight hours away, or whatever it is. And it's like, well, like not much. You know, I can't help you much. I can give you some ideas on who to call. But I mean, so what do we do to, is there any, like prevention for that as far as what you might do ahead of time? And one good thing to do, I'll say is get your book and get it in your kids hands but
Jill Grimes
Thank you, because he'll flip open to the road grass chapter.
Brad Baldridge
Right. Exactly.
Jill Grimes
And it will tell you that they're going to need a tetanus shot, they're going to get a tetanus booster, you know, this is bread and butter on any clinic on or university campus. So, the number one thing to tell your kid is immediately to wash. this is like on the medical part, is that they need to wash it really well literally hold the extremity underneath a running faucet, because if it's one in the morning, honestly, they're probably not going to go seek help at one in the morning, they're going to go the next morning, and most of the time, that's perfectly fine. Look, it's gushing blood. That's one thing where no one's going to miss that. But you know, just make sure that they clean it really well. And then go first thing in the morning.
Brad Baldridge
Right.
Jill Grimes
But in terms of I can tell you that the scooters, most campuses have now banned electric scooters. And there's a reason for that I will tell you and literally my doctor friends all across the country, in the ORs, not just like in clinics, keep a running count of how many cases they've had from scooters, if that tells you anything. These really encourage your kids not to use those things. Because they're using them late at night to zip around. The problem, they go on sidewalks acting like a pedestrian, but then they jump on to the streets acting like a car, cars don't see them. I am telling you these things. They're dangerous, and especially at night. So I think the one prevention thing is to ask your kid, 'Hey, this is what a gift card for an Uber looks like. Here, have this, this is what you use don't grab one of those scooters to get the extra several miles across town.'
Brad Baldridge
Right, exactly. And the more you drink, the more likely it seems like a good idea. And the more likely it's not. So
Jill Grimes
Very true.
Brad Baldridge
All right. So any thoughts on again, the typical parent fears of what do we do in high school to maybe lay the groundwork of the typical fears? Because we've all been in college, and we see how it goes. And that's where everybody's experimenting with drinking, alcohol, drugs, etc, etc. And what did you do with your... and obviously, you're deep into it. So give us an example when you might have done with your daughters as far as when they were juniors and seniors. Did you think ahead as, 'This is what I'm going to do this now. So that college will go smoother?' Or I guess
Jill Grimes
We did.
Brad Baldridge
Maybe high school is a problem as well. But
Jill Grimes
Yeah, my husband's an anesthesiologist. So between my stories and his stories, honestly, our girls were very late to alcohol, neither of them, you know, we tried to role model responsible drinking there. I will say this whole generation, on the whole is outstanding about not drinking and driving. They do better than our generation. We go to a restaurant, we have a margarita and maybe a second one and we still drive. They won't. So that's the drinking and driving thing. I think, yes, we have gotten that message across even if we don't well while it perfectly but we should. If you're not role modeling that well now and you've got high school students, I strongly encourage you to do that. Like just just that casual. 'Okay, who's driving tonight? All right, I'm having coke instead of water soda tea instead of a margarita.' Right?
Brad Baldridge
Right.
Jill Grimes
You could tell I'm from Texas, since I'm referencing margarita. But the other thing that I talked to high school students all the time about is this. If you choose to drink, first of all, establish that a third of college students drink, don't drink at all, a third of college students, by and large, don't drink, don't smoke, don't have sex, by choice. So not everybody is doing it. A third of students do those things in moderation. And the third just abuse the heck out of it, whatever it is, whether it's pot or drinking to blackout drunk, and it depends on the groups that you choose. So if you know, for example, that your kid is headed into the Greek system, there is a lot more the social norm in again, generalizing here, but the social norm is much heavier drinking than just the general population. So if that's going to be the case, one of the things that I tell them is if you're going to drink, drink beer or wine, the problem comes in, because now the norm is doing shots, and it's vodka shots. And when you drink a shot, it takes five seconds to drink it if that. And the norm is not to have one it's to have multiple ones. And so the problem is they're getting no feedback, they're drinking faster than they can possibly get feedback from their bodies of having too much alcohol. So and by the way, if you have ADD meds on board, you won't even feel those first several drinks. And so you really get no warning, but with shots in general, that's the problem. And so they go from being just nervous and anxious at a new party and trying to fit in and doing some shots to chill out and to help themselves relax, to suddenly being super drunk.
Brad Baldridge
Right.
Jill Grimes
And to getting to the point where they're not laying down memories anymore, that's round out if they have fuzzy memories of the night before a blackout, if they have no memories or a memory gap from the night before. And then obviously, we worry about what happens in those memory gaps.
Brad Baldridge
For sure.
Jill Grimes
And there's just so much danger in that. So one of the things I say is if you choose to drink, drink beer, or wine, because not that many college students drink wine, it's mostly beer, if they're not going to drink hard liquor shots, but because if you feel the need to do that, to fit in socially, that gives you a way of something to hold. And when people won't be pressuring you, obviously, the ideal thing is to give them the confidence that they don't have to drink. And that if they don't want to drink, to be really confident about that. But for the majority of kids, that's a tough sell.
Brad Baldridge
Right? For sure.
Jill Grimes
So the main thing is to just stay away from shots, because that's who we treat, you know, who we treat on Monday mornings after football weekends, is the people who were doing shots all weekend, they come in, they can't stop throwing up, they are badly badly hungover, dehydrated, miserable. And that's who ends up getting IVs to get rehydrated fluids.
Brad Baldridge
Absolutely. Okay. Then again, as a parent, obviously, pot is becoming legal in lots of places. Do you feel like there's a lot of kids now experimenting? Or? I mean, I guess it probably always has been that way. But is it getting worse? You mentioned you're in Texas, I think, right? Is it legal in Texas at this point?
Jill Grimes
It is not legal in Texas, you can get it anywhere, though. I mean, if you're a college student, and you're not aware of other people smoking pot, you're not looking very hard.
Brad Baldridge
Right?
Jill Grimes
It is really, really common. So let me share what I tell young people when they're smoking pot, and in Texas, it is illegal. So it is still illegal. You're making a choice to do something that you can get busted for. So that's number one. But they know that. And if everyone around them is smoking, and let me tell you, this is not, some parents feel like oh, it's like the dregs of society that over there in the corners, getting STDs or smoking pot. And I'm here to tell you, it's the honor students. It's everybody.
Brad Baldridge
Right?
Jill Grimes
So this does apply to a lot. So anyway, one of the things I say is, if you didn't grow it, you don't know what's in it. Because in Texas, they're not getting out of legal dispensary.
Brad Baldridge
Right?
Jill Grimes
So there are no controls on it. And drug dealers sell pot by weight. So what do you think they do to get more money, they add stuff in it, like sand and glass particles. And then people are inhaling that into their lungs, and paying more money for it because it weighed more.
Brad Baldridge
Right.
Jill Grimes
So that's one. The other thing is something that I was much less aware of in the private community, I had actually only had really one significant case of this in my private practice in 20 years. And then I immediately saw it a lot when I was beginning working with college students is that drug dealers also lace their pot with other drugs. So sometimes it's just formaldehyde, or other nasty things like that. And sometimes it's LSD. And it's so scary to me that we see kids when they're just kind of wild out of control. And of course I'm seeing that subset because they've ended up in a clinic, right. But seeing someone high on acid, when they thought they were just smoking a joint is pretty impressive, and bad and scary. And that can do things to your brain that we just don't even understand. So that's scary. And then the last thing is, I'll tell you, every April, I and they, I see students with this story, they got their dream internship, or job offer or grad school, law school, whatever. And they went in for a drug test, and they smoked pot occasionally, they never intended to do it beyond college, it was just a college thing they just did with their friends on the weekends, whatever. But for a lot of them, it became more of a habit. And it was tougher to give up than they thought. And one in six adolescents will get addicted to pot by the way, which means five out of six don't. But if you're the one out of six, it's a problem. Anyway, so they knew that they were gonna have a drug test. They stopped pot a few weeks before because they knew that it can stay in your urine for about three weeks. And they went in and lo and behold, they had a hair test, and that stays pot will stay in your hair for three months. And I flunked it and they lost their internship or job or grad school. And so it's a bigger deal.
Brad Baldridge
So the more of this is shave your head?
Jill Grimes
There you go. Clearly that's the right answer. Why am I never thought of that? Oh my gosh, you're brilliant.
Brad Baldridge
All right. Okay. So I guess moving on now to I think another thing that we hear a lot about in the news is the anxiety, pressure, etc, around college, I guess, especially at the high end colleges. But I would suspect that it's everywhere. Is there green truth in that rumor? Or what are you seeing around? And obviously COVID probably has made it worse if it exists. But tell us a little bit about the mental health. I don't want to say crisis because I don't know that it is a crisis. But I guess that's what I'm asking you.
Jill Grimes
I think it is. Sadly, over 1000 college students each year die by suicide. That's a crisis.
Brad Baldridge
Okay.
Jill Grimes
That's really, really sad. And in every state, and is sad, and that those are ones that we know are suicides. And there's drug overdoses that might be accidental overdoses, or might have been intentional, and we don't know. But the real answer is that so many kids are really struggling with anxiety and depression. And there's a lot we can do to help. And it's not all medications on people, like I don't, I don't want to put on an antidepressant. Great. I want to start with cognitive behavioral therapy, which is not lie down on the couch and tell me why your mother was awful. You know, it's cognitive behavioral therapy is very short, sometimes just two or three sessions, but it's very directed therapy, that can really help us stop that whole circle and down the drain thing that we do when take a college student, they do poorly on a test, or a quiz. And it goes from, 'Oh, my gosh, I bombed this quiz' to 'I'm gonna flunk out this class, I'm gonna lose my scholarship, because I just trashed my GPA, I'm gonna flunk out of school, I can't, I'll never be a fill in the blank.' That's where it goes. And then the next test that they go to take, they sit down, and that track is playing in their head over and over. And then they have test anxiety, and they don't do well on that test. And then now you've got two classes, but they're not doing well. And, and so cognitive behavioral therapy is a very effective way to stop that kind of thinking, and stop those writing stories in your head. So that is something we try. There's all kinds of meditations and everyone's. 'Oh, yeah, breathing, blah, blah, blah.' But you know what, those breathing exercises really do work and we can teach them specific things like, if you when you start to feel the physical symptoms of panicking and anxiety, so shaking hands, timelessness, sometimes they'll hyperventilate, so their lips will get numb or their fingertips will feel numb, your heart's racing, you're sweating. And you're starting to get foggy brain to stop and breathe in for accounted for and breathe out for a count of 10. So four 10, remember old 10-4. I'm showing my age here
Brad Baldridge
Yes, for sure.
Jill Grimes
That's CB radio, that's what I was trying to come up with but you know, 10-4, 4-10. But basically, it's that breathing in for four out for ten and then you do it for four cycles of that. And it really does physiologically slow your heart rate down and it starts reversing those symptoms. We use medications to like for stage fright for fear of flying, test anxiety, etc. It's all the same medication, it's just actually a blood pressure medicine that we're using for the side effect of not lowering blood pressure, but slow your heart rate down. We use small doses, so it doesn't affect the blood pressure. But it just slows your heart rate down. But same thing as the breathing, it slows your heart rate down which then biofeedback to your brain. And your brain says, 'Oh, well, okay, my heart's not racing, and let's not be that panicked.' And it kind of calms you down. So we can help with really basic stuff like that. And I tell the students all the time, that, 'Look, you're paying for the benefits that we have here on the campus.' The campus that I worked on, had an amazing mental health component to it with massage chairs, and biofeedback and all these different things and like, 'Hey, your tuition, you're paying for this, get up there and go use this.' And they're like, 'Oh, yeah.' You just have to reframe how you're talking about it, but these are real things. And parents, you're going to get panicked phone calls. We all get them. I don't know anyone who's had a kid graduate from college without a single panic phone call about something, whether it's a relationship or grades where they lost their wallet, all of those things happen, but most of them can be handled and mostly you just need to listen and be a sounding board and encourage them. If it's an academic issue, we really need to push them into all of the help that's available, their tutoring sessions, the kids that have this for us, they all go to tutoring and not you know, they would have probably had it sad for you know, they would be at the top of the class without the tutoring, but they know to go to those sessions, because half the time the professors or the TAs will pretty much spell out what's going to be on the test or like, and it's just like an extra study time.
Brad Baldridge
Right.
Jill Grimes
So really, really encourage your kids even starting in high school, if they have those opportunities for study sessions, to go and to start being aware of them and take advantage of them.
Brad Baldridge
Right
Jill Grimes
I kind of got off track there. But that's where all the anxiety goes.
Brad Baldridge
Right? For sure. Okay, so let's talk a little bit about that. So services that colleges might have, obviously, we've mentioned a few already. So they're likely to have some sort of health center that can deal with some scrapes, cuts and scrapes. And if you've got a cough or a sneeze, or you need an antibiotic for some reason, or, again, I guess, in your book, I happen to notice that section where antibiotics aren't the cure all for whatever.
Jill Grimes
Thank you, thank you
Brad Baldridge
And they may actually send you home without the antibiotic, but then at least I can make that call as to whether antibiotics's appropriate, etc, etc. But then you mentioned there's also the mental health services, do they have something that's well, maybe a little bit not quite guided meditation and yoga, and that type of stuff might be something that students could benefit from?
Jill Grimes
Absolutely. All campuses are beefing that up right now, as the rates of anxiety and depression have gone up. And one of the things that I recommend actually, is personal training sessions, because exercise is so good for your brain. And the magic formula that I've always prescribed is 30 minutes a day, seven days a week, that's 30 minutes of getting your heart rate up. Because we know that that's comparable to a low dose of an antidepressant in terms of raising your serotonin levels in your brain. So if they walk to class across campus, it's probably 10, 15, 20-minute walk anyway, if it's a smaller, medium sized campus, I tell him leave 10 minutes early, make that, you don't have to set up time to exercise, it can just be part of your day, but make sure that you're getting that continuous 30 minutes. I like the personal training sessions for kids who are struggling. I mean, honestly, it's good to avoid the freshman 15. It's good for kids who are introverts who are having a hard time interacting, because it gets them out to the gym, and most college campuses, COVID has affected all of this, obviously, but many campuses will have very, very discounted personal training. Sometimes you can get sessions for free, or they're like 10 bucks. And that way, you know that for sure they're getting out of the dorm, they're getting to the gym, and they're interacting, right. So that's one of the therapies that I air quotes there for those who can't see me. Yeah, that's one of the therapies that I really do recommend. And then there's all kinds of group classes that different study skills. And, again, this is for the smart kids, it's for, not to discriminate on those who maybe aren't as smart, but what I'm saying is these are high end helpful things.
Brad Baldridge
Right, exactly. I think that's right. And then there's, again, the tutoring services, and the supplemental education for particular classes and all that type of thing, where, again, a lot of times the A student is going to participate in it, to make it an easier A, or the B student is going to get the A or the D student is going to pull themselves up to a B,
Jill Grimes
They're gonna pass. Yeah
Brad Baldridge
Right. And so it is a little bit for everyone of, if you're going to spend an hour and a half working on the topic anyway, really, you could plug into that and get and take advantage of it. So I think talking with, as a parent, talking with your student and asking those questions in front of your student, while you're visiting, might be a good way to start putting a bad idea in their head that there's a lots of... Because I've been on visits, and they pointed out, sometimes they don't point out other times, but most colleges have all kinds of different services. Part of it is they're trying to keep up with their competition. So some universities put in these fantastic health centers with all the latest machinery and therefore, now the competition has it and now we have to do it too and conversely, maybe the health centers are saying we got to get this stuff in because it'll help with some of our health issues to have access to rowing machines, and etc, etc.
Jill Grimes
Right?
Brad Baldridge
So that's all of them
Jill Grimes
Typically, ask about academic success centers. That is like a newer concept, and I mean, or at least a newer implementation of it in the past decade. Now there, I was recently on Florida State's campus, and they two huge, beautiful buildings dedicated to student academic success and student wellness and all kinds of activities. So be sure and look for those things when you're touring schools and ask students how accessible are the professor's, what do you do extra when you need help? And it'll be interesting to get the feedback on that. So in some campuses, it's very easy, others, it's tough. But I think that's an important thing to consider.
Brad Baldridge
Right? And great questions for your tour guides and other students you're talking to is, what do you do to decompress? And what do you do that's not hardcore academics. And I've had a tour guide say, 'Well, I take a dance class, it's a lot of fun, it doesn't help me academically, but boy, is it fun, and just an hour, three days a week, I just stopped thinking about everything and have fun, and it helps a lot.' So you hear those, your student hears those things, and you hear those things. It's like, oh, well, you know, we can do some things on purpose as a way to, again, if you know anxiety, or something has been going on in high school already, well, then for sure, you need to start thinking about, well, what's our plan for college when mom's not there to say, 'Hey, you need to get to bed to get some sleep.' Those types of things. And
Jill Grimes
I encourage students in August, this is always my speech or in July, really June, July, to go online to your campus that you're going to and find three different clubs, three different types of clubs that you're interested in joining. So like a service organization, that that's your gig, and maybe Greek if that's nothing, but at least two of the three have to be things that you can just join. Because if you're only going and you want to be in this sorority or fraternity and you get there and you rush and you don't get that, no, it's not called rush anymore. But anyway, if you don't get what you want, that's a very rough start to college into the semester. So I will tell you, I learned more about different fun clubs across the country. Almost every college has a juggling club. I learned about that because our younger daughter joined juggling club at Loyola Marymount University in LA, like, 'Juggling? Where did that come from? You don't know how to juggle.' She's like, 'No, no one does, just the main, the guy who started, he knows how to juggle.' She learned how to juggle it was a complete decompression to get met, like at 10:30 at night for a half an hour, once a week. And it was just a great way to interact with other people. And that actually turned out to be COVID-safe as well. Outside, separate your own balls that you're tossing, it was great, but there's just so many different clubs, there's a bad movie club, at one university in the Midwest, I can't, I don't want to misspeak. But one of the big schools and they literally get together and they watch a bad movie during COVID. They did it in smaller groups. But they zoomed in, and then they critique it as the movies going on. And they like you know, jump in,
Brad Baldridge
Right? There's no MST 3K, there's an old. So now we're really geeking out. But that was an old movie or old show up. And that did the same thing where they made a comedy out of a bad movie. But
Jill Grimes
There you go.
Brad Baldridge
Okay, well, that was great. Let's talk a little bit more about the book. Because like I said, I think, I'm torn. I don't I'm not sure what to recommend. So I think having the physical book so you can flip through the pages, because I think it's more of a reference, as in,
Jill Grimes
Yes
Brad Baldridge
The way you've organized it. If your headache is a, you go to the head section and you read about headache, and then 'Oh, I think I sprained my ankle.' Well, you go to the extremity section, and you read about sprains and you try and 'Okay, this is what I try, or this is how I know it's broken, or whatever it is.' And you kind of get that advice that I think is a year and MD and I think you did the research and provide the right advice versus the I don't know what
Jill Grimes
Some of Dr. Google is not MD-approved?
Brad Baldridge
Yes, for sure.
Jill Grimes
For sure.
Brad Baldridge
Right.
Jill Grimes
And I tried to give practical advice like on like, at some point your kid is going to call you because they're throwing up. And I'm not judging why they're throwing up, maybe it's from alcohol, maybe they got food poisoning, or whatever. Kids throw up, it happens. And it's scary for them, when they're really throwing up a lot the first time on their own. And I tried to have practical advice in the book, like, don't throw up in the sink. Because in dorm rooms, I can't tell you how often this happens. And then you have a plumbing problem. And it's bad for the roommate as well. So something that I don't have, and I really should have put in the first aid kit list. This is my one edition for this next year, is that you need to have little bitty trash bags in the first aid kit too. So you throw up in the trash bag, you don't throw up in the sink. I mean, obviously if you've got a toilet, you can throw up on that that that's fine, but these are practical things. And then in your first aid kit, you want to have those little individual powdered single serving, like Pedialyte or Gatorade or Powerade, or any of those. I tend to like the Pedialyte or liquid IV, just because they're a little more balanced a little less sugar, so that they have that in there because dorm rooms are small. Apartments are small. Frequently they do not have room to store actual Gatorade, Powerade, whatever, but you can slip those little things packets in there, and they just put that in a bottle of water, and boom, now they've got something to sip on, tell them not to use a straw. Because if you use a straw, then you're introducing air into your stomach. And when your stomach's already questionable, you don't want to do that, that actually increases vomiting. So these are the kind of practical tips I try to have in there. In addition to, here's all the other things that could be going on. And and here's the worst case scenario, and this is what you could do before you go to the doctor, this is when you really need to go be seen to help guide
Brad Baldridge
Right, I think, you know, the college student, their first time away is kinda like the first time parent, when, 'Oh, the baby fell off the bed, not a way to do, right? And by the time you actually find the pediatricians phone number, and you call the pediatrician, and so forth, and so on the baby's crying and everything's fine. And then you're talking to the pediatrician, and they're saying, 'Yeah, this is the, I do this two times a night, all the time, because the baby always falls off the bed.' Soon as they learned, et cetera. And we have to talk them off the ledge, so I just expected it happens. But I guess that's kind of the same thing as you expected. But I think this book, I think, again, even if the parents, you have the right, if you have the paper version, and you send it to the kid, that's great if you have the Kindle version, and you can share it through the family. Well, now you both could actually read it. So there's different strategies, right? Like I said, I must. I like the idea. I'm old school, it would be nice to be able to thumb through the book, I actually have the Kindle version, and you can't thumb through it. So I found that frustrating, because you want to go from page to page. On the flip side, the Kindle version would be easier to move, and you can access it on your computer and or maybe you buy both. So that might be the solution. But I think it's a great book.
Jill Grimes
Thank you.
Brad Baldridge
It might make a good graduation gift for grandparents and so forth that might want to be handing something off. So yeah. And the book, of course, is available. Everywhere you get books, I would assume
Jill Grimes
It is ask your local bookstore first because I try and support them. But I will say I'm also a bargain shopper, and Amazon frequently puts it on sale. So that's probably the least expensive place to get it. But it's also I'm not sure if it's still at Target and Walmart online for that booth of theirs. So it has been available there as well. But the COVID changed developability
Brad Baldridge
Right
Jill Grimes
But for sure, Amazon
Brad Baldridge
Right. Now you also are coming out with a new edition soon.
Jill Grimes
Yes, the new edition should be coming out in March of this coming year. So 2022. And you can guess what one of the new topics is COVID and Zoom fatigue. And then we add a little bit more room and I added in something kind of potluck kind of fun that about spring break rashes, because there's certain rashes that we see like bartender dermatitis that has to do with citrus juice landing on your skin when you're in the sun, and you can actually get a pretty wicked rash. And then we'll don't know what it is.
Brad Baldridge
Right?
Jill Grimes
You know, to read few fun things there.
Brad Baldridge
Okay, well, good. Well, like I said, I recommend the book, I appreciate you spending the time talking through some ideas and what parents might be able to do. So, any other final thoughts before we let you go?
Jill Grimes
The final thought I want to leave everyone with is this. We put inadvertently, we put a lot of pressure on our kids, when everybody says and I said it, and I bet you said it. 'They're going to be the best years of your life.' And the thing is, we say that so much. And then our family like we're a big college football, family, different schools. But you know, the kids grew up with our fun, fun, super fun football weekends, reuniting with our college roommates that we're still friends with. And just, it's just amazing. And that's all your kid ever hears. And they get to college. And they have a bad day or week. They're not only having a bad day or week, they're disappointed that they're not living their best life. They're not like that this is the best, and that they're disappointing you. So just be sure as you're talking about college, especially as your kids are in high school, throw out a couple stories here and there. You know, you don't need to bury your soul and tell every bad thing you did. But you certainly can share that time when you maybe when you bombed the test. I mean, I'll tell you, I'm the first to say I made my first see of my life in college, and it was freshman chemistry. And I did that spiraling down, 'Oh my gosh, I'm going to lose my scholarship. I'm not going to go to medical school.' I went in very focused on what I wanted to do, but I made that see because I stayed up all night with a boy that I met and you know, was having all that fun excitement of young love and I didn't study for a class and I'm hoping to quit. It was a straight up. It was just a classic thing, but I rebounded from that. And I had to explain that, 'See, in every med school interview that I ever had, which was like 10 interview, they're gonna, why'd you make a scenes?' And I'm like, 'Oh, that's totally my, that's on me. I screwed up.' But it's okay. They expect that. So, again, they are the best years of their life so far, I hope it's not the best years of their life their whole life, because they're gonna live a lot longer than that.
Brad Baldridge
Right.
Jill Grimes
So build the anticipation, but temper it with some realistic expectations.
Brad Baldridge
I think that's great advice. All right. Well, stay in touch. And we'll take it from there. Thanks.
Jill Grimes
Alright. Thanks so much for having me.
Brad Baldridge
All right, that was a great interview with Jill. Hopefully, you learned some. I know I did. Again, if you're interested in getting the book, and I do recommend the book maybe for the parents and then put it on your shelf. So you have reference to it when you need it, or you send it to the college with the student. I think there's a lot of great advice. And that's straightforward advice. I read through it quite a bit. And she tries to give the facts and about things like STDs, and drinking and drugs and all the different things we've talked about. So I think it's a great way to broach that subject with your students. Perhaps even in high school, you could make this project and read through a little bit with your student. And the book is called College Student Health Handbook: Your Guide for Everything from Hangovers to Homesickness. So I would highly recommend it, I've got the Amazon Kindle version, which you can read, obviously on the Kindle and on the computer, and that works pretty well. But I'm thinking you may want to have a hard copy where you can flip through the pages, especially if that's something you'd like in general anyway. Alright, let's go ahead and jump into Brad Recommends where we are going to talk a little bit about health insurance.
Presenter
The latest tips, tricks and tools you can use today. This is Brad Recommends on Taming the High Cost of College.
Brad Baldridge
Today, I'm recommending a research project for most families, and that we need to talk about health insurance. So many colleges will offer health insurance to their students. And actually some of them even require health insurance for their students. So as part of your tuition bill, there may be a line item on there that is essentially health insurance for your students. Now that option is a viable option if you don't have health insurance any other way. But often, students are also covered through their parents' health insurance. The typical health insurance plan that a family has through work may offer coverage to user are actually probably as required to offer coverage to dependents through age 26. So many of the families that I'm working with, they're getting coverage through the family plan. And they're waiving that insurance that's available at the university. Sometimes these universities will ask for an explanation as far as what other insurance is available, before they let you waive it just to verify that there's some coverage of some sort. Again, because it's required. Other schools, it's an optional choice where you can take their insurance if you want to. And again, if you're an international student, or for whatever reason your family doesn't have health insurance, or if this is your only student, and they go off your plan, maybe you could save substantial money at work, because you used to have to take the family plan which covered spouse and student and now you can drop down to single coverage if or just spouse if you're married. And when you stop using the family coverage that may save you enough to actually cover the cost that the college is going to charge you. So there's some decisions to be made around which health insurance makes sense for your family. So I recommend you do a dive into what what's covered in the plan that the college is offering and what's covered in the plan that you currently have from work or wherever you have a plan.
Then try and make a reasonable assumption about which plan is the better coverage. Of course, many college students are relatively healthy and they don't access a lot of health care. In other situations, I had a family where we had a type one diabetic was the college student, we knew for sure that insulin was going to be an expensive proposition. So we had to get a good understanding of how the insulin was going to turn out from a co-pay and or deductible situation on both of the plans. And it was a bit of a challenge because as I recall, it was six or seven hundred dollars a month if you had to pay for it out of pocket. And so it was a substantial line item in their college budget. So another way to dig into the research, another way I recommend looking into it, especially if you're on a group plan at work, let's say, is talk to some co workers that may be that have gone before you that have been using that plan with their college kids. So if you have some, someone that's slightly ahead of you with their children, you know, maybe had college kids for years, and you're thinking about college coming soon, you can ask them if they've ever had to make claims or how it works out or any surprises that they need, you need to be aware of, how do you set up and find a physician, where you are, and those types of things. And again, because every plan has its own rules, and there's the HMOs and different types of plans, I think you need to really, potentially dig into it, and understand it a little bit before something comes up, or in the end, you're going to have to dig into it after something comes up. You as I mentioned earlier, my son's roommate, as a freshman had a trip to the emergency room. And again, it wasn't serious, but he ended up getting some stitches and some other things. So they're in the process now, of course of again, most of the time the treatment happens. And then the bills come and then you have to try and sort out who's going to pay the bills, and how's it going to work? And I think if you know that that's coming, you spend a little bit of time figuring out how it works ahead of time. So those are my thoughts on insurance. Again, many times, the colleges themselves will have a line item that might be a couple $1,000 for the year or a couple $1,000 for this semester or you know 1700, something like that, where you can choose again to take the coverage or not take the coverage. But certainly, you don't want to have double insurance if you can avoid it, because then you're paying twice. Alright, that's all we have for today. It was a lot of information around health coverage, of course, again, this episode is 134. We appreciate any ratings and reviews. If you need to get in contact with us, you're certainly welcome to send us an email through the website. Or give us a call at tamingthehighcostofcollege.com is all the contact information. And at slash 134 is where we have the show notes. I appreciate you listening. We'll see you next week.
Presenter
Thank you for listening to the Taming the High Cost of College Podcast. Now it's time for you to take action. Head to tamingthehighcostofcollege.com for show notes, bonus content and to leave feedback for Brad. The next step on your college journey starts now. Brad Baldrige is a registered representative of Cambridge Investment Research and an investment advisor representative of Cambridge Investment Research Advisors, a registered investment advisor. Securities are offered through Cambridge Investment Research Incorporated, a broker dealer and member of FINRA and SIPC. Brad owns two companies: Baldrige Wealth Management and Baldrige College Solutions. The Baldrige companies are not affiliated with Cambridge Investment Research.
Transcribed by https://otter.ai
Sign up to receive email updates
Enter your name and email address below and I'll send you periodic updates about the podcast.