Zoom In
Source: National Center for Educational Statistics. This is the most recent data available as of January 2021
Questions & Answers
What do all these numbers mean?

All costs shown here are the average net cost paid by families in each income bracket for one year at the college in question. Net cost is the total cost of attendance for one year, minus government grants and institutional scholarships. Figures are based on data from the 2018-19 school year, which is the latest available as of January 2021.

What is "Total Cost" on the chart?

Total cost is the total cost of attendance for one year at that particular college. It includes:

Tuition and fees (in-state tuition for public schools)
Room and board (on campus)
Books and supplies
Other expenses (travel and personal)

There are detailed chart below for each school that shows these expenses. Click here to go to the individual cost breakdown for schools.

Will my family pay the amount on this chart?

Probably not. The numbers are averages. You may be below average or above average. However, there are two key points we can learn from this data:

Families with higher incomes ($75,000-$110,000 and $110,000+) will most likely pay close to full price at the public schools.
Private colleges have a higher list price but offer more discounts. This brings their net price much closer to the cost of state-funded schools.

Where did this information come from?

As part of federal financial aid, colleges are required to provide detailed cost information to the U.S. government. This data is made available to the public through the National Center for Education Statistics. For more details, click here.

What about athletes, merit aid or minority students?

Athletes, high achieving students, and those with minority status are averaged in with everyone else. Within each income bracket, there are families that pay more than average and families that pay less than average.

The costs on this chart seem large. How can families afford to pay it?

For many families paying for college is not easy, but in the end they figure out. Most families will pay their net cost of college with some combination of:

College savings and investments
Payments from current income
Loans
Outside scholarships (check out the Scholarship Guide For Busy Parents to learn how your student can win scholarships)
Tax planning
Student work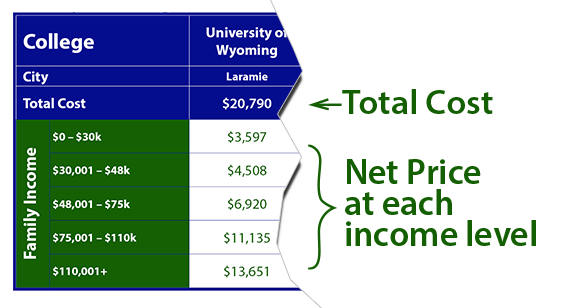 Net Price:
Net prices is the total cost of attendance for one year, minus the average amount in government grants and institutional scholarships the school awards. This is an average, so you may pay above the average or below the average. Your exact net price is likely to be different and sometimes drastically different.
Most families will pay the net price with some combination of savings and investments, current income and various loans. Some students will also receive scholarships from sources other than the federal or state government or the college. Any scholarships and grants from these outside sources are not included in the data. However, government grants and institutional scholarships are included in the averages.
Total Cost at University of Wyoming (2018-19)
Tuition and Fees
$5,217
Room and Board
$10,320
Books
$1,200
Other Expenses
$3,040
Total
$19,777
Total Cost:
Total cost is the total cost of attendance for that particular institution for the 2018-19 school year. This is the latest data available as of January 2021. Total costs include:
Tuition and fees (in-state tuition for public schools)
Room and board (on campus)
Books and supplies
Other expenses (travel and personal)
View Other States
Select a state from the map below to view colleges in nearby states.
If you found the information of this page useful, subscribe to our podcast on iTunes or Stitcher. Get great information on all aspects of planning for college. We have interviews with experts, students and their stories, and the latest news in college admissions. Listen to each half-hour episode while you're driving or working out. Use your favorite podcast app, iTunes, or listen directly at the website.