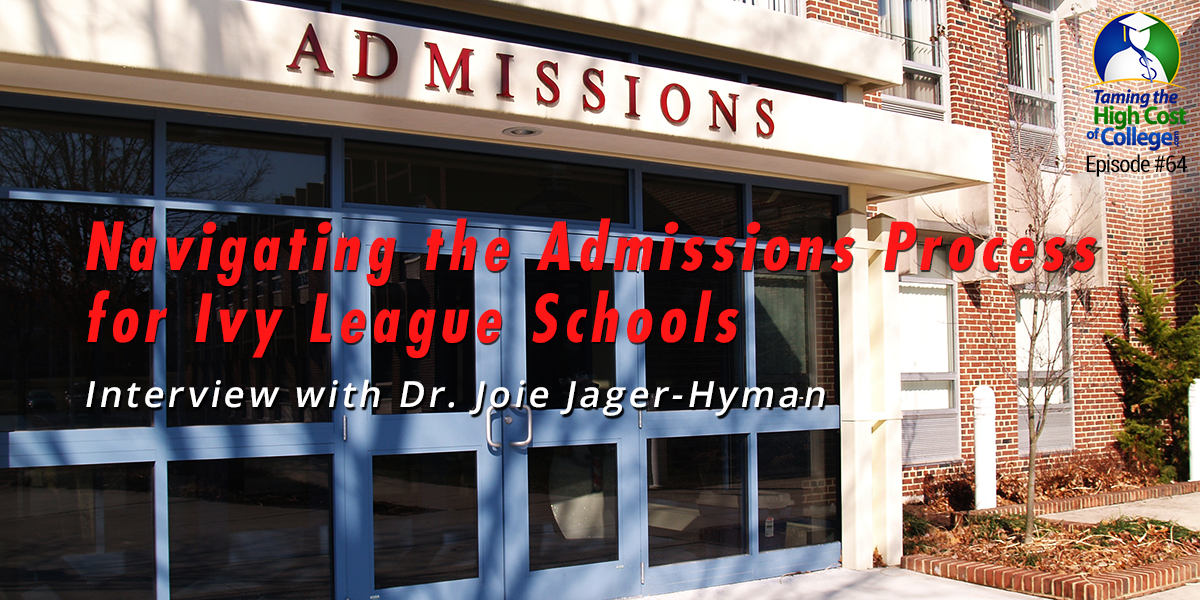 Choosing and Applying to a College
It is important to be realistic. If you are in the academic range of the college you are looking at, be sure to talk to real students.  Be careful to select colleges that your test scores fall into the accepted range of. "The grades are also very important," explains Dr. Jager-Hyman, "Test scores are really easy- that information is front and center."
When applying, Dr. Jager-Hyman recommends:
Start early.

Visit the campuses even in 10th grade, for example, but definitely during junior year.
Have a strategy to take the ACT/SAT and get it done.
Junior summer is also the time to get an application done. Senior fall is a very busy time. "Getting an early start is critical," stresses Dr. Jager-Hyman.

Do research.
Have a third party help with the applications.

Jager-Hyman explains, "Teenagers don't hear what you are trying to say." Having someone such as a neighbor or other family member to help with the application process can make a difference.

Visit the school.

Go beyond the college advisor or guide when there. Talk to the actual students.
If you can't visit, be sure to email and show interest.  Schools are specific on what they want. In 10th grade, start paying attention to what coursework you are taking and gear it towards a potential major.
Importance of Testing
"I advise students to plan for 3 test dates working back from the early decision deadline, November 1," says Dr. Jager-Hyman, "They will take your highest composite score or super score- they want to pump them up that's why they will give you multiple chances to take the test and even mix and match sections of the test."
Subject tests are another option. "They are always good to demonstrate mastery of a subject," recommends Dr. Jager-Hyman.  Some colleges have them as a requirement, so be sure to check with your choice colleges if it is needed or not to apply.
Colleges take the highest score for ACT/SAT, so take it a few times, but don't do too many.
Deadlines
There are deadlines for applications. Dr. Jager-Hyman says, "I wouldn't sacrifice quality to get it in early." It is important to "sleep on it" and really work on it. "Give yourself the best shot," Dr. Jager-Hyman suggests.
Letters of recommendations are also very important.  Colleges generally request letters from a guidance counselor and two teachers.  There are forms that go with these letters that students rarely look at that are very important. Look at the checklist and pick the teacher that will score you the best.
"It's great if you are smart, but if you are not using your powers for good, as they say, you are not going to be as attractive to colleges," states Dr. Jager-Hyman.
Dr. Jager-Hyman
Went to Dartmouth for undergraduate studies.
Became admissions officer there.
Received Doctorate degree from Harvard.
Colleges are looking for well-rounded individuals now. "Yes, academics are the most important, but beyond that they want students to make an impact," Dr. Jager-Hyman notes.
LINKS AND RESOURCES:
Jager-Hyman has written two books:

"B+ grades, A+ College Applications"
"Fat Envelope Frenzy"
THANKS FOR JOINING US!
We are starting a new video series called, "The Scholarship Guide for Busy Parents." It is going to be 4 videos that are 12 minutes or less complete with cheat sheets and other resources to help you find and win scholarships. If you are interested in learning more about scholarships please visit:
tamingthehighcostofcollege.com/scholarships
We'd like to extend an invitation to our listeners to share their feedback and questions. Our website offers a couple of ways for you to share your questions with us, and we'd love to hear from you.
Contact Us to submit a question to our email
Leave us a voicemail message on the computer! (We use questions for future shows because it's likely other people have the same question.)
If you find our podcasts helpful, please share us on social media and tell your friends.
The bottom line is that we care what you think and want to help you out, so we'd appreciate you reviewing us on iTunes or on Spotify. And even better, receive automatic updates by subscribing to the show on iTunes or Spotify.
Brad is not affiliated with CollegePrep360.