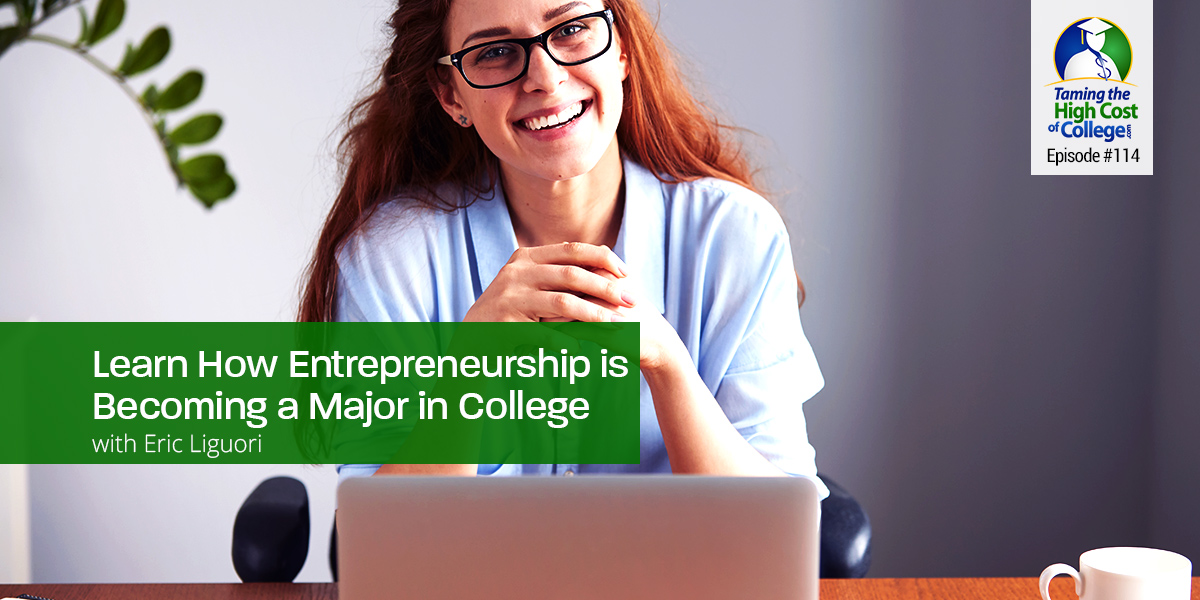 "Entrepreneurship is one of the fastest growing majors on college campuses around the country," shares our guest today Eric Liguori. He is the author of "The Startup Student" and an expert in the growing field of entrepreneurship. Hear what he has to say about building a better business and controlling your own destiny in this episode.
Questions Answered Today:
What is college entrepreneurship?
"On any campus you visit right now you are going to see students starting and running their own businesses," states Liguori. Luckily, there are now resources in place to support this at most universities.
These are usually small to medium sized businesses already turning a profit.
It is NOT just high-tech/high-growth. Students are doing everything from producing their own juices to laser engraved lacrosse balls.
Universities are approaching this in 2 ways:
Incubation Model

Lends itself to faculty research where they want to slowly take something through the market and commercialize it.

Accelerator Model

Geared towards bundling resources around students to help them launch their own companies.
What should parents know?
Parents need to challenge students to research and choose a college with resources to support that dream. It will be an up and down ride for parents.
Entrepreneurship is a major that is usually under the Business college.
"Some campuses are much more focused on interdisciplinary education, and other campuses are focused on entrepreneurship as its own discipline and major," notes Liguori.
The final series of courses usually allows for students to work on their own or to work as a team.
College entrepreneurs learn 3 major categories:
Business basics

Setting up the books, hiring of staff, entity creation, cash flow management, pricing the product, advertising, cost analysis, intellectual property protection, and all other basics of business

Entrepreneurial basics

Different types of entrepreneurships, characteristics of entrepreneurs, understanding the process, nature of an opportunity, taxonomy of infrastructure in place, knowing how to start and launch leads, entrepreneurial orientation and how to position your company, seed and venture capital

Mindset and Competency of an Entrepreneur

Opportunity alertness, passion, persistence, tenacity, gorilla behavior, learning from failure, resilience, creative problem solving, building and using networks
"We give them the guidance they need to navigate that choppy water of uncertainty at the beginning," describes Liguori.
Students usually fall into one of two categories:
Have been hustling and working since a very young age
Like the idea of starting something or creating something, but aren't sure how to go about it
Classes focus on tool-building and help students understand if it is worth it or not to just take a market wage.
Credibility challenges are the toughest, so students are matched with experts and mentors. These connections can help introduce them to more partners and get access to capital. Instructors also help students to set up plans for beyond college.
Investment pitches and competitions are other ways students can gain capital without losing equity.
Sometimes parents are worried and prefer students to get job training.
"My experience has been that students who are really passionate about it find resources," says Liguori.
Every university will have something different offered ranging from a certificate program all the way up to graduate degrees.
How do you pursue entrepreneurship?
There are a few steps high school juniors should do:
Check state schools in your area for entrepreneurship centers
Email the faculty and directors of these centers to ask about the programs

If you are polite and professional you should get a response

Check the U.S. Association for Small Business and Entrepreneurship
US News and World Report
Princeton Review
Don't be afraid to pick up the phone and ask the admissions office of any college you are interested in.
Entrepreneurship is generally in the Business school, which might have minimum requirements above and beyond the major itself.
LINKS AND RESOURCES:
BRAD RECOMMENDS:
Core Area- Building a Budget
Start by looking up what it might cost to attend your local state school.
There are two ways to build your budget:
Figure out how much money you need and create a plan to get there.
Define your budget and base your school choice on what you can afford.
In the end, just because you can only afford a certain amount a month, does not mean that is enough. You might need to recalculate what you can afford, take a job for additional income, or consider borrowing.
Begin freshmen year of high school to figure out what college will probably cost.
Then you will know what you might have to save or invest.
This will not be necessarily easy, but it IS necessary!
Optional Area- Divorce Planning
This impacts:
Need-based aid

Based on income and assets of the family
Usually just one parent is considered for financial aid, but their new spouse might also be included

Family politics

Parents could be cooperative to solve the college dilemma, or one parent feels responsible
This can get complicated, so do your research!
Episode 39: Divorce and College Planning
Episode 11: College Planning and Divorce
THANKS FOR JOINING US!
We'd like to extend an invitation to our listeners to share their feedback and questions. Contact us to submit a question to our email.
If you find our podcasts helpful, please share us on social media and tell your friends!
The bottom line is that we care what you think and want to help you out, so we'd appreciate you reviewing us on iTunes or on Spotify. And even better, receive automatic updates by subscribing to the show on iTunes or Spotify.