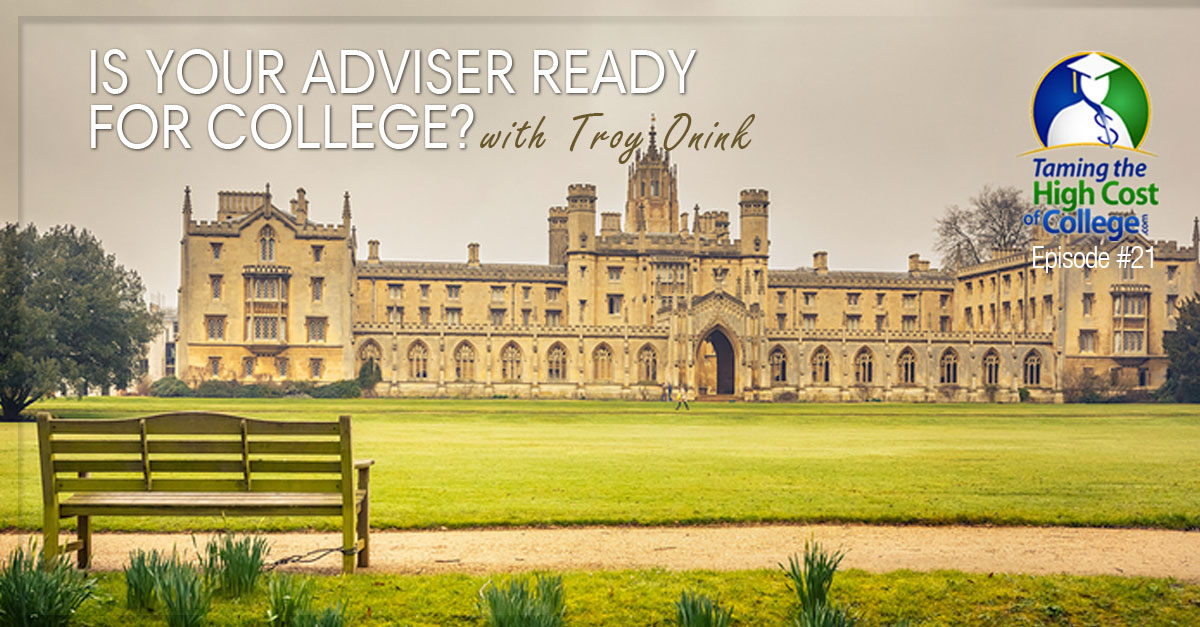 As a Certified Financial PlannerTM professional, specializing in late stage college planning, today's guest is a great partner in helping me to provide families with guidance in organizing their finances as the kids head off to college. Troy Onink is the CEO of Stratagee and has developed software called SmartSearch for financial advisers. He also authors a column for Forbes Magazine called "College Crossroads," which offers information and advice for families in the search for college and the means to fund it.
What led the development of the SmartSearch software?
Troy realized that as the Baby Boomers had children entering college, they weren't ready or organized financially for it. This was in the days that preceded college funding plans like the 529 Coverdale accounts, so Troy decided to build software to help advisers help their clients.
Today, the need is ever more important, as the cost for college skyrockets and families need to protect and preserve their assets. The software has evolved to meet those needs and provides a simplified and streamlined platform to provide information – far less complicated than the FAFSA, CSS or other college financial aid forms. However, it still allows financial planners to assess and identify their client's financial picture in order to make clear choices in planning for college.
How can families tell if their adviser understands college planning, or when they should seek further help?
Troy explains that most advisers have a cursory knowledge of college planning, but the vast majority – 90 percent or more – don't have a good grasp of the "late stage" planning for college. Their focus is generally on retirement planning, so while they can help families save money the focus is beyond the college years.
In reality, Troy says college planning is far more complex than retirement, mainly because of four key areas not found in most financial planners' scope.
Selection of a school/admission
Types of aid available based on the selection (merit based and/or need based)
Tax aid – employing tax savings strategies and tax breaks
Personal resources – what the net cost of college is and how the family will personally fund it
This is where Troy says families can fall into a "college chasm of advice." Generally, experts will be versed in the first two areas and can help with getting into schools, but don't have the experience in the financial aspect. Or, advisers will understand the financials, but not the intricacies of selecting a college and the organization and thought needed for that. For what is likely the largest expense outside of a home for families, this is comprehensive advice that families often don't get.
What are the options out there for getting information?
Basically, it comes down to
Using who you have as an adviser
Doing it yourself through online tools and instruction
Seeking a specialist whose focus is college planning
Obviously, the first two options have their share of risk, as few families have the expertise in knowing the questions to ask or the time to consider every aspect of the process. However, in selecting a specialist, it's also key to beware of who you are hiring.
Questions you should ask a college funding adviser
How are they paid?
What products do they have the authority to sell? (Like life insurance, mutual funds or variable products like annuities?) Often this is a strategy that advisers will use to move assets into accounts that won't be counted on the FAFSA, CSS profile or other financial aid forms. If they receive payment based on sales to such accounts, understand this may be a concern for your specific needs or goals.
What is their background – how have they helped families?
What is their strategy?
Can they explain the differences among the FAFSA, CSS profile and other college forms?
What to consider before repositioning assets
As we mentioned, some advisers may get paid by the products they sell, and will use this strategy to advise families to move their dollars into accounts that won't be counted on financial aid forms. However, here's a scenario that explains why that may not be in your best interest:
Let's say you have $200,000 that you move into a life insurance policy or annuity. Your expected family contribution (EFC) is $40,000 and the college you are targeting has a total cost of admission of $26,000. Moving the $200,000 will decrease your EFC by $10,000, as generally colleges look at 5 percent of your assets to put toward costs for attendance.
While this lowers your EFC to $30,000 – guess what? At $26,000 for a cost of attendance, you are still going to be responsible for the entire costs of attendance.
In addition, by moving the $200,000 to an account that essentially has locked those dollars away, you've also handcuffed yourself from accessing them to pay for tuition and other expenses.
How can you find out if your adviser is using the SmartSearch software?
Troy says that there's no list of current users of the software, but generally if you are working with an adviser who has the knowledge, it's likely that they are already prompting you with questions or advice on when you should start looking at schools, and based on your finances, what your child's options are for selection. That should be a key indicator that they are versed in the total college planning process.
When should you get started on strategizing for college funding?
Generally, as early as possible, but realizing that kids don't know what their major might be until perhaps mid to later high school, understand that planning won't involve all aspects of the process. However, we suggest that parents of high school freshmen or sophomores can certainly work on tax planning and investments. In addition, the earlier you scrutinize your expenses or your decisions on future large purchases, like vacations or homes, the better. What can make an adviser cringe is hearing about a major purchase toward a brand new car or vacation home just as their child is eyeing college.
Similarly, the earlier that you sit down with an adviser to review where your savings are kept, the more likely that this money can be managed to place it in a protected position.
For families who believe that they aren't going to need financial aid, it's still important to talk with an adviser, as often decisions like skipping the FAFSA can be based on incorrect information, or they don't consider what can happen with multiple children in college.
Troy's 3 Quick Tips
Don't wait – seek out and get the advice you need to get started
Understand that the college you select is what drives the financial aid process; elite schools generally do not offer merit based aid, so if you won't qualify for need-based aid, will you be able to afford it?
Make sure you are employing a financial planning approach that involves all 4 areas – selection/admission, types of aid, tax aid, and personal resources.
Today's Question
Joann contacted us with a question on scholarships, and she is wondering whether it is worth the time and effort to apply for them, especially as their student has average grades and their family has average income.
First of all, it's important to understand the types of scholarships out there:
Institutional – these are offered directly from the school, and as such are tied to enrollment at that specific school; there is no application process, so it's relatively easy
Private – these are awarded from outside sources and do require some work and an application process; however the dollars awarded are not tied to any specific college, so if your student is considering multiple schools, the money can be used anywhere
The question of whether it's worth the time and effort to pursue scholarships is really a personal one, but understand that the "full ride" private scholarship is rare. I've known a family that applied for 40 different scholarships and received seven for a total award of $39,000. However, not everyone has that type of commitment – or success.
You can make a determination dependent on your willingness to do the work and the research. You can sign up below to take this questionnaire to determine that answer. Also, we have two previous podcasts for you to listen in on for more information as well.
Podcast #5 – A conversation with Kim Stezala, author of Scholarships 101: The Real World Guide to Getting Cash for College
Podcast #14 – I review the types of scholarships out there and how to pursue them.
In short, your options are
Ignore the (private) scholarship process
Pursue low-hanging fruit: what are the scholarships that your student is highly qualified for (private groups they have worked with), or least competitive
Perform an all-out search, but weigh the amount of time and work you'll be putting into it against the time you have or the likelihood of being awarded
LINKS AND RESOURCES
Stratagee
More about SmartSearch software
College Crossroads – Troy's column in Forbes
Considering Scholarships? Listen in to Podcast #5, Podcast #14, and read up on it: Scholarships 101: The Real World Guide to Getting Cash for College
THANKS FOR JOINING US!
We'd like to extend an invitation to our listeners to share their feedback and questions. Our website offers a couple of ways for you to share your questions with us, and we'd love to hear from you.
Contact Us to submit a question for a future podcast.
If you find our podcasts helpful, please share us on social media and tell your friends.
The bottom line is that we care what you think and want to help you out, so we'd appreciate you reviewing us on iTunes or on Spotify. And even better, receive automatic updates by subscribing to the show on iTunes or Spotify.