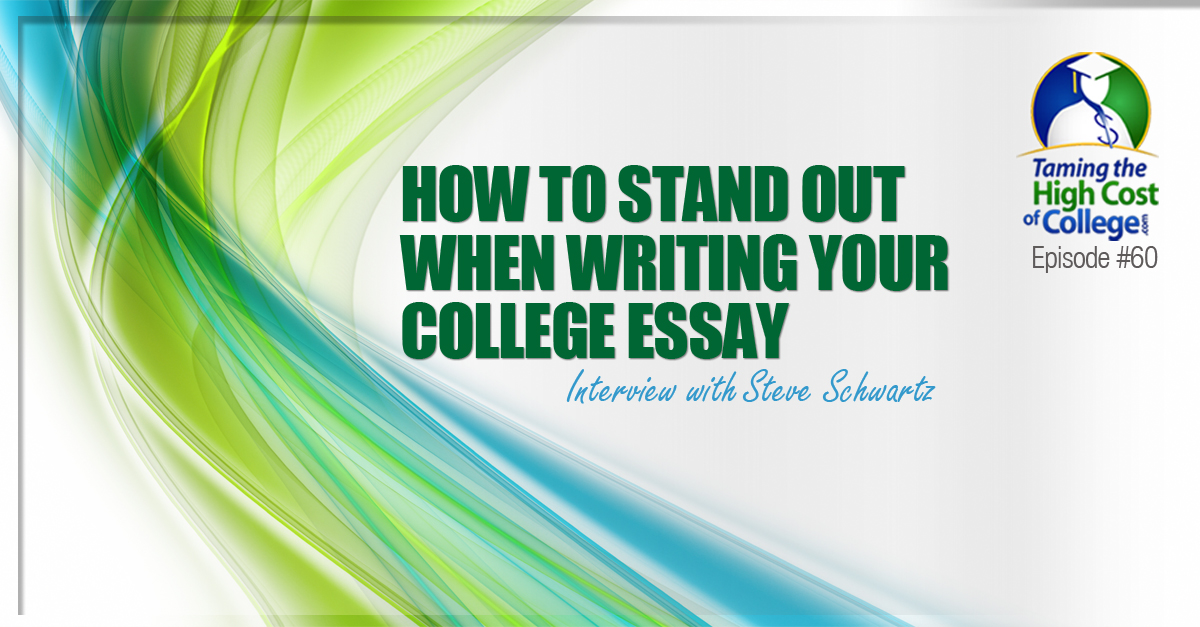 Extracurricular Activities and Essays
"Simply being a member of an organization isn't going to impress anyone," says Schwartz. Having great scores isn't enough anymore. A focal point of applying to college now is the essay. A great way to help with that is to have unique or exciting extracurricular activities.
Schwartz recommends for extracurricular activities:
Something really enjoyable. Kids won't put in the effort if they are being forced to do it.
Make sure it stands out.

Go outside the school setting to find something unique, a passion, or what they want to pursue professionally.

Try online with programming, working remotely, or open source projects.
Create your own club.
Start a campaign, such as recycling.
Reach out to the local college or university and intern or assist a professor in the field you plan to major in.
"If you stay inside the high school world, it limits creating that superstar effect," warns Schwartz. The top tier schools are looking for that stand out student and the best they can get. Schwartz notes, "If you can indicate one thing that shows you innovated in some way, created something, started something, or reached for some opportunity that is going to impress them,"
Letters of Recommendation
"All this stuff matters, and the most recent stuff matters most," states Schwartz. It is ideal to get a letter of recommendation from sophomore or junior year teachers. They will know your child the greatest because they have had the most personal interactions.
Senior year teachers and guidance counselors are often not the best choice because they haven't been able to spend enough one on one time getting to know your child individually.
Scholarships are often recommended more to the students that know the counselor the best. Find a reason to visit your counselor and get to know them!
Someone writing a letter of recommendation should be a person that has evidence of your child:
Taking initiative
Doing something they didn't have to do
Showing determination
Using problem-solving skills
Recommendation letters should come from both the school staff and coaches or supervisors from outside of the school.
Biggest Mistakes that Parents Make
Parents tend to project onto kids what they should be doing. "You can't put a square peg in a round hole," explains Schwartz, "Encourage kids to cultivate their own interests and channel those interests down a productive road." Find a happy medium.
Parents play an important role:
Keeping kids on task
Helping make decisions
Develop essay ideas
Strategize who to ask for letters of recommendation
Standardized test preparation
Schwartz emphasizes, "Make sure you are not forcing a kid down a path they don't want to go because if they are stubborn and refuse, they end up achieving significantly below their potential in the end."
Quick Tips
For parents of seniors it is getting down to crunch time. Be sure to get letters of recommendation and begin essays if you haven't already. Junior year parents can look at last year's applications for the college or universities you are interested in because they will not change that much. Start planning ahead about the different components so you are ready when applications are due.
Schwartz's biggest piece of advice is: "Planning ahead, even when it comes to college essay topics. You don't want to be writing them the night before or the week before. The best essays are written over a period of at least a few weeks so you have time to review and get some distance from it before coming back."
College application deadlines vary based on the college you are applying to, but it is usually due the November of their senior year.
This needs to be well in process during the junior year of high school because by senior year your child should be writing about their experiences and getting their letters of recommendations. It can't be done last minute; the more time the better.
LINKS AND RESOURCES
BRAD RECOMMENDS
"PUTTING COLLEGE TO WORK" BY KAT CLOWES, M.B.A. This is a book about the process of college and things to do along the way. Includes the pre-college process, as well as taking advantage of what is available at your college, building a resume, and finding a job. This would be great for parents of high school kids and students to read. It is full of great information to think about the long view of college. Parents should read this so you can help coach your college child to accomplish goals with more intention, making a plan, and doing things on purpose.
THANKS FOR JOINING US!
We are starting a new video series called, "The Scholarship Guide for Busy Parents." It is going to be 4 videos that are 12 minutes or less complete with cheat sheets and other resources to help you find and win scholarships. If you are interested in learning more about scholarships please visit:
tamingthehighcostofcollege.com/scholarships
We'd like to extend an invitation to our listeners to share their feedback and questions. Our website offers a couple of ways for you to share your questions with us, and we'd love to hear from you.
Contact Us to submit a question to our email
Leave us a voicemail message on the computer! (We use questions for future shows because it's likely other people have the same question.)
If you find our podcasts helpful, please share us on social media and tell your friends.
The bottom line is that we care what you think and want to help you out, so we'd appreciate you reviewing us on iTunes or on Spotify. And even better, receive automatic updates by subscribing to the show on iTunes or Spotify.
Brad is not affiliated with College Admissions Toolbox.