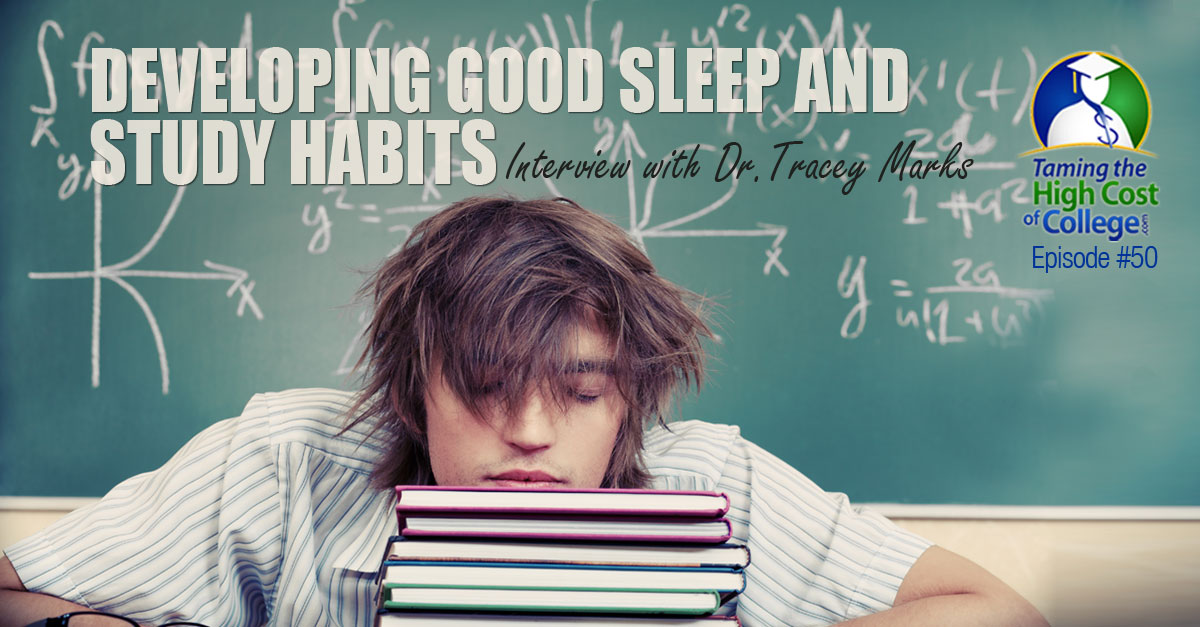 In this episode, Dr. Tracey Marks shares her sleep expertise:
Has been in private practice for 16 years.
Has a general practice to see adults, but has an emphasis in seeing women for lifestyle management.
Became very interested in the connection between sleep and disorganization.
Created a podcast for working moms to focus on all the tasks they have to do.
How Sleep Changes for Teenagers
"I do see sleep as one of those first indicators of someone's overall health, similar to someone's weight," said Dr. Marks.Naturally, people sleep at night time due to their biological clocks.
Factors contributing to later bed times:
Hormones control our biorythm and hormones are changing in teenagers.

Delayed Phase Sleep Disorder: You can't get tired early in the evenings.

Their clock can lengthen beyond 24 hours.
Teenagers can't naturally fall asleep until about 1 am, but the degree varies from child to child.
Most people grow out of it.
Children youger than in their teens need between 10-12 hours of sleep at night. High school age students need about 8 hours of sleep. A full adult beyond 18 needs between 7-9 hours.
Addressing the Body Clock
"One of the most powerful triggers for when you sleep is light," warns Dr. Marks. If light is used from something like a light box, it can help pull the sleepiness of a struggling student to earlier in the day.
The light must be blue light that mimics sunlight. It can't just be a lamp.
Electronic devices emit a similar blue light.
Esposure to smart phones or tablet devices before bed confuses your body clock.
Use blue light-blocking glasses (can be found online) to help prevent the interference.
The light on the eyes is what causes the problem.
Sitting at a computer or having the device right by your face is what causes the body clock confusion.
Bedtime for Teenagers
Dr. Marks notes, "It is not good to shift your sleep back and forth for several hours on the weekend. The effect is similar to jet lag. You shouldn't vary your sleep time by more than an hour." Routine is very important for our bodies.
Studying and Sleep in College
Studying and working all night is bad. On the surface it seems helpful, but it is actually working against you.
Memory Consolidation:
To be able to remember what you learned during the day, you need sleep.
Having a good night's sleep will help you do better on exams.
Parents can help teach their children good study habits before they get to college. Some kids need to multitask in order to focus, such as shaking a leg. "Unfortunately, with all the technology that we have, we need high-intensity stimulation in order to keep going. We can't tolerate not being stimulated," states Dr. Marks, "but this reduces your overall efficiency."
Parents know what their child needs. If what a child is doing is really helping them get their work done (such as fidgeting or listening to music), then embrace it. You are looking at the outcome of the behavior and assessing that before making a judgement.
Medications for Studying
ADHD/ADD is a real problem, but because of the misuse of medication, some parents are fearful. Some students can get by just struggling a little in high school, but when they get to college they now really struggle.
There is a difference between a child having real trouble maintaining attention and a child that just wants to extend their studying or stay up late.
A child that might have ADD/ADHD will struggle in other areas such as:
Staying focused on what you are saying to them
Interrupting
Forgetfulness/need constant reminders
Disorganized
If you don't see these things, and now they get to college and are telling you they can't keep up, they might just need to adjust their study habits or be taught how to study. Kids can breeze through various levels of school until they hit a wall where they realize they really need help. They were never explicitly taught how to study. Parents can impress upon their child good study habits now because school might not always be easy.
3 Quick Tips for Transitioning to College
To help make the college transition a little smoother, Dr.Marks suggests:
Parent's shouldn't worry if your high schooler is going to sleep late.

If you are worried, get a light box and use it in the morning.

If your child is using technology at night, get the blue light-blocking glasses.
Discuss good study habits with your child before they get to college.

Emphasis that studying all night will not work. Your brain needs good sleep for memory consolidation.
LINKS AND RESOURCES
BRAD RECOMMENDS
College Rules! How to Study, Survive and Succeed in College.(3rd Edition)
by: Sherrie Nist-Olejnik & Jodi Patrick Holschuh
THANKS FOR JOINING US!
We are starting a new video series called, "The Scholarship Guide for Busy Parents." It is going to be 4 videos that are 12 minutes or less complete with cheat sheets and other resources to help you find and win scholarships. If you are interested in learning more about scholarships please visit:
tamingthehighcostofcollege.com/scholarships
We'd like to extend an invitation to our listeners to share their feedback and questions. Our website offers a couple of ways for you to share your questions with us, and we'd love to hear from you.
Contact Us to submit a question to our email
Leave us a voicemail message on the computer! (We use questions for future shows because it's likely other people have the same question.)
If you find our podcasts helpful, please share us on social media and tell your friends.
The bottom line is that we care what you think and want to help you out, so we'd appreciate you reviewing us on iTunes or on Spotify. And even better, receive automatic updates by subscribing to the show on iTunes or Spotify.
Brad is not affiliated with Beyond Burnout or Dr. Marks.