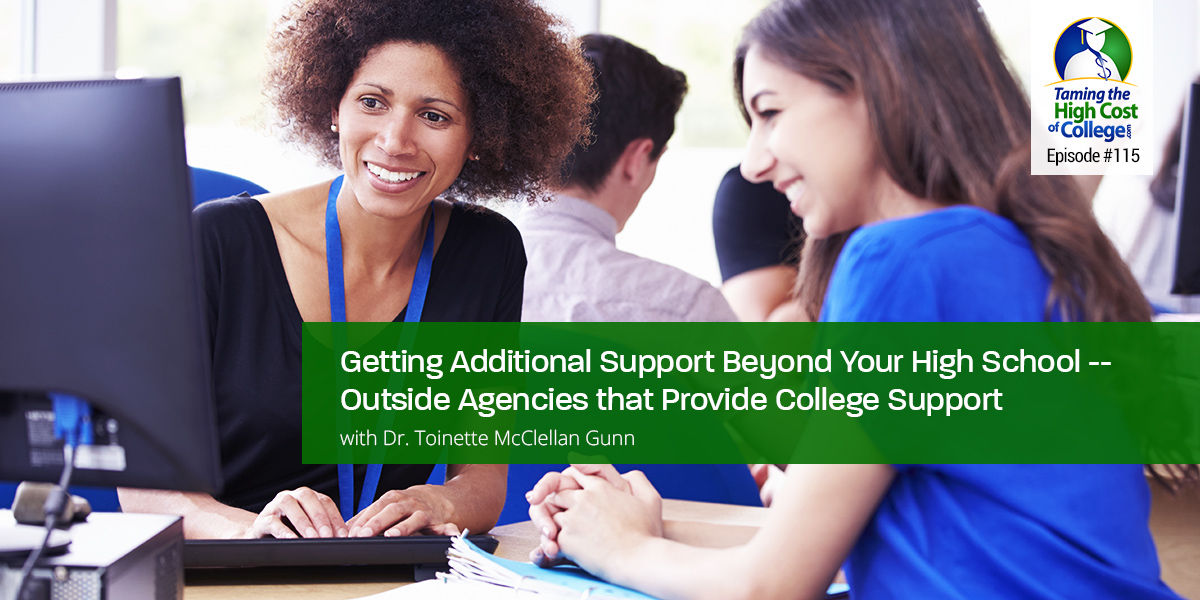 Chicago Scholars has the goal of finding students in the Chicago area that want to go to college, but might need some additional support. Even if you are not in Chicago, tune in to this episode with Dr. Toinette Gunn to understand how these programs work! There is support out there ready and waiting to help you guide your student through the college process.
Questions Answered Today:
What is Chicago Scholars?
"I've been in the college access or readiness space for over 15 years," shares Dr. Gunn. She is a first-generation college student that didn't have a lot of guidance or family support.
Education broke the poverty cycle of her family and she is very passionate about working to help other students to change their own futures.
Chicago Scholars began in 1996. It is a nonprofit organization with the largest college access and success program in Chicago. "We help students get to and through college. It is about helping these young people transition into careers and roles of leadership," notes Dr. Gunn.
Some examples of the types of things they do include:
Working with students and parents

Parents are involved from the very beginning establishing a partnership to achieve the common goal of the student earning their degree.

College access

Lecture lab about the college process

Individual counseling about college
Workshops
Mentors

Help through the application process
The programs begin June of the summer before the senior year of high school. Beginning in October of their senior year, these students have already applied to about 5 colleges on average.
Once a student is enrolled in college, there is a college success team available to offer multiple types of support as well as workshops around careers, leadership, and identity/self-advocacy for resources on campus. "Students have to be proactive and initiate," describes Dr. Gunn.
Students are also strongly encouraged to get involved with campus life. Research suggests that a student who feels more connected and is involved with their campuses, or feels part of the community at a college, is more likely to persist and graduate.
How do I find something similar in my town?
There are over 30 organizations that are partnered with Chicago Scholars in Chicagoland.
If you don't live in Chicago, you should ask your high school counselor or look on the internet for:
Dr. Gunn also suggests to start with an individual education counselor if you can afford the fee.
What are the important factors students and parents need to consider when applying to a college?
"First and foremost do your research," warns Dr. Gunn. This includes:
Complete an academic profile (SAT/ACT test scores and GPA) and make sure it helps guide the institutions you are applying to.

Other platforms are available also
Even if you are a little under the average of a school, if you really want to go there you should still apply and highlight your compelling story via the essays/personal statement.
College selectivity rating

Colleges that are more selective have higher graduation rates.

Graduation rates

Especially if you are an underrepresented minority.

Supportive services available on campus
Area of study

If your major is available or not

Financial Aid
FIT!

Does this college fit for this student?
You have to visit the campus in order to properly be informed about the fit of a school.
Parents and ultimately students will craft their personal definition of what a "just right fit" will be.

Financial
Socio-emotional
Culturally
Geographically
"Colleges have personalities and students have personalities," advises Dr. Gunn. So be sure to check out your finalist campuses you want to apply to in order to confirm your student can see themselves spending the next 4 or 5 years there.
Begin with your local state schools or nearby community schools. Visits look different for freshmen/sophomore or junior/senior. Upperclassmen can:
Sit in on lectures
Meet with professors or advisors
Student shadowing
There are lots of good fit schools out there for students. If one doesn't work out, there is another one that is still a good path. Dr. Gunn adds, "That is why you need to apply to multiple schools, so you aren't putting all your eggs in one basket."
LINKS AND RESOURCES:
BRAD RECOMMENDS:
Core Area- Career Planning
Career planning means: What does your student want to be when they grow up?
There are a few ways to help your student pick a direction if you do not want them to go off to college undecided:
Local High School
Tech College
Community College
Job Shadowing
Volunteering
Websites

Career assessments
Before you pay for anything, check with your high school to see what they already have a subscription to.
Career planning is something that students, and/or parents, will have to work on to help make choosing a college easier.
Optional Area- Athletics
Check out these episodes:
111: The Reality of Athletic Recruiting, A Talk with NCSA with Lisa Strasman
76: Get Recruited! Understanding College Athletics with Jon Fugler
If your student is interested in playing sports in college, that is an additional challenge you will need to prepare for.
You will have to find a college where the coach is interested in your student.
Will you attend a school even if you can't play your sport there?
You will have to start earlier, perhaps your freshman year of high school, talking to coaches, setting up visits, creating film, and attending camps.
THANKS FOR JOINING US!
We'd like to extend an invitation to our listeners to share their feedback and questions. Contact us to submit a question to our email.
If you find our podcasts helpful, please share us on social media and tell your friends!
The bottom line is that we care what you think and want to help you out, so we'd appreciate you reviewing us on iTunes or on Spotify. And even better, receive automatic updates by subscribing to the show on iTunes or Spotify.