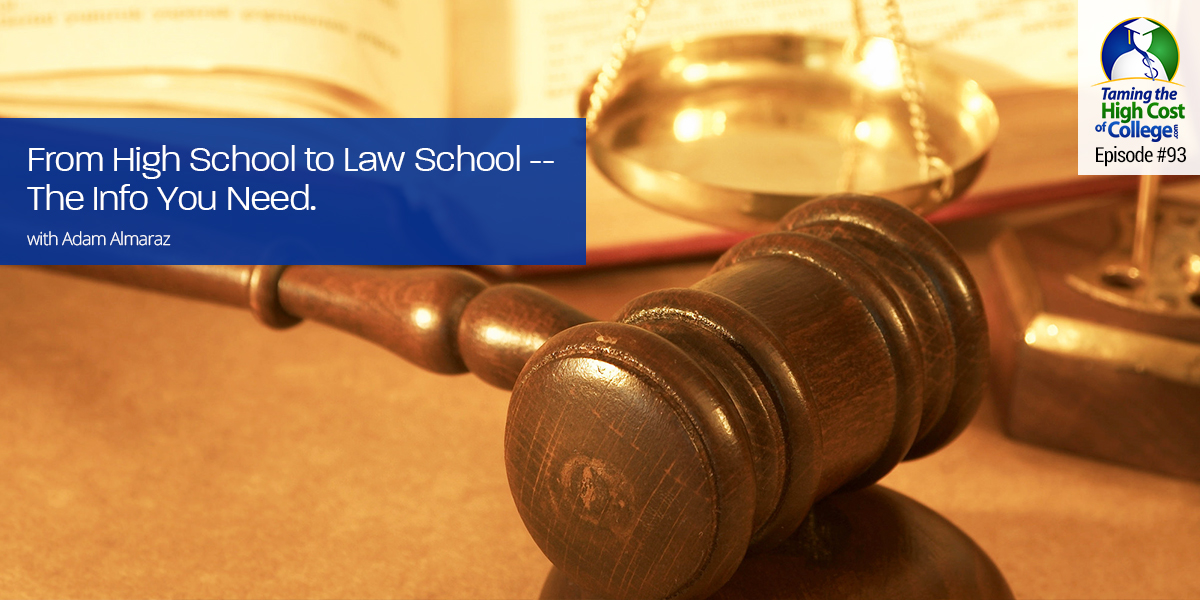 "I get to help students and applicants that dream of being lawyers be successful in the application process," says our guest Adam Almaraz, who is the director of JD admissions at the Sandra Day O'Connor College of Law at Arizona State University.
He is one of the people that makes the decisions about who gets to be admitted to this competitive program. Each year there are 1,500-2,000 applications, but only 500-600 students are admitted. That equals only about 230 law students for each incoming class.
You need these tips today on how to improve your child's chances of being admitted!
Questions Answered Today:
What kind of coursework is required in law school?
In the first year, or 1L year, students are assigned a standardized curriculum. Students do not really pick their schedules. Once students get past this, they can then focus in on particular areas of interest.
"After the first year, it is largely self-driven by the student and what it is they want to accomplish," describes Almaraz.
Some practice areas that a student might build their curriculum around include:
High interest, but non-typical areas, such as Space law
Criminal
Business
Environmental
Patent and intellectual
International
Family
These are standard practice areas of what attorneys usually do.
How do students set themselves apart in their application?
The two most important elements of a law school application are LSAT scores and undergraduate GPA.
The other pieces that help with subjective measuring of an applicant include:
Letters of recommendation
Resume
Personal statement

This lets the committee get to know you and helps explain why they should let you into this program.

Full file review

Includes transcripts, academic trend analysis, difficulty of coursework, major, and university of undergraduate studies.
Almaraz stresses that students must complete these pieces in a very genuine way.
"Applicants who really approach the application process from a genuine place end up faring much better than the applicant who is trying to do things just because they think it might give them a little bit more leverage in the application process," warns Almaraz.
Always reach out to law schools! Never hesitate to pick up the phone or email the colleges you are interested in. Admission counselors are there to help you and to make sure you have everything you need for success.
When should I start the application process?
Potential applicants should begin collecting information as early as possible to be sure you are ready when it comes time to actually apply to law school. Some great ways to start include:
Shadow local attorneys
Visit law school campuses

There might be pipeline programs or other educational opportunities for high school aged students.

Contact a pre-law advisor at a law school you are interested in
Junior year of college is when applicants should start thinking about taking the LSAT and planning out their application to get all the pieces together that are required if they want to go straight into law school after graduation.
The summer before senior year, students should have all the parts of the application planned out so they do not feel rushed for the hard application deadlines that following Spring.
Some students choose to take a gap year after undergraduate graduation. The average age of entry at the Sandra Day O'Connor School of Law is between 24-26 years old.
"I don't think doing a pre-law major, if the school offers one, is necessarily the best option," notes Almaraz. There is no required major to apply to law school, so be sure to choose one that you are genuinely interested in and will enjoy doing your undergraduate studies in. This usually helps with having a higher GPA.
According to Almaraz, the national average applicant applies to between 6-10 schools. It is an important decision. If you are accepted at more than one institution, it is very important to do campus visits. Another great resource is to talk to current students. They will usually be very candid.
LINKS AND RESOURCES:
BRAD RECOMMENDS:
Investigate: Law schools cutting back
Episode 89: Help Your Child Get Into Law School
We have a great video series called, "The Scholarship Guide for Busy Parents." It is 4 videos that are 12 minutes or less complete with cheat sheets and other resources to help you find and win scholarships. If you are interested in learning more about scholarships please visit:
tamingthehighcostofcollege.com/scholarships
THANKS FOR JOINING US!
We'd like to extend an invitation to our listeners to share their feedback and questions. Contact us to submit a question to our email.
If you find our podcasts helpful, please share us on social media and tell your friends!
The bottom line is that we care what you think and want to help you out, so we'd appreciate you reviewing us on iTunes or on Spotify. And even better, receive automatic updates by subscribing to the show on iTunes or Spotify.
Brad is not affiliated with Sandra Day O'Connor Law School.