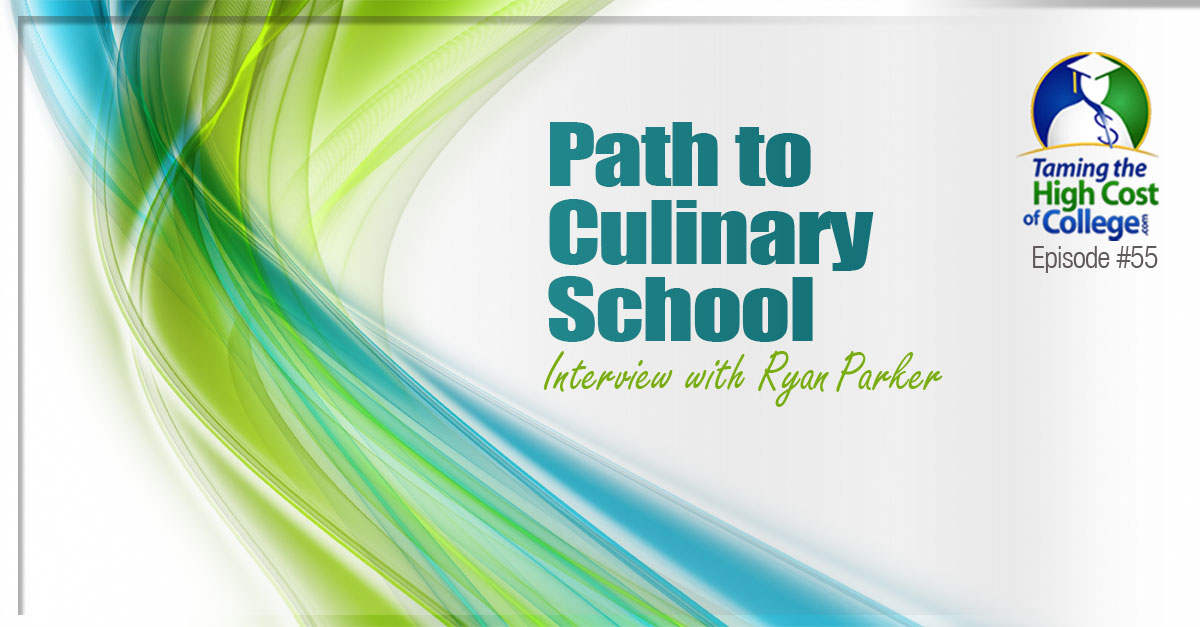 In this episode, Ryan Parker shares what to expect and consider if your child is interested in pursing a culinary career.
About Ryan K. Parker:
Has been cooking for 20 years.
Working in restaurants for the last 10 years.
Is currently working in the classroom as a culinary instructor.
Grew up loving being in the kitchen.
Options for Pursuing the Culinary Field
"Schools offer anything from weekend classes for people who want to see what it is like all the way up to degree granting programs," explains Parker. These programs can include certificate programs that take a year to complete or full bachelor degrees.
What to expect when enrolling
Robust programs.
Ability to customize beyond core classes.
Time in the kitchen almost everyday.
Learning about business, communication, writing, and history.
Parker elaborates, "You won't necessarily have a wide range of educational background from the certificate programs, but you will certainly have a solid base to build on when it comes to direct culinary skills." This provides a great opportunity to start in the field quickly after high school, or if changing careers, by providing a strong set of skills and understanding of the flow of a kitchen.
Careers in the Culinary Field
There are lots of opportunities in the culinary field from health care to a typical kitchen. "You can go a lot more places today than when I was in culinary school," says Parker.
Some potential careers in the culinary field are:
Hospital Wellness/Healthcare cooking
Entry level position at a restaurant
Retail grocery to prepare foods
Cooking show star
Food Journalist
Research and development team for chain restaurants to invent new menu items
"All of these large chains have teams of people who develop food for them," notes Parker.
Choosing the Culinary Path
You can customize your education depending on your preference. "I would say the expectation that parents should have when children leave culinary school is they are not going to be a chef walking out the door, but they will have a lot more opportunities than someone that has no formal training," warns Parker, "Restaurant ownership is a possibility, but it is one of those things you need to build into your career and track yourself in that direction."
Things to consider when selecting:
Plan for the career you want when entering culinary school
Look for programs with wonderful reputations or years behind them.
Should have some state or national accreditation.

The American Culinary Federation is a national program that gives certification based on a school's level of performance and has a high level of standard.
Visiting a Culinary School
Visiting the campus is very important. Parker states, "I think one of the things I look for, first of all, is that you are going to schedule a tour with the admissions rep."
There are a few things to think about when on the tour:
Location

Housing, moving away, and thinking about finances for that.

The facility itself

Is it clean, organized, and set up well?
Is everything accessible to students to help them be successful?
Most of the major schools started as stand alone culinary programs, but have added some additional disciplines, depending on their location, such as hospitality. There is not a hard and fast rule for transferring, so if you change schools you might not be able to transfer course credits.
Contact a school and plan ahead of time to find out what classes will or will not transfer.
Job Prospects for Graduates
Parker jokes, "People always need to eat and people always get sick. So there is usually plenty of work in restaurants and plenty of work in hospitals."
Something popular now are tech companies that have in-house culinary departments as a perk for their employees. Also, the market is growing every year because more and more people are eating out every year. "Despite these opportunities," Parker says when thinking about salary, "Be prepared to start near the bottom, but you have lots of opportunity for growth and to prove your value and your worth."
Quicker Tips
Parker recommends for parents of students that are interested in culinary careers:
Work in the industry in a professional kitchen for 3-6 months.

Even if you want to work in media or as a food writer, you will be in the kitchen for 4-5 hours while at culinary school and you have to have the stamina and strength.

The job is not like what you see on T.V. so it is better to get the surprise out of the way before high school is over.
"It's a wonderful world and I'm so happy about being in the culinary world and the food world the last 20 years because I have made some great friends, great networking opportunities, and I have always been able to find work no matter where I lived," concludes Parker.
LINKS AND RESOURCES
THANKS FOR JOINING US!
We are starting a new video series called, "The Scholarship Guide for Busy Parents." It is going to be 4 videos that are 12 minutes or less complete with cheat sheets and other resources to help you find and win scholarships. If you are interested in learning more about scholarships please visit:
tamingthehighcostofcollege.com/scholarships
We'd like to extend an invitation to our listeners to share their feedback and questions. Our website offers a couple of ways for you to share your questions with us, and we'd love to hear from you.
Contact Us to submit a question to our email
Leave us a voicemail message on the computer! (We use questions for future shows because it's likely other people have the same question.)
If you find our podcasts helpful, please share us on social media and tell your friends.
The bottom line is that we care what you think and want to help you out, so we'd appreciate you reviewing us on iTunes or on Spotify. And even better, receive automatic updates by subscribing to the show on iTunes or Spotify.
Brad is not affiliated with Ryan K. Parker or Food Craftsmen.