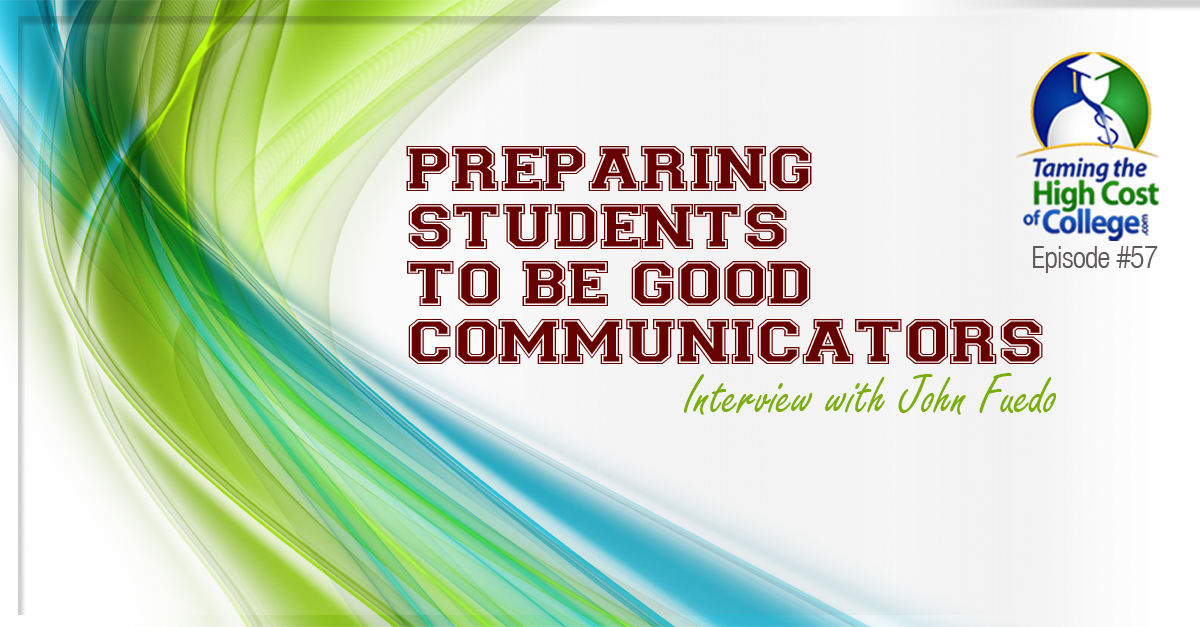 In this episode, John Feudo stresses the importance of higher education and how communication skills are important in order to be successful.
Speaker and author
Parents did not go to college
Author of the book "I'd Rather Eat Live Spiders" on how to be a successful speaker
Has worked in higher education for the past 30 years
Now consults all over the world
Why Being a Successful Communicator Matters
"No matter where you go to school, you're going to learn the basics," notes Feudo, "But what takes somebody from one level and moves them to the next are the intangibles." All colleges will teach courses like English, Humanities, and Math.  There are some important skill sets that might not be explicitly taught, such as interview skills.
The intangibles aren't always taught in the classroom:
Being a better speaker.
Being a better listener.

You have to actively listen in order to effectively communicate.
How to Improve as a Communicator
There is an aspect of studying that is needed to improve, but the only way to master a skill is by practicing. Feudo states, "You can read up on it and that is important to do, but you have to get active in the process in order to improve." Practicing is the key to success.
Some things that can help improve communication:
Oral projects/clubs at school
Casual conversations
Discussing person to person without technology
Toastmasters International
Avoiding crutch sounds
"Nobody uses their phone to actually make phone calls anymore," laments Feudo. "It's not just what you're saying, but how you are saying it." Conversation is not objective; it is subjective and needs to be a two-way street.
To overcome the common fear of public speaking, Feudo suggests to, "Think about speaking in front of a group as just answering a question and being part of a conversation."
Feudo recommends beginning by getting more comfortable with everyday conversation and, "If you look at every conversation as a speaking opportunity, then you will start to develop a better pattern and a better rhythm." The human mind works faster than the mouth. It is important not to rush past what you are thinking.
Feudo also says, "You will never be asked to talk about a topic you are not familiar with." To improve a speech, think about what you want to say, then go back and add until it is 30 seconds longer. Then go back and add again to continue to lengthen your speech and remember that it will be something already in your knowledge base.
Communication is Important for Growth
The social experience of college helps you grow into your own person. "Take advantage of all the social activities and organizations where you have the opportunity to take some leadership roles," advises Feudo.
Feudo references a study where 55 corporate executives were asked what the number 1 reason they promoted their employees was and 54 responded, "Good speaking skills." The one person that didn't have it listed first did have it listed second after, "Good writing skills".
There are some who naturally do better at speaking to groups. Some qualities of a good speaker are:
Personable
Out-going
Easy to talk to/Speak easily
Comfortable
Reading books and practicing are essential. "Hone your skills and become better at speaking, not just feel better about it," says Feudo, "I think those are the kids that become more successful when they graduate from college."
On average, today's college graduates will have 11 jobs before they retire and 7 of those jobs haven't been invented yet.
"It is important to be a good writer, but it is important to focus on the verbal skills first. You are going to be able to do a better job at writing," Feudo affirms, "Communication is the foundation of any job."
LINKS AND RESOURCES:
John Feudo is on twitter
Book "I'd Rather Eat Live Spiders" is available at
THANKS FOR JOINING US!
We are starting a new video series called, "The Scholarship Guide for Busy Parents." It is going to be 4 videos that are 12 minutes or less complete with cheat sheets and other resources to help you find and win scholarships. If you are interested in learning more about scholarships please visit:
tamingthehighcostofcollege.com/scholarships
We'd like to extend an invitation to our listeners to share their feedback and questions. Our website offers a couple of ways for you to share your questions with us, and we'd love to hear from you.
Contact Us to submit a question to our email
Leave us a voicemail message on the computer! (We use questions for future shows because it's likely other people have the same question.)
If you find our podcasts helpful, please share us on social media and tell your friends.
The bottom line is that we care what you think and want to help you out, so we'd appreciate you reviewing us on iTunes or on Stitcher. And even better, receive automatic updates by subscribing to the show on iTunes or Stitcher.
Brad is not affiliated with Toastmasters International, Council for the Advancement and Support of Education, or John Feudo.