These days, no one should be choosing a college sight unseen. We all want to find a college where our children can thrive, and college visits are the first step in finding a good fit for the right price.
Since most of us will be visiting colleges in some fashion, it's important to do it right. Doing college visits well can have an impact on finding a good match for our student, picking the right school, and finding a college that fits into our budget.
In this article, I explain the five types of college visits and how they can help you find the right school, avoid mistakes, and put your student on the path to a bright future.
Understanding the 5 Types of College Visits
First, we need to understand the five types of college visits. These include three main types of visits and two other special types of visits that are very useful if they apply to you.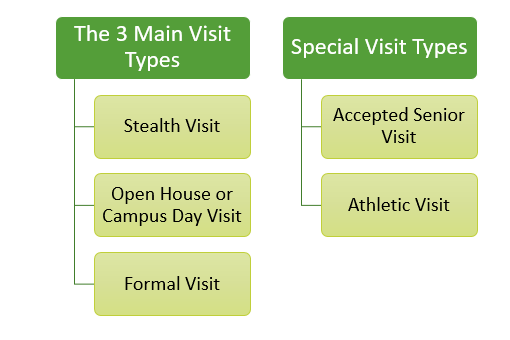 The main campus visit types are the stealth visit, the open house or college day, and the formal visit. These are the three ways that most families and students will begin their college visit process.
Later, an accepted senior visit may be added to help with finalizing your college choice.
If you have an aspiring athlete, you will follow a different process, and you'll need to learn how traditional visits and athletic visits work together.
Let's jump in and find out more about each type of visit, when it applies, what it involves, and its pros and cons.
1. The Stealth Visit
Quick and informal visits without anyone knowing you're there.
A stealth visit is where you drive onto a campus, walk around, and check out a few old buildings, get back in the car and drive away. No one at the college even knows you were there. Essentially you visit a college campus but don't arrange anything with the admissions office.
This type of visit is usually quick. It's best used when you're early in the college planning process and want to get a quick feel for a given school or let your student get their feet wet.
The good news is that it doesn't take much time or commitment. You can easily fit a stealth visit into your schedule, and it can be as short or as long as you prefer. It can even be impromptu.
Stealth visits are usually anonymous, so you don't have to worry about getting on the school's radar if you prefer not to be contacted or recruited.
The bad news is that a stealth visit is no substitute for a formal visit. A stealth visit might help you eliminate a college quickly, but if you're still interested in the college afterward, you'll need to do a formal visit or find another means of connecting with the college.
The anonymity of a stealth visit can also be a negative. You won't get on the school's email or mailing list and may miss out on opportunities for the school to pursue and recruit your student. You also won't get all the information that you receive on a formal visit. You won't get an official campus tour, and you'll miss opportunities to talk to faculty and staff.
Colleges often provide additional insight and information to families that are 'demonstrating interest' by formally visiting and touring the campus. So you may want to be put on a college's email or mailing list, or you may want the college know that you took the time to visit.
TIP #1 – Combining a Visit with a Campus Event, Travel or Family Vacation
Sometimes you'll be on a college campus because you're attending a special event, or you'll be nearby because you're traveling for business, visiting a relative, or you're on a family vacation.
If you'll already be in the area, take advantage of the opportunity to add a campus visit. The additional visit can be any one of the three main visit types: 1) stealth; 2) an open house or college day; or 3) a formal visit.
This is a great option to save time and money, especially if you'd otherwise have to travel far from home and incur expenses to make a separate visit.
It's also an opportunity to get things rolling and start learning about a particular school, even if you can't fit everything into your visit and need to come back at another time.
2. The Open House or College Day Visit
Half-day or full-day campus events for information gathering.
An open house or college day often takes place on a Saturday or Sunday and is either a half-day or full-day event. Colleges organize these events specifically for prospective students to gather more information. They also use them to start the recruiting process with their future customers (you).
An open house or college day is typically offered many times throughout the year. It might be open to anybody and cover the entire campus, or it could be more selective. It could be targeted to high school juniors or seniors, or it could focus on a particular part of the college, such as the engineering program or school of education.
The good news with open houses or college day visits is that they typically take place on a weekend, so there's usually no need to take a vacation day or miss school or work to attend.
Many of these events are also designed for students and parents who are just beginning to look at schools, so they're a good place to start and learn general information as well as get answers to specific questions about a college.
You may want to start your visits at one of these local college days to learn more about the entire college process. It's an easy way to get started, even at colleges you're not necessarily interested in at the time.
TIP #2 – Career Days
Sometimes an open house or college day is focused on a particular major or career, such as nursing, engineering, or business. You can take advantage of these career days for a couple of reasons:
1. You're interested in the particular career or major, but you're not necessarily interested in that specific college.
2. You're interested in both the college and the career or field of study.
For example, your student might be interested in nursing or other medical fields but may not be sure what all the options are. A nearby college may be having a Healthcare Majors Day where you can learn about nursing, physical therapy, audiology, nutrition and healthcare administration.
This is a great way to learn more about these careers and majors, even if you're not interested in the college. If you are interested, that's even better.
Many families will then follow up with a formal visit to gather more information and get more time with faculty and staff.
The bad news with open houses or college day visits is that there are often many people attending the event. You will usually have to stand in lines and wait your turn for things.
Also, campus tours during these events may not be as intimate, and they may draw large crowds. With large groups, you may not get many opportunities to ask one-on-one questions or spend a lot of time with a particular campus representative.
Additionally, these special events are not a good representation of what college is like on an average day. To get a sense of that, you may want to make a stealth or formal visit when a big event like this isn't taking place on campus.
You'll also need to be available for the specific day and time of the event, so there's no flexibility. You'll need to make sure you don't miss out.
3. The Formal Visit
Personalized tours with one-on-one interactions, by appointment.
A formal visit is the standard that most people have in mind when they think about college visits. You go to campus for a good portion of the day. It's a more intimate and formal visit with an itinerary that includes a campus tour, a meeting with admissions, and perhaps eating in a dining hall.
Formal visits are generally scheduled by appointment, so colleges know when you're coming. It might be a half day or full day depending on how much time you have. A lot of colleges have a formal visit process already in place, which you can simply plug into. For example, a college might offer visits at 10:00am on any weekday.
The good news is that a formal visit means you'll usually get a guided campus tour from a faculty member or student. You'll also meet with people in the admissions office and have an opportunity to meet with people in financial aid as well.
You may also get a chance to speak with representatives from a particular major or school on campus. You may even get a chance to sit in on a class.
On a formal visit, you can get information more specific to your situation, and you'll have more of a chance to ask one-on-one questions and get answers. The visit also happens during a normal day on campus, so you'll get a better sense of what campus life is like.
The bad news is that formal visits usually take place during the week, so you may need to take time away from work or school. They also typically require a full-day commitment to account for the visit plus travel time.
TIP #3 – Customizing Your Visit
Generally, a formal visit is pre-set by the college, but, if you want something special, don't be afraid to ask. For example, you might be interested in sitting in on a calculus class, meeting with faculty members from the biology department, or visiting the career and placement office. Schools will often work to accommodate your requests, especially if you're traveling across the country or otherwise need to make the most of a single visit.
Nearly everyone will have to make some formal visits at some point. You may not start the college visit process with them. But you'll inevitably want to make some formal visits whether you're narrowing down possibilities in the early stages of college planning or making a final decision after your student has been accepted.
4. The Accepted Senior Visit
A formal or overnight visit to help you with final decision-making.
An accepted senior visit is reserved for high school seniors who've already gone through the application process and have been accepted for admission. Many of these students have already visited campus and explored the college's website. They're now looking to learn a bit more, experience more things first-hand, and make their final decision.
Colleges use these events as a way to make one more push to recruit your student. They hope that, after this final visit, your student will like what they see and commit to attend the college.
The accepted senior visit is usually a version of the open house or formal visit. It can be a big event on a weekend or an intimate overnight stay for a select group of high school seniors.
The good news is that accepted senior visits are designed to answer a student's final questions and get a more in-depth view of the school and what it's like to be on campus. They can be a crucial part of the final decision-making process in deciding where to enroll.
These visits are often useful for high school seniors trying to figure it all out. They're designed to help undecided students feel more comfortable committing to that college, and they provide a good opportunity to get a lot more detail from a final evaluation of the school.
If it's an overnight visit, your student can also stay in a dorm, sample the food, and get a more complete sense of the overall student experience. Students will often get excited by their experience during an overnight visit, and it will often close the deal on choosing that school.
However, if you're still worried that the school might not be the best fit and want your student to keep considering other options, you may want to hold off on an overnight visit until you're comfortable with the college.
Another challenge is that accepted senior visits often happen at multiple schools on the same weekend, so you may have to choose which events you can realistically attend. If you can't make a scheduled accepted senior visit, you can still arrange a standard formal visit as a senior, so you can still get a more in-depth look at a college.
TIP #4 – Prepare a List of Questions
No matter what type of visit you're making, if you'll have a chance to speak with a campus representative or to current students, prepare a list of questions in advance. Your visit is an opportunity to ask about anything that's important to you, including academics, academic and social support, extracurriculars and more.
You may also want to ask specific questions if you'll be meeting with a tour guide, financial aid officer, admissions officer, or professor. To prepare your list, start with my free College Visits Questionnaire and Checklist, which is loaded with hundreds of sample questions, organized by category, for you to consider.
5. The Athletic Visit
Campus visits for recruited student-athletes.
The athletic visit is sometimes an "official visit" which is paid for by a college's athletic department. An official visit must follow NCAA recruiting rules, but it's great for families because it may cover the following expenses:
Your transportation to and from the college (for Division I basketball and FBS football, this may include airfare for up to two people).
Room and three meals per day while you are visiting.
Reasonable entertainment expenses, including up to six complimentary admissions to a home athletics contest for Division I, or up to five complimentary admissions to a home athletics contest for Division II.
Your student-athlete may end up staying on campus and may shadow an athlete that is playing the same sport.
However, unless your student is a top athlete, in the right sport, and actively being recruited, you may not get any offers for official visits. In this case, you will need to cover your own costs and make an unofficial visit.
The good news is that athletic visits are an opportunity for student-athletes to learn more about the athletic program, school, academics and campus life.
These visits can also save time since you may not need to make a separate formal or stealth visit. You could also save money if it's an official athletic visit with travel and lodging costs covered by the school.
The bad news is that there are many NCAA rules governing athletic visits. The visit rules mostly apply to the coaches and programs, but students and families should still be familiar with them.
You can learn more about the rules by visiting ncaa.org to access the NCAA Eligibility Center and the NCAA Guide for the College Bound Student Athlete.
If you have an aspiring athlete, you need to learn about college athletics and college visits earlier. It's not unusual for athletic visits to start in the freshman or sophomore year of high school.
TIP #5 – Just Do It!
One of the best ways to learn about college visits is to just go and make a few. A good way to get started is to explore the visit information pages at some of your local colleges' websites. Do a Google search for "schedule a visit at [school name]." Of course, an old-fashioned phone call to the admissions office will work as well.
Bonus Content!
Planning Your Visit: Things to Do and Quick Tips/Questions
Now that you're familiar with the five types of college visits, it's time to start planning yours. Here are some things to do and quick tips and questions to help you get started:
Create a visit plan. Everybody needs to create a visit plan. Will it be 2-3 visits or 7-8 visits? Will they be stealth visits or formal visits? Do you want to try to attend open houses? Do you prefer weekends and potentially pursuing other campus activities or overnight visits? As you go through the rest of these tips and questions, develop and document a complete visit plan so you can track what's going to happen, when, and who will be involved.
Create a list of questions. Every college visit is a potential opportunity to ask important questions about academics, campus life, extracurriculars, and any topic that might
be relevant to your student. You may have a chance to speak with a tour guide, a professor, a financial aid officer, or a current student. To make the most of these opportunities, make sure to prepare a list of questions in advance, so you'll know what to ask when the time comes. To help you develop your list, you can download my sample questionnaire and checklist, organized by topic or campus representative. Get it now.
Visit college websites and check out their visit information: maps, registration, appointment scheduling, and tour booking. Does the college offer formal visits, overnight visits, accepted senior visits, open houses, or programs specific to a school or major?
Call or email the colleges and talk to the admissions office to get more information on the visit process. Describe your situation and ask what they recommend.
Get on school email lists or follow them on social media. Colleges use these channels to announce upcoming campus days, open houses and other events, and they're a great way to get the latest news and information about what's happening on campus.
Find out if any of the colleges on your list offer open houses.

If you're interested in open houses, you'll need to check school websites or talk to the colleges and learn about the process.
Open houses may only be announced 8 to 10 weeks in advance, so put them on your calendar or check back every few months to avoid missing opportunities.
You may want to get on a college's email list so you can hear about these events as they're announced.

Determine if you should make some visits to learn more about careers and majors.

Sometimes you can visit a local college to learn more about specific careers and majors, such as visiting a school's engineering career day, even if you're not interested in that college.

Will you be on college campuses for other reasons?  Should you add on a college visit?
Will you or your student be on vacation near a given school? Will there be business travel that might bring you to the vicinity of the school? Are there any other events that might draw you to the campus area? Should you add on some college visits?
Identify when your student has days off from school and won't have other commitments. For example, spring break, teacher conferences, teacher in-service days, etc. Parents should schedule these days off in their work calendars and plan for college visits during these times.
Learn what else you can do besides visit. Talking with local alumni. Attending college fairs. Virtual tours. Will there be college reps in your area? Will they visit your school? Will there be a rep at a given location in your city, where students from different schools can attend an event and learn more about a school?
Finalize your plan and start visiting!
---
Want More Help with College Planning?
Subscribe to my free e-newsletter and get great tips and advice on how to plan and save more money for college, how to reduce your costs, and how to put your student on the path to a bright future.
You can also check some of my other helpful blog articles and resources below.
---
Helpful Articles and Resources
Download a complete list of questions by topic to help you plan your visit.

Learn the six ways to pay for college and what you should know about each method.

Find out about the five types of federal financial aid and whether you might qualify.

Discover how you can save for college and your retirement at the same time.

Explore the 20 key areas where you need to work on college planning.