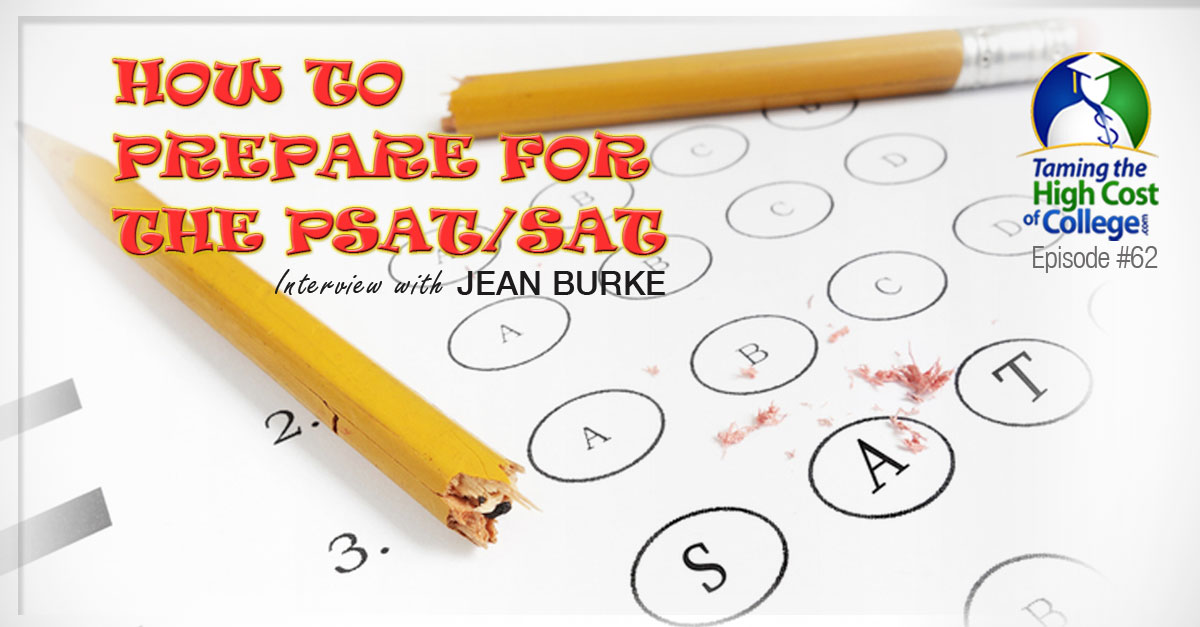 About the SAT and PSAT
"The higher the score, the more money you get," says Burk.
The PSAT (Preliminary SAT) is just as important as the SAT, but it is used for scholarships in the junior year. The SAT is offered 7 times a year, but the PSAT is only offered once a year in October. There are only a few small differences between the two tests.
"The average student starts taking tests in spring of their Junior year. They are already so maxed out it is so stressful for them to start so late," notes Burk.
Burk strongly recommends starting as soon as possible because there is no age limit. "At the MINIMUM I would say starting in ninth grade," urges Burk. With score choice, scores don't need to be sent anywhere except to your own house.
Students take the PSAT the third week of October, the booklet is mailed back in November, and then scores are sent out in December. You can use the homeschool code for your state so the book is sent right to you, which is very important, so you can review test questions and how they solved the problems.
The Junior year is the ONLY year the PSAT counts for scholarships, so you should practice before then.
"This is really a critical thinking test and these questions are purposefully designed to trick the kids," states Burk.
When taking a test:
Read the question carefully with a critical eye.

"What is this question really asking me?

Eliminate the wrong answers FIRST.

Smart kids tend to overthink and second guess themselves.
When to Start Studying
When to start begins on your child's grades. Burk's program is 12 lessons at 45-50 minutes each. "At least start 3 months before you are going to take the test because you are only going to retain a small percentage you hear the first time. You really want to go back and hear it again to internalize the strategies," explains Burk.
Most students that do poorly are looking at taking the test wrong. They are trying to take the test like they do school.
"Every question can be answered in 30 seconds or less. Once students learn that, especially the ones that aren't good test takers, the confidence level is amazing," Burk notes.
About the ACT
The American College Test and the SAT are both used to get into college and to get scholarships. "About one-third of students do better on the ACT, one-third do better on the SAT, and one-third do about the same because it is a standardized test," Burk points out, "Bottom line is that test taking strategies work on both tests." Colleges accept both type of test and can convert your score from one form to the other.
Take both! Each has a downloadable version available on their web site in order to decide which is more comfortable.
How to Prepare
These tests are logic based and you can prepare for this by doing puzzles and logic games at home. These strategies work on ALL standardized tests. "Because you know standardized tests are going to be based on thinking and logic skills, that's what you need to be putting somehow into your daily life," suggests Burk.
Some logic skill sources can be found by using a search engine to find logic games and puzzles.
Jean Burk began her career with her own son. Burk explains, "I started teaching kids how to take the test and showing them that it really was a skill. It wasn't about your IQ or about what you knew; it was about how to take the test."
Began tutoring local students.
Created CollegePrepGenius.
Speaks at conventions.
FOX News contributor.
Quick Tips
Burk recommends:
Start early!
Every school weighs and calculates their grades differently, so these scores are favored more.
Standardized tests are a fair way for colleges to determine scholarships and entry.
Compare your scores on Cappex.
There are lots of ways to get free college. Burk's eBook is available for free to listeners.
You can do it!
"I want people to realize you don't have to be strapped with loans and debts or change your college list. There is time in the day to learn this and it can be done," encourages Burk.
LINKS AND RESOURCES:
Phone number is 817-282-7737
Burk's Ebook "15 Secrets to Free College" can be found at Collegeprepgenius.com
THANKS FOR JOINING US!
We are starting a new video series called, "The Scholarship Guide for Busy Parents." It is going to be 4 videos that are 12 minutes or less complete with cheat sheets and other resources to help you find and win scholarships. If you are interested in learning more about scholarships please visit:
tamingthehighcostofcollege.com/scholarships
We'd like to extend an invitation to our listeners to share their feedback and questions. Our website offers a couple of ways for you to share your questions with us, and we'd love to hear from you.
Contact Us to submit a question to our email
Leave us a voicemail message on the computer! (We use questions for future shows because it's likely other people have the same question.)
If you find our podcasts helpful, please share us on social media and tell your friends.
The bottom line is that we care what you think and want to help you out, so we'd appreciate you reviewing us on iTunes or on Spotify. And even better, receive automatic updates by subscribing to the show on iTunes or Spotify.
Brad is not affiliated with College Prep Genius.