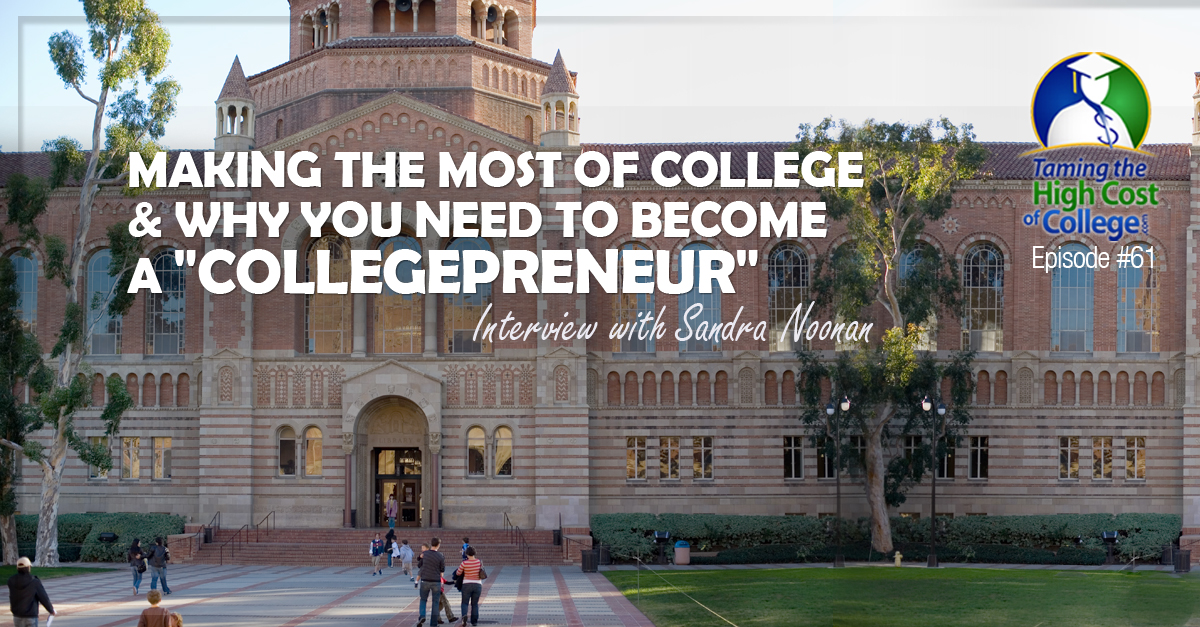 Noonan suggests following James Altucher. She developed the collegepreneur idea in response to critics, such as Altucher, that say to not bother with college anymore.
Things that college students going into college should think about:
The cost of college has increased by 300% in the last 30 years.
Wages for college students are declining.
Noonan defines a collegepreneur as, "A student who manages the college experience so it doesn't manage them." It is important for students to use the resources available at a college to launch themselves into the life they want.
"They will have something to show for their college experience aside from a transcript," Noonan further explains.
How Parents Can Help
Noonan would keep tabs on her child's social media and she would also say:
A career doesn't have to start after college.

Can be small, just something that compliments your classwork.

What worked in high school might not work for you in college.

Loosen expectations, especially freshman year, because students are finding themselves.

Start with questions:

What value can I add to the world?
What kind of life do I want to live?
"The relationships you nurture in college can be intensely valuable in your life," states Noonan. It is important to step away from social media and to develop real relationships. Social media can be used to lever success with clubs or in a professional way.
"Be a collegepreneur and start things; don't look for the college system to provide them," stresses Noonan.
What College Success Looks Like
Noonan notes this will be a very personal answer, but some questions to consider are:
Did I discover something about myself that I can get economic value from?

Forget what it means to be prestigious and focus on what makes you happy.

What relationships did I establish in college?

These relationships provide major opportunities in the future.
Background on ThatWritingThing.co
Noonan began this blog after reading a story about a typical college student that took her life. "The website is where I take things about college that resonate with me and I write pieces of advice and, hopefully, insight that will help young college students make sense of something that is increasingly complex," explains Noonan.
More about Noonan:
Graduated from Duke in 2004.

Had a full academic scholarship

Lives in New York.

Freelance marketing consultant.
Has experience in print media and broadcast journalism.
"The market for talented, strong, compelling writers is not going away," says Noonan.
Quick Tips
"Your career doesn't need to start after college. It means pursuing your vocations in a way that add up to a meaningful career when you graduate and doing it while still in college," says Noonan.
Some tactical tips:
Get off social media and pursue real relationships.
Write a mission statement.
Limit the number of mundane decisions you have to make.

Simplify what you have to decide and do things like make college uniform that way it is one less thing to think about.
LINKS AND RESOURCES:
THANKS FOR JOINING US!
We are starting a new video series called, "The Scholarship Guide for Busy Parents." It is going to be 4 videos that are 12 minutes or less complete with cheat sheets and other resources to help you find and win scholarships. If you are interested in learning more about scholarships please visit:
tamingthehighcostofcollege.com/scholarships
We'd like to extend an invitation to our listeners to share their feedback and questions. Our website offers a couple of ways for you to share your questions with us, and we'd love to hear from you.
Contact Us to submit a question to our email
Leave us a voicemail message on the computer! (We use questions for future shows because it's likely other people have the same question.)
If you find our podcasts helpful, please share us on social media and tell your friends.
The bottom line is that we care what you think and want to help you out, so we'd appreciate you reviewing us on iTunes or on Spotify. And even better, receive automatic updates by subscribing to the show on iTunes or Spotify.
Brad is not affiliated with ThisWritingThing.co or Sandra Noonan.