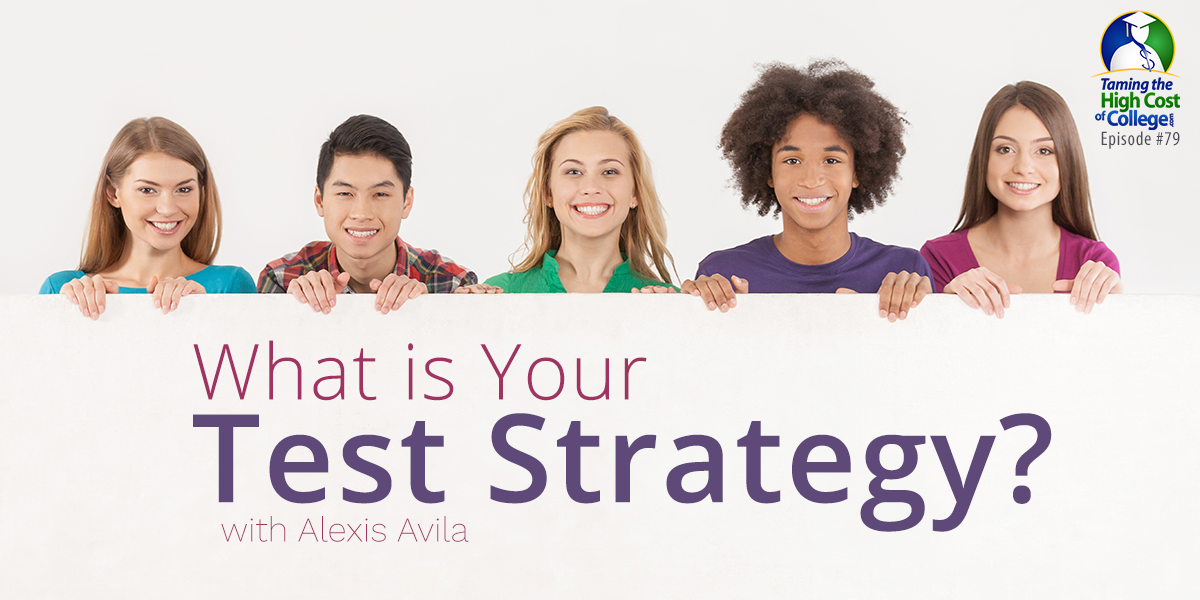 Former guidance counselor Alexis Avila is an expert on high stakes testing and the creator of Prepped and Polished tutoring services. Are you stressed about taking the ACT or SAT? Don't be! Get a breakdown of the new ACT/SAT tests and the secret to amazing essays in this episode.
About the New SAT/ACT Tests
"They are little more alike than they used to be," describes Avila, including:
The SAT no longer has a guessing penalty for getting a question incorrect.
There are only 4 possible answer choices per question.
It has been reduced from 10 sections to 5.

Grammar and Reading are now combined.

Scored out of 1600.
You are allowed more time on the SAT than the ACT, but there are more inference type questions that require extended thinking.
The math is similar.

A calculator section and a non calculator section.

Essays are now optional.
"The new SAT better overlaps with the school curriculum," explains Avila.
"If your student really struggles with pacing," says Avila, "you might want to steer towards the redesigned SAT."
Getting Ready for the Tests
Avila recommends taking practice tests of each kind to determine if your child is stronger at one test than the other.
It is not uncommon for a student to take the test 3 times. It depends on what is needed for the college you are applying to and the effort put in to raise the original score.
"Expect a 3 to 4 point jump with a solid test prep plan for ACT, or 200 point increase on the new scale of SAT," states Avila. This can be done at home or with a test prep facility.
A typical session is 2 hours with a 3 hour homework assignment to make 5 hours a week. The average student will need 10 weeks of test prep.
"Your competition is doing it," notes Avila. Good test scores can open the door to scholarships. Test prep does work!
Test prep choices are:
Self study at home.

Have parents use a stopwatch and watch you take the practice test.

Use a tutor.

Can be group tutoring at a building, but make sure the other students are at your level and not distracting.
One on one tutoring that custom designs your program to meet your individual needs.
Online tutoring is also available- just be sure to screen your tutor and be sure they are qualified as well as that you get along with them.
More about the Tests
Essay graders spend no more than several minutes reading and grading your essay. "They do a masterful job glancing through your essay," says Avila, "so just take care of the basics."
SAT is more difficult with critical thinking, particularly in the reading section.
The test companies make millions of dollars.
"The SAT and ACT, it is proven, won't predict how successful you will be in life," acknowledges Avila. The key is how you utilize your time in college. It is not automatically that you will do better in life because you went to that name brand school.
Both essays (one on each test) are optional and are written by hand over 3 pages, unless you have an accommodation to type it.
The ACT essay asks you to evaluate multiple perspectives over 40 minutes. The SAT essay asks you to critique an author's persuasive piece over 50 minutes.
If you are a good writer, take the essay portion. If not, opt to not take it. Competitive schools will require it and want to see your response.
Avila describes how to create a successful essay:
First decide if you will defend or attack.
Brainstorm tangible examples for 2-3 minutes.
Outline a simple list of ideas for 4 minutes.
Spend 35 minutes writing the essay and stay neat and focused.
Take 5 minutes to proofread your essay.

Spelling does count, especially for a key word you are repeating.
If you are unsure of the spelling for a word, find a synonym and use that instead!
LINKS AND RESOURCES:
Weekly podcast: "Prepped and Polished Podcast"
THANKS FOR JOINING US!
We are starting a new video series called, "The Scholarship Guide for Busy Parents." It is going to be 4 videos that are 12 minutes or less complete with cheat sheets and other resources to help you find and win scholarships. If you are interested in learning more about scholarships please visit:
tamingthehighcostofcollege.com/scholarships
We'd like to extend an invitation to our listeners to share their feedback and questions. Our website offers a couple of ways for you to share your questions with us, and we'd love to hear from you.
Contact Us to submit a question to our email.
If you find our podcasts helpful, please share us on social media and tell your friends.
The bottom line is that we care what you think and want to help you out, so we'd appreciate you reviewing us on iTunes or on Spotify. And even better, receive automatic updates by subscribing to the show on iTunes or Spotify.
Brad is not affiliated with Prepped and Polished.