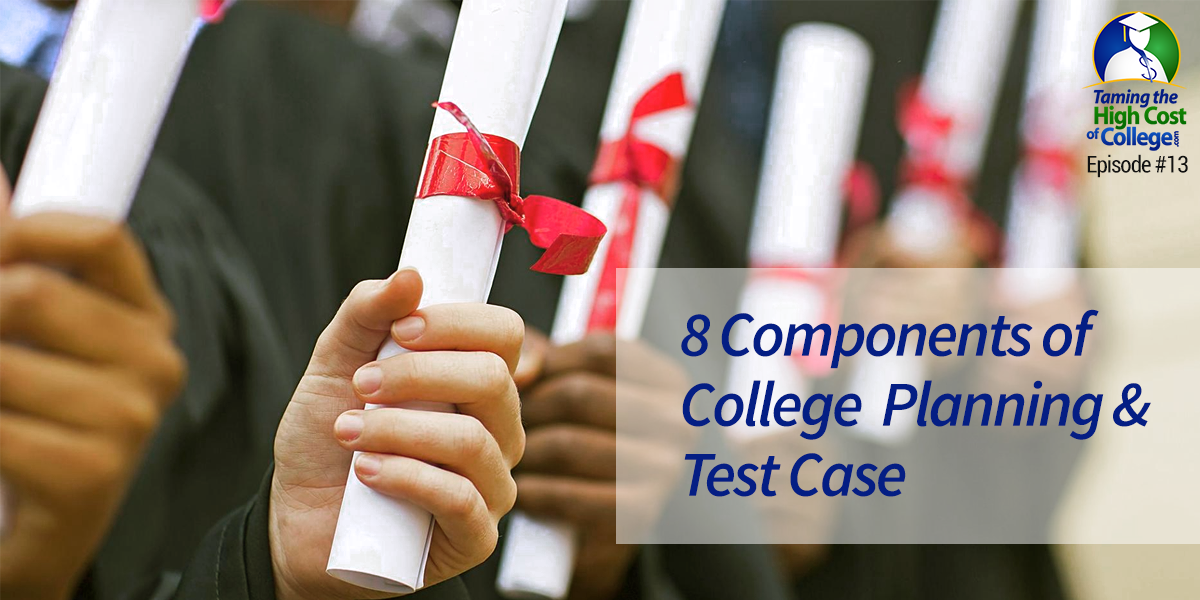 Late Stage College Planning = 8 Mini Plans for Overall Planning
1) College Finances
How will we pay for college?
Financial Aid
Need-based aid and merit aid
Will you qualify for one or both or neither?
Filling out financial aid forms
– Fill them out correctly
– Do you I need to fill out the forms?
Comparing Offer letters
Can we appeal
Saving and Investing
See episode 12 for more information on saving and investing.
Tax Planning
See episode 9 interview with Tim Nolan, CPA on tax strategies when it comes to college.
Cash flow
How much can you afford monthly to pay for college?
Loans
2) College Selection
How do we choose the right school?
Do college visits in sophomore, junior and senior years
Attend college fairs
Do some investigating on the internet and the college's websites
3) College Testing
PLAN, PSAT, Explore, SAT, ACT
Which test should my student take?
How many times should they take the test?
See episode 4 for an interview with Kreigh Knerr on test planning tips.
4) Athletics
Is it important that your student continues to play sports in college?
Need to find a school and a coach that's a good fit
5) Academics
Students should work with school counselors to be sure they are taking rigorous courses based on schools they are interested in
6) Career/Life Planning
Determine what they want to do in the future.
There are software programs available to help select career paths. Students should check with the guidance department at school.
7) Admissions
Applications and some may require an essay
Letters of recommendation
Early action/Early decision—apply early, accepted early and accept offer.
8) Scholarships
Need based scholarships
Merit scholarships
Does the student have the time for the scholarship search process?
Need to find ones that are an appropriate fit for the student
See episode 5 for an interview with Kim Stezala, The Scholarship Lady!
TEST CASE (starts at 17:32)
Listen to Brad share a family's hypothetical story and he will offer his thoughts and options relative to the 8 components of college planning.
BRAD RECOMMENDS
Big Future/College Board – https://bigfuture.collegeboard.org
Big Future is a college search website of about 4000 colleges.
The website provides stats on each college including cost of attendance, deadlines for applications and financial aid, average financial aid package, majors, size, location, a link to the college's website and more!
Students can establish an account to enter their demographics to find a school; compare their academics to the schools they are interested in and then save all of their research!