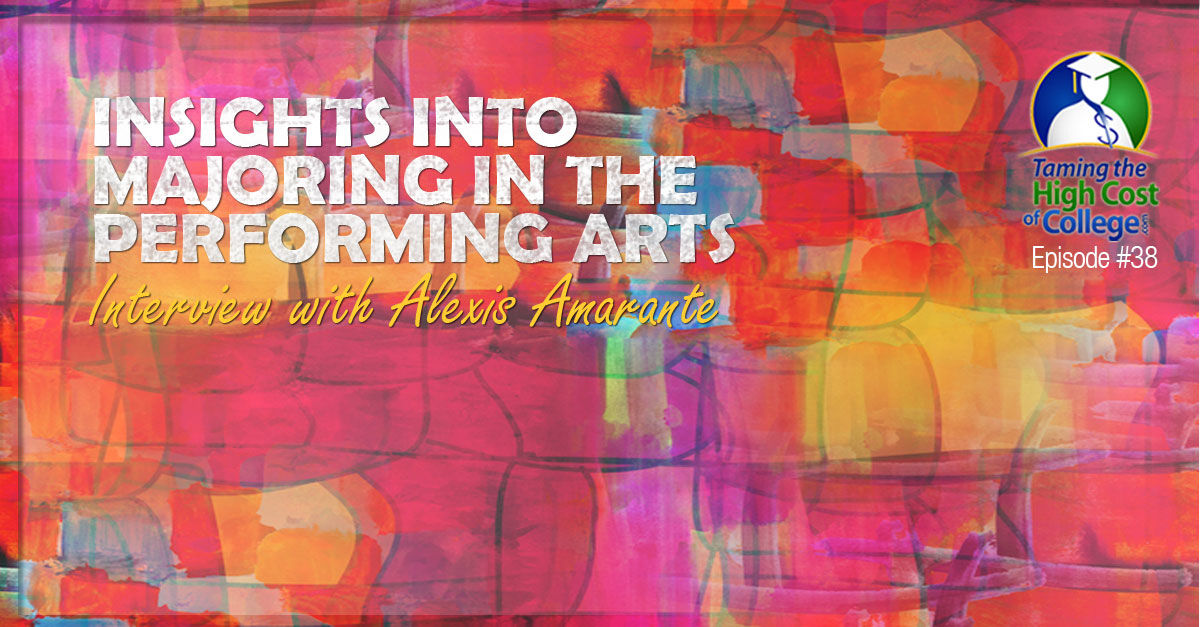 Alexis Amarante is a senior studying theatre at James Madison University in Virginia. "I have been interested in performing arts my whole life," she said. "Right now, I am looking into what I am going to be doing after college. So, I am pretty excited about that!"
At school, she has been focusing on performing arts. However, her studies also include:
Stage management
Costume design
Scenic design
Passion for Performing Arts:
She had visited James Madison University and fell in love with it. She decided to come into the school with an undeclared major. "I wanted to pursue the arts," she said. However, many people tried to dissuade her from an acting career – telling her:
It was a very difficult career
There was no money to be made
It was impossible to make it in that world
"That's probably my biggest mistake," she said, letting others influence her degree and career decisions. After seeing one show at the university, she decided: "I was like, I need to be doing this. This is what I love. This is what I want to do."
So she auditioned into the university's performing arts program as a sophomore. But she started theatre while still in elementary school. "I feel in love with theatre then," she said.
She continued to pursue theatre through middle and high school.
By the time she graduated high school, she had been a part of 13 choirs and 12 shows.
Auditioning Process for University's Performing Arts Program:
Alexis had to audition for the performing arts program, even though she was a sophomore. She described the audition process as:
Long – due to the amount of preparation needed.
Had to prepare two separate monologues equaling a minute each.
Required to bring in a headshot, resume, and letter of recommendation.
Needed to write a letter to the school about why she wanted to be a part of the program.
After the audition, she had an interview with some of the university theatre staff. Dennis Beck, Roger Hall, and Wolf Sherrill made up the panel that decided whether Alexis would become part of the program.
"It's quite competitive here," Alexis said. As a transfer, it was a little different. Out of 15 of those who auditioned, only about three made it into the program – including Alexis. But auditions are held year-round. During a typical audition, there are about 300-400 competing – vying for about 30 spots. "There are a lot of people, and we don't have a very large class."
What does it take to be accepted into the performing arts program?
There are various requirements, but here are a few that are needed and others that are not:
It is primarily based on talent
GPA – good grades don't mean you will be accepted!
"You could be the best student in the world, but if you can't act – I don't think your GPA has a bearing on it," Alexis said. However, grades do come into play – just to gain admission to the university!
Classes and Day-to-day Process:
For Alexis, her focus is on performance classes. A typical day for her is:
Go to an acting or performance analysis class
Go to a dance class
Serve as a teacher's assistant (TA) for various classes
Attend general studies classes – English, math, science, history, etc.
"It really varies depending on what your interests are, what you're doing …" Alexis said.
Performances and Productions:
Besides attending classes, Alexis also participates in the university's performances and productions. Currently, she is in production for a show called, Shipwrecked – where she plays 15+ different types of characters. She has rehearsals every night. She is also in production for A Midsummer Night's Dream.
"So, it is a very busy day. I have a full class load, and then I go to rehearsals, and then I get to start my homework." It is a lot to handle, but by the time that the students are in their third or fourth year, they know how to handle such hectic lives well.
There are different types of productions.
Main Stage: These are productions run by faculty and some students.
Studio Productions: These are directed and run by students, but there is a faculty advisor.
What to consider when pursuing a performing arts degree:
After graduating, Alexis will be looking for performance work. "You can fail a hundred times before you succeed once, and that is really hard in this business." said Alexis. According to her, it is important to remember:
Persistence is key
Rejection will be regular
Go on "cattle calls"
Attend workshops and networking events
"Any acting chance you get, just take it!" said Alexis.
While still in college, be a teacher's assistant (TA)! This will offer various benefits:
Get paid or earn credits
Help fellow students
Learn by assisting teacher with various tasks
Building a Network
As they spend long hours together, students become a family. "It's an amazing way to network," said Alexis. "We have people everywhere. It is so important to maintain those relationships."
Even people you just meet once, may help you in your future career!
Advice to Prospective Students:
Do your research when deciding where to attend college.
Find out about the faculty(where they have worked and what they have done)
Talk to current students and alumni
Take a tour of the school and specific programs
Visit the school's website
Three Quick Tips
In your pursuit as a theatre major:
Don't give up! Keep going if this is what you love to do.
Practice as much as possible – whether it is in the shower or in front of your friends.
Study and learn as much as you can as a student. As a parent of a theatre student, learn as much as you can about theatre.
QUESTION OF THE DAY: Should you rearrange assets due to financial aid?
It depends.
There are some assets counted against you (money in the bank, investments not in real estate, stock options, etc.).
There are some assets not counted against you.
Understand whether it is helpful to you or not to move the assets. Ask yourself these two questions:
What is the cost to move the assets?
What is the benefit if you move the assets?
LINKS AND RESOURCES
THANKS FOR JOINING US!
We'd like to extend an invitation to our listeners to share their feedback and questions. Our website offers a couple of ways for you to share your questions with us, and we'd love to hear from you.
Contact Us to submit a question to our email
Leave us a voicemail message on the computer! (We use questions for future shows because it's likely other people have the same question.)
If you find our podcasts helpful, please share us on social media and tell your friends.
The bottom line is that we care what you think and want to help you out, so we'd appreciate you reviewing us on iTunes or on Spotify. And even better, receive automatic updates by subscribing to the show on iTunes or Spotify.
Brad is not affiliated with James Madison University.
Sign Up for our Newsletter and receive our FREE reports!
Get more need-based aid
Find Scholarships
Find a Great College at a Great Price
Connect with other Parents and Students