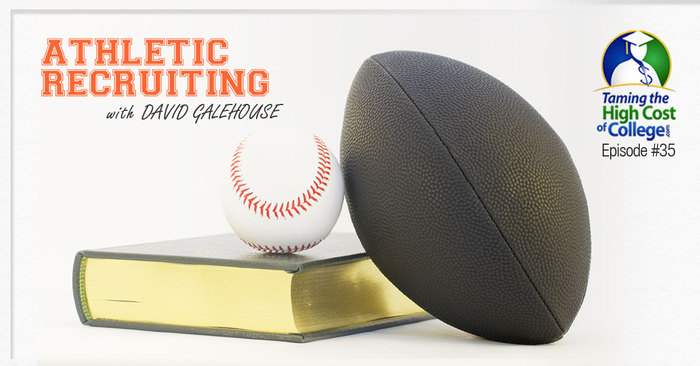 David Galehouse owns Varsity Edge, a website that helps high school athletes pursue their sport in college. He himself was an athlete who went through challenges in being recruited. He was an avid golfer with some aspirations of a college scholarship, but burned out in senior year. He began to play baseball in the spring of his senior year, for the first time since eighth grade.
Needless to say, it was a bit late in the game to hope for a scholarship in baseball, and after some scrambling around," he ended up taking a year off from school. He first attended Rollins college in Florida but his skill level wasn't improved enough, then he went to Fairfield College in Connecticut. He walked onto the team, but was sidelined by injury, and he stepped out of the sport by the time he was a senior.
While reflecting on his experiences, he started to take notes and it formed the basis of what Varsity Edge has become, a resource for parents and students offering information that David felt he did not get in his experience.
Who can benefit from Varsity Edge?
Anyone, really. David says it's a misconception that athletes who are highly recruited don't need help. Everyone can use information on selecting the right school.
On the site, you'll find information on
College applications
Visiting schools
Financial aid
Recruiting information
NCAA rules
Life as a student athlete
Interviews with college coaches
Researching colleges
Common mistakes families make in pursuing college athletics
Overlooking academics – it won't matter how well you perform on the field or court; if you don't have the grades, the recruiting process is basically over;
Assuming you will be "discovered" – college coaches are not at every game; in fact, they rarely attend high school games, as their season is happening at the exact same time.
Not being aggressive enough – this is the flip side of waiting to be discovered. Students need to assertively connect with coaches at the colleges they'd like to play for. Explain your interest and why. There is an online recruiting form for every college, which will put your name in front of the coach and show that you've done the homework on your own.
Overestimating a student's ability – make sure your athlete's ability is evaluated as it would apply to various colleges; compare your performance v. other students at your school, in your state and at the college level for a more accurate idea of how you match up
Not doing your research – kick the tires a bit on a school and its program, including coaches and their rosters. It can tell you a lot about how they recruit by seeing where their players are from. The more far and wide the geographic area that makes up a team, the more aggressive and selective the recruiting
David also recommends seeking out former teammates who are now in college to find out how they performed in college to assess your talent. Traveling outside of your area with club teams to camps or tournaments also allows you to note other athletes' performances and how your measure up.
Coaches still need to see you play in some capacity, how you handle winning and losing, interacting with coaches and referees. The best way to get in front of them can be a camp at that specific college. It also gives the athlete a chance to assess the college's program to make a better decision down the road.
The caveat is not to sign up for a showcase or camp at a college your student may not match up with in skill level. In other words, if your skill level is only at a Division III level, don't sign up at Notre Dame for their camp as no amount of time in front of their coaching staff will net you a scholarship.
Students should use a camp or showcase to focus on learning as much as performing in front of coaches.
NCAA Rules
You'll never know all of them – David says that the coach's rulebook is 500 pages long and when they are tested on it in an open book format, many still fail.
For our purposes here, the NCAA Guide for the College Bound Student Athlete is a good primer, and is also only 30 pages long. It will outline the steps for qualifications.
Other steps in becoming eligible:
Make sure the core courses required to be eligible are courses your student is taking in high school; the list will be on the NCAA guide; grades and test score requirements will also be listed in this document.
Register with EligibilityCenter.org in your sophomore year. This is a clearinghouse, which will certify any NCAA athlete who wants to compete at the Division I or II level (they don't deal with Division III)
Have your high school counselor send your transcripts to this clearing house at the end of your Junior year
At the end of your senior year, your counselor will need to send proof of graduation to them as well.
Note: If your test scores aren't good enough to become eligible, you can work on test prep to improve them and gain eligibility.
Finances of the Student Athlete
Not every student will get that "full ride." Beyond Division I football or basketball, David says there simply isn't that much recruiting money around. Most of the smaller schools and the less popular sports don't generate enough revenue.
Football and basketball are called "headcount sports" – there are 85 scholarships for Division I football and 13 for men's basketball, with women's fetching about the same number. It's an all or nothing preposition: you'll either get a full ride or nothing at all, and it is possible to be passed over the first year, but be awarded in your second year.
Scholarships can be reviewed each year and removed for poor grades or discipline issues, but not for poor athletic performance.
Timelines
This is dependent on your skill level and what type of school your athlete is interested in. Some of the most aggressive in recruiting begin doing so when athletes are in eighth grade, believe it or not. Smaller schools with smaller staffs won't be doing so.
Research should begin in junior year, with the summer between junior and senior year make a plan to play in front of these coaches to impact their decision making for recruitment. Waiting for the following year, especially for spring sports, will simply be too late.
Recruits can call college coaches as often as they like. If you leave a message and it's not the proper time for the coach to call you back, they cannot, but you can keep calling. Or, simply: There are no restrictions as to when and how often recruits can call college coaches.
College coaches do NOT want to hear from parents, and have reconsidered recruitment based on contact from an athlete's parents. So, students should find a way to get over their shyness in speaking with a coach, and pick up the phone. It will go a long way in getting you recruited, as it shows maturity.
A parent's role in this case is to ask questions that perhaps their student may not be aware of during a family meeting with the coach, like financial concerns.
David's 5 Key Factors that Sum Up the Recruiting Process
Academic – nail down your grades; bad grades end the rec
Athletic – if you can't perform to a certain level a college requires, no amount of camps, showcases, video etc., will change the coach's mind
Social – you need to be happy at a school or interested in the school in order to make a good fit.
Financial – evaluate what you can afford
Geographic – playing 10 minutes or 2,000 miles away from home makes a big difference; know where you will be comfortable playing
If any of these five factors are out of balance for the student it's not a place you should play. Likewise, if a coach sees that any of these factors won't match up well, you won't be recruited.
BRAD RECOMMENDS: Taking advantage of EVERY podcast we offer!
This is our 35th episode! That means for those of you just joining us, you've got catching up to do!
We recommend looking over previous episodes to see what you may have missed, some of which cover
Need Based aid
Scholarships
ACT/SAT test prep – also episode 4
College planning in Divorced families
Get to any past episode using this formula http://tamingthehighcostofcollege/(EPISODE #). And, if you know the information will help others, please share this information with them, too!
LINKS AND RESOURCES
David's Website, Varsity Edge
Find Varsity Edge on Facebook
Action article on Varsity Edge related to today's podcast
Recruitment eligibility clearinghouse, EligibilityCenter.org
NCAA Guide for the College Bound Student Athlete
THANKS FOR JOINING US!
We'd like to extend an invitation to our listeners to share their feedback and questions. Our website offers a couple of ways for you to share your questions with us, and we'd love to hear from you.
Contact Us to submit a question to our email
Leave us a voicemail message on the computer! (We use questions for future shows because it's likely other people have the same question.)
If you find our podcasts helpful, please share us on social media and tell your friends.
The bottom line is that we care what you think and want to help you out, so we'd appreciate you reviewing us on iTunes or on Spotify. And even better, receive automatic updates by subscribing to the show on iTunes or Spotify.
Brad is not affiliated with David Galehouse or Varsity Edge.
Sign Up for our Newsletter and receive our FREE reports!
Get more need-based aid
Find Scholarships
Find a Great College at a Great Price
Connect with other Parents and Students