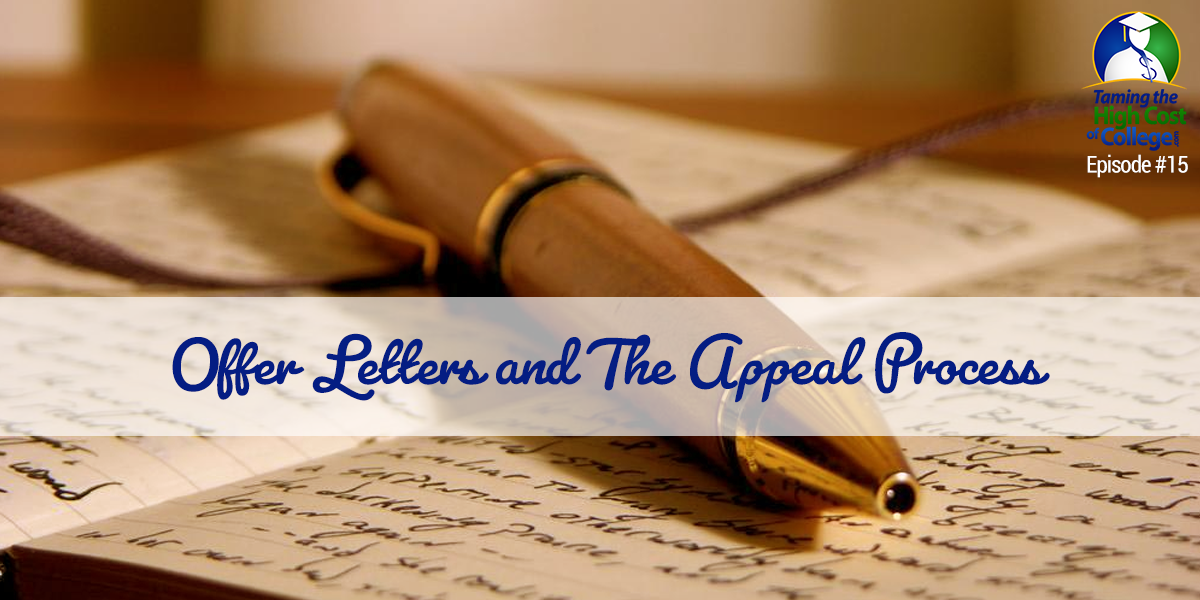 Start the college planning process as early as sophomore or junior year so that the offer letter results are what you were expecting!
WHAT IS A LETTER OF ADMISSION?
A letter of admission is the letter from the college notifying the student of their admission/acceptance into the college.
WHAT IS AN OFFER LETTER?
An offer letter is a formal letter from the college detailing the financial aid you will receive. Offer letters arrive in early April. If you have not received an offer letter, the student should follow up with the college to see if they are waiting for something from the student before they will send the offer letter. Additionally, if the offer letter was not received by mail it may be available on the college's website. The student will need to set up an account and login.
WHAT DOES AN OFFER LETTER LOOK LIKE?
The offer letter will detail cost of attending and the financial aid provided. The financial aid can come from the college itself and the federal programs available, for example, the Pell Grant, supplement grants, work study, and the Stafford, Plus and Perkins loans. Talk to the college's financial aid office for more info on the federal programs.
HOW DO YOU COMPARE THE OFFER LETTERS?
Create a spread sheet detailing the following:
Total of tuition, fees, room and board and subtract grants and scholarships to determine the net tuition bill.
List "self help aid" (i.e. …. work study and loans)
Equals the net cost.
Here's a sample of what the spreadsheet might look like:
| | | | | | |
| --- | --- | --- | --- | --- | --- |
| Caroll | | Carthage | | U. of Minnesota-Duluth | |
| Tuition and Fees | 28550 | Tuition and Fees | 34850 | Tuition and Fees | 12924 |
| Room and Board | 8550 | Room and Board | 9500 | Room and Board | 6956 |
| Books and Supplies | 1188 | Books and Supplies | 1600 | Books and Supplies | 1200 |
| Personal Miscellaneous | 1502 | Personal Miscellaneous | 1500 | Personal Miscellaneous | 2000 |
| Transportation | 1241 | Transportation | 1000 | Transportation | 384 |
| | 41031 | | 48450 | | 23464 |
| Financial Package | | Financial Package | | Financial Package | |
| Carroll Trustee Scholarship | 16000 | Carthage Academic Honors | 12000 | Chancellor's Scholarship Year 1 | 3000 |
| Donor Sponsored Grant | 500 | CART Endowed Scholarship | 3000 | Fed Unsubzidized Loan | 5500 |
| Campus Job | 1750 | Robert Todd Grant | 3000 | Ford Federal PARENT loan | 14964 |
| Fed Subsidized Loan | 925 | Fed Unsubzidized Loan | 5500 | | |
| Fed Unsubsidized Loan | 4575 | | | | |
| | 23750 | | 23500 | | 23464 |
| Difference | 17281 | | 24950 | | 0 |


Plus Loans are available at most schools…public and private.
Consider using a home equity loan or a private loan to fill the gap.
AFTER REVIEWING ALL OFFERS, CONSIDER THE APPEAL PROCESS.
The offers received are the best offers available based on information you have provided the colleges thus far.
Grounds for an appeal might be:
1) Change in financial situation due to divorce, job loss, natural disaster (i.e. Hurricane Katrina which may have resulted in a loss of business, income, etc)
2)Competition
A school may increase the financial aid based on what another college's offer is …. if that school is the same caliber as the school the student is considering.
Contact the school's financial aid office to begin the appeal process.
They could make adjustments based on their professional judgment.
Student should be directing the process with a joint call with the parent when it gets into assets and income.
Be polite!
QUESTIONS STUDENT COULD ASK:
Is there any other aid available?
Any campus jobs?
Are there other scholarships I could apply for?
Other loans available?
Colleges could ask for documentation relative to job loss, divorce or even a copy of another school's offer letter.
IF YOU HAVE A SOPHOMORE OR JUNIOR, WHAT CAN YOU DO NOW?
Visit the college's websites and use the net price calculator to get an idea of what an offer might look like from that particular school based on the assets and income you entered into the calculator.
The net price calculator may help you determine if your student will actually pursue that school…based on the price.
WILL YOU QUALIFY FOR NEED BASED FINANCIAL AID?
See podcast #9 (Tax Planning for College) for information on the 5 types of schools. The student might change their school list to schools where they might be a stronger fit.
BRAD RECOMMENDS
Website: www.khanacademy.org
Instructional information on
Teaching math, science, computer science, etc.
ACT/SAT prep
New lectures and information always being added to the site.
It's free… just need to establish an account!