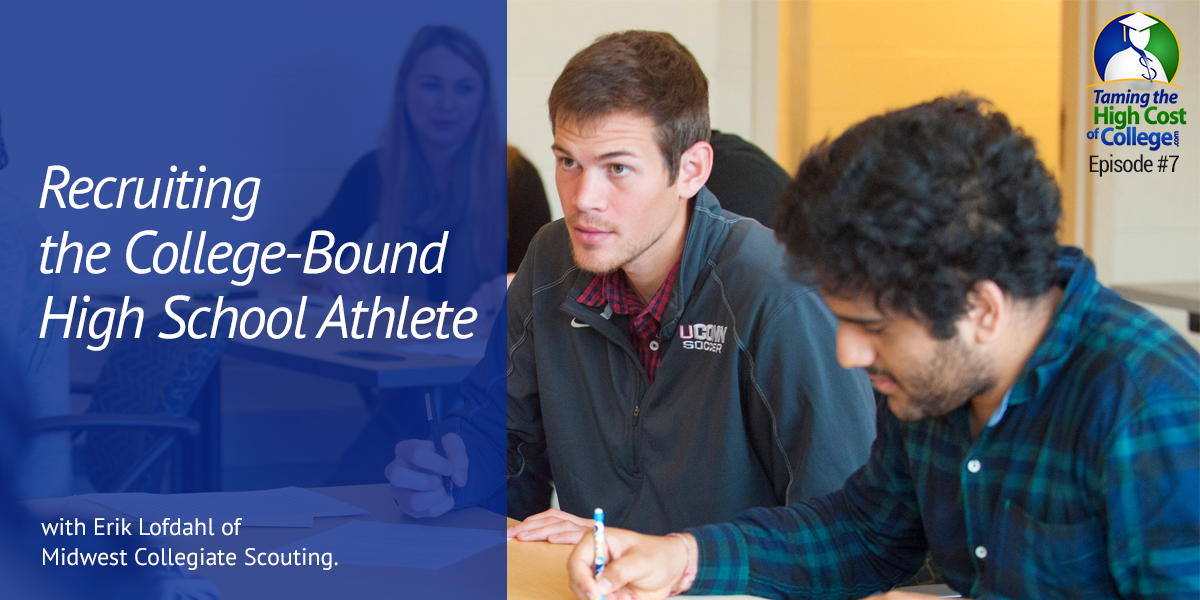 Today's interview with Erik Lofdahl of
Midwest Collegiate Scouting
details how the athletic recruiting process works and why you should consider hiring a recruiting specialist.
MIDWEST COLLEGIATE SCOUTING assists students in the recruiting process as they transition into college sports. Before starting his business 10 years ago, Erik was involved in the recruiting process as a high school and college coach. He is currently a college coach at, St. Norbert's in DePere, Wisconsin.
THINGS TO CONSIDER ABOUT PURSUING SPORTS IN COLLEGE:
Student wants to take the game to the next level.
There are possible scholarships involved.
Could reduce admissions standards.
WHEN SHOULD THE STUDENT/FAMILY START THE PROCESS?
NCAA determines a student is recruitable as early as 7th or 8th grade. It should be taken seriously once the student makes the varsity team in high school.
HOW PARENTS CAN HELP IN THE RECRUITING PROCESS:
Can start the recruiting process as early as the student's sophomore year.
Ask your student, on a scale of 1-10, how bad do they want to play sports in college?
Do research on the NCAA website….and review the Guide for the College Bound Student- Athlete
Understand the "coach" language
Assist with a four year breakdown of course selection to be academically eligible
Identify the schools that make the most sense
Learn how to market the student
STEPS IN THE RECRUITING PROCESS:
Market the student

Consider getting help from a recruiting specialist
Identify who recruits in the area you are in
Ask your student's high school coach
Determine who is the recruiter's coordinator for each programWhy market the student:

Increases awareness of the student to local and national coaches
Leverage your offers based on all offers received to hopefully create a bidding war between schools.

Go to college's camp for evaluation
This will help to establish more personal contacts through introduction and participation.
Stay in contact with the schools to build relationships
Division 1 schools can make offers as early as during the Junior year or prior to August 1st before the Senior year.
D2 or D3 School Athlete
Should start the recruiting process at a minimum in the junior year.
D3 schools do not offer scholarships.
Winning a D1 Scholarship:
Is based on revenue versus non revenue sports.
For example a student could receive a full ride for volleyball, basketball and football, however, there is not the same potential for sports like wrestling, hockey and track and field.
SCHOLARSHIPS
There are sports scholarships, merit based and need based scholarships.
Student needs to be academically eligible based on core GPA (core meaning Math, Science, English and not classes like Gym or Health) which is corresponded with the ACT and SAT score.
The scale is provided in the Guide for the College Bound Student- Athlete on the NCAA website.
DI vs DII
Non qualifier at a DI school cannot get into the program.
Non qualifier or partial qualifier at DII 2 could become an "academic red shirt" and not play.
They would sit on the bench for the first year and can only train with the team. They are placed in mandatory study groups to bring up their grades.
ATHLETICS CAN BE USED AS A LEVERAGE POINT AT PRIVATE SCHOOLS.
Student could be a good fit for school team and academics.
Could receive a discount on school tuition.
WHO IS MIDWEST COLLEGIATE SCOUTING?
They assist in the recruiting process to improve the student's ability to obtain athletic and academic scholarships. In addition, they want to help change graduation rates of athletes and student athletes to obtain a college degree.
Services
Marketing the student
Inform you of the process
Determine if your student is actually being recruited
Build a personal website for your athlete which is a "one stop recruiting shop" for coaches. It will contain:

letters of recommendation
transcripts
ACT/SAT results
video and photos
personal statement from the student
To contact Erik
Website: Midwest Collegiate Scouting
Facebook: https://www.facebook.com/MidwestCollegiateScouting
Twitter: http://www.twitter.com/mwcscouting