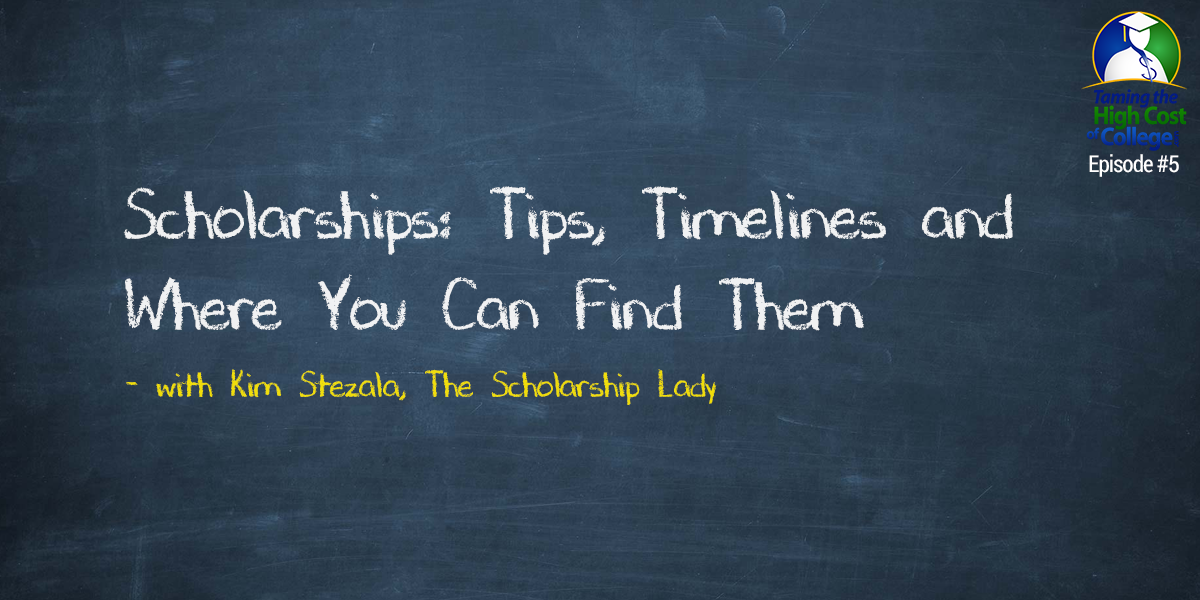 Great interview with Kim Stezala, scholarship advocate and author. Kim shares great tips she learned from a recent scholarship conference along with tips on when to start the scholarship process, where to find scholarships and more!
Kim is an advocate between scholarship providers and the individuals that need the scholarships. She is also the author of Scholarships 101: Real World Guide to Cash for College
From a recent conference (National Scholarship Providers Association) she shared the following:
www.scholasphere.com
This is a great tool that she described as the "common application for scholarships" where you can input data and it will pre-populate throughout several scholarship applications.

Displacement Policy


What is a college's policy if a student is "over awarded" scholarship money

"Be true to yourself"


When completing scholarship applications, be true to who you are and don't try to be someone you are not.
Tips on the Scholarship ProcessBest time to start the process is end of the sophomore year into the junior year. Begin submitting applications in the Summer between the junior and senior years.
Compose a "dream letter" that answers the following questions:
Why do you want to go to college?
What do you want to do?
How will I make myself accountable?
Academic Achievements / Personal Information Exercise
In order to assist in the scholarship search, on the left side of the paper list all of your academic achievements, big and small! On the right side of the paper, list all personal/sensitive information relating to:
Where parents work, volunteer, clubs, organizations, or unions they might belong to
Where parents attended college
Anyone in the family that served in the military
Student's learning disability
Where student was born
Anything that is unique
Select specific scholarship engines to concentrate on. For example:
www.scholarships.com
www.fastweb.com
Tips:
Scholarship applications should be free
Never enter your social security number
You can opt out their advertising blasts
Set up a separate email account just for the scholarship process
Parent's Role in the Scholarship Process
Talk about family background, traits, involvement in the community, church and organizations they belong to
Help with the search process
Proofread the scholarship essay
Track deadlines and keep a stack of stamps on hand!
Declare a "Scholarship Saturday or Sunday" once a month to focus on scholarship work
Once you figure out the process, it may lead to a "snowball effect" for multiple scholarships
More about Kim StezalaVisit Kim's website to learn about her Scholarship Success SM Boot Camp.
www.scholarshipstreet.com
www.facebook.com/TheScholarshipLady
QUESTIONSWhen do you apply for scholarships?
Start as early as you reasonably can based on the scholarship's criteria. Most scholarships are targeted for the senior year. Begin applying in the summer before the senior year starts.
I am an average student. Should I even bother pursuing scholarships?
Depends on the student. Not all scholarships are based on grades. Find scholarships that make the student unique…. a unique talent or something they have overcome in the past.
Where do you find scholarships?
Search the internet
Check with the colleges you are considering
Guidance department at your high school
Establish a scholarship "network" ….tell family, friends, associates, that you are seeking scholarships
Mom and Dad: where they work, volunteer, clubs, organizations, unions, other professional contacts. Also check with Grandma and Grandpa!
BRAD RECOMMENDSThe book: Is College Worth it? By William J. Bennett
William is a former Secretary of Education.
This is NOT a guidebook about colleges. This book provides information on the concept of what college is about and the overall direction of higher education and why the cost continues to rise.