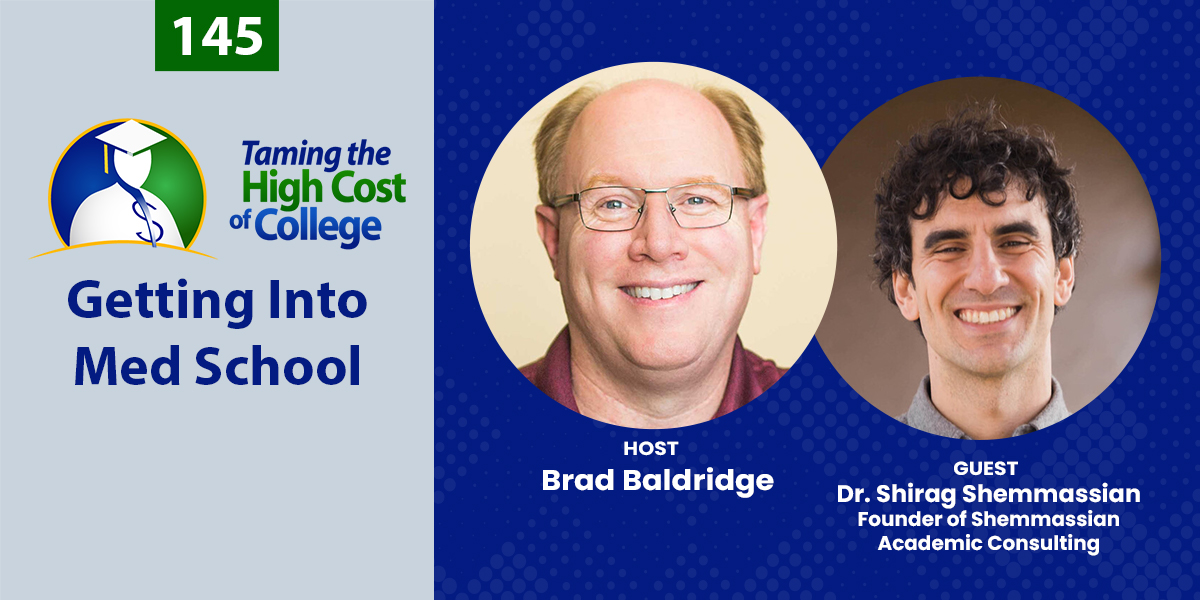 ---
Today's Guest:
Dr. Shirag Shemmassian, Founder of Shemmassian Academic Consulting
Shirag founded Shemmassian Academic Consulting to help students get into medical school and top colleges using a systematic approach.
Shirag believes that every student has a place in medical school as long as they have the right plan and the right guidance.
Shirag not only lends his firm's services, he also has topnotch resources about having a four-year plan, having the GPA and MCAT scores you need for med school, etc. You can access Shirag's free resources by visiting his website.
Questions Answered Today:
What does the process of getting into medical school look like?
Getting into doctor of medicine (MD) programs is extremely difficult these days. With the continuous increase of application rates as well as the increased complexity of admissions, only about 40% of applicants get in. Getting into MD programs doesn't guarantee getting a degree, either.
According to Shirag, there are two ways to get into med school and become a doctor:
The "traditional route" takes about 11 to 15 years after graduation.
After graduating from high school, get a four-year college (bachelor's) degree (a.k.a. pre-med).
After college, get into medical school, which also takes four years.
From med school, the student gets their physician degree.
To become an attending, fully licensed physician, there are many hard-to-meet additional requirements.
The "less traditional route"—getting into a direct medical program
Note: A direct med program may be called by different titles depending on the type of bachelor's and the medical degree the student will get. Essentially, they can be either of the following:
BS-MD or BA-MD
BS-DO or BA-DO (doctors of osteopathic medicine)
This is what the process looks like:
During the senior year in high school, the student joins a 'joint program' that becomes a bridge between undergrad and a medical degree. This takes about 7 to 8 years on average.
After the direct medical program, the student ends up with an undergrad degree and a medical degree.
Note: Securing a spot in the direct medical program doesn't mean that the student doesn't have to take the MCAT (the standardized test for medical school). This depends on the program policies.
These programs are different from each other, so make sure to do your research to know the complete requirements.
What exactly does "pre-med" mean?
Shirag remarks how 'pre-med' is not an official designation. Students don't really earn a "pre-med" degree. Any major can be considered pre-med, as long as the student also meets the coursework necessary (lab requirements, subjects, etc.) to qualify for med school during undergrad.
Although most students with aspirations to get into med school would opt for BCPM (Biology, Chemistry, Physics and Math) courses, majoring in History or English can still be considered pre-med.
Is there an advantage to majoring in science courses? Does getting in science courses give the student a better chance to get into med school?
Surprisingly, no! The MCAT tests the science students should learn in the first two years of college, and not anything else. This means that even if Student 1 majored in Biochemistry and Student 2 majored in Philosophy, they both could have the levels of science needed to pass the MCAT.
Observations suggest that there is no meaningful significance between MCAT success rates and the examinees' majors. Shirag believes that the best bet is to major in something the student is interested in, so that they have higher chances of doing better hence getting better grades and learning more.
What are the requirements for med school?
Med schools have different levels of prestige, so, understandably, requirements vary. But, in general, Shirag mentions the following requirements:
Academic Stats
GPA: 3.6 to 3.7 or above
MCAT scores: Minimum 514 or 517 (90th percentile and above)
Note: MCAT score requirements vary widely, depending on the program.
Extracurricular Profile (extremely important)
The extracurricular profile has four pillars:
1. Shadowing – Observe whatever physicians are doing and process what their work entails. The requirement is 100 hours, and Shirag notes that going over the limit may not be used, as the time can be spent for higher-level pillars.
2. Direct Patient Contact – The student, rather than focusing on what physicians do, focuses on what the patients do and need. The student directly interacts with and cares for patients.
Because of the pandemic, all non-essential health workers, which includes pre-med students, were excluded from hospitals. Hence, in order to render service, a student may need to get a license to become:
Emergency medical technician (EMT) – assist in ambulances and bringing patients to hospitals
Medical assistant (MA)
Certified nursing assistant (CNA) – may work on simple procedures such as phlebotomy
Hospice/assisted living volunteer
The new forms of direct patient contact that didn't exist focus on helping patients dealing with mental health problems. They work entails:
Working at a crisis text line
Answering calls from a suicide hotline
For direct patient contact, Shirag recommends getting as much experience as the student can, although the recommended amount is 300 hours.
3. Community Service – can be healthcare-related or not, as long as the student can exhibit passion for service. Some of the most common programs include:
Tutoring programs for children with low income backgrounds
Programs similar to Big Brother or Big Sister
Nutrition education, like educating the community to find and cook more nutritious foods
Volunteering at a clinic
Setting up a mobile health clinic
Organizing annual checkups
Community services, unlike shadowing, don't have diminishing returns, so the more hours, the better.
4. Research – any scholarly work that is relevant to healthcare application would be helpful. Below are some examples of medically relevant research:
Drugs that target cancer cells
Neuro imaging to study typical brain development in infants
A study for people with schizophrenia
A study of how different healthcare policies affect outcomes
Advocating for certain new policies that also have a healthcare application
There are also examples of research that are far beyond the 'healthcare application' category:
How to improve math scores in sixth graders
How Russian literature changed over the centuries
There are hundreds of hours that need to be rendered for research, especially if the study is complicated.
If the student wants to focus on research, there's also a program called an 'MD PhD', a dual degree that requires about 2000 hours of research. This may be a great opportunity as it's federally funded, although it's hard to get in. If the student dreams of being in academia or leading laboratories, this may be the way to go.
What are the questions I need to ask, if my student wants to be in med school?
Q: Does undergraduate prestige matter?
A: It does. Brand names matter. A Harvard student with a 3.8 GPA will definitely look better than a Cal State Long Beach student with the same GPA. Hence, if you can afford it, and you think your student can get all A's, send them to the best school.
Q: Does graduating from pre-med culture in your college matter in med school?
A: UCLA is known as a college where many pre-med students come from, hence its association with "pre-med culture." However, at a school with pre-med culture, there are pros and cons:
Pros:
There are more pre-med clubs
There are more international volunteering opportunities
There is a hospital on campus
Cons:
Because there are too many aspiring med students, it may be:
Extremely competitive
Hard to stand out
There may be less opportunities for senior and professor mentorship
Q: Is there an advisory group? Are there professionals who are paid a salary to help people get into medical school?
A: Most colleges have this, but the quality of help they provide varies, so make sure to look into that. There are some schools that might discourage students from applying.
Q: What is the school's acceptance rate?
A: Shirag warns parents to be very watchful of acceptance rates for their graduating undergrads, as some colleges will lie. They will advertise 80-90% acceptance rates for their pre-med students getting into med school, but they actually filter the students they allow or encourage to apply. Some would also refuse to write committee letters if the student is not brilliant, resulting in the student applying without the school's blessing.
What's your advice for those students that are not confident in pursuing medicine?
Whether your student is brilliant or not as brilliant as others, if they have the heart to serve the community, there is a game plan for you.
However, there are many reasons why a student might want to change gears and not go to med school or continue pursuing medicine. Some of these include:
Not doing as well in college as they did in high school (i.e. non-straight-A grades, lower GPA, struggles with the MCAT, etc.)
The process of getting a medical degree has become too challenging (i.e. courses that are too hard to pass, etc.)
Had a change of heart
Etc.
Letting go, especially for those students who wanted to become doctors their whole lives, is not easy.
However, it's the parents' role to remember that education is an investment, so make sure to look at it from a financial standpoint and think of the "long game." The student must have a solid desire to pursue a degree in medicine. Otherwise, there are some things the student needs to think about:
If I only want to become a doctor to help other people, then can I find a different profession?
Won't it be better for me to invest in my 401k sooner instead?
Plan B is a must for these types of students, so college selection is very crucial. Hence, Shirag recommends that students and parents pick a college that doesn't specifically specialize in one undergrad program. Also, there has to be some consideration around the student's second, third, or fourth choice. This ensures that if the student no longer wants to pursue medicine, they won't have to change schools and therefore incur more financial liability.
All in all, it's beneficial to consider the student's likely level of interest and level of achievement in choosing majors and colleges.
---
Links and Resources
Helpful Articles and Resources
Dr. Shirag Shemmassian's Contact Info:
---
---
THANKS FOR JOINING US!
We'd like to extend an invitation to our listeners to share their feedback and questions. Contact us to submit a question.
If you find our podcasts helpful, please share us on social media and tell your friends!
The bottom line is that we care what you think and want to help you out, so we'd appreciate you reviewing us on your favorite podcast platform. Even better, receive automatic updates by subscribing to the show through your preferred podcast service.
Brad Baldridge
This episode is all about going to college as a pre-med. If your student's considering becoming a doctor, this episode is for you.
Presenter
If you have kids, they grow up, and before you know it, it's time to plan for college. Where do you start? How much is it going to cost? Will you qualify for financial aid? Should you be looking into scholarships? Will you be able to retire? What about student loans? The list of questions is never-ending. The good news is all the answers are right here. Welcome to the Taming the High Cost of College podcast. Here is your host, certified financial planner, Brad Baldridge.
Brad Baldridge
Hello, and welcome to Taming the High Cost of College. I'm your host Brad Baldridge. Today, we have a great interview with Shirag Shemmassian. He is a consultant that works with families and helps them figure out undergrad and graduate level for medical programs. But he's going to give us a lot of great insight. So if you've got a high schooler that's thinking pre-med as one of their options, there's a lot of great information in this episode, understanding how medical schools work, and understanding what it takes to get into medical school, as well as your undergrad to make it all fit together to get to your goal of becoming a doctor. There's a lot of great nuggets in here, I would listen to it more than once and maybe with your student as well, because pre-med for many families is a little bit of a black box. Now, if parents or other close relatives are in the medical profession, they may have a better understanding and be able to coach students. But I think in general, there's a lot of great information in here that many parents just aren't going to be aware of. As always, all the stuff that we talked about in this episode will be available in the show notes. So you can go to tamingthehighcostofcollege.com/145 and get links to websites and other information that we talked about. Alright, let's go ahead and jump into the interview.
Today I'm sitting down with Dr. Shirag Shemmassian. He is the owner and operator of Shemmassian Academic Consulting. Welcome, Shirag.
Shirag Shemmassian
Thanks for having me, Brad. Good to chat with you.
Brad Baldridge
Yes. So we've known each other for many years. And I know you get involved in quite a lot of areas of educational consulting. But today, I want to talk a little bit about your focus where you help families. And I guess more specifically, students work through the medical, you know, on their way to being a doctor program. And I might actually tap your expertise. So can you tell us a little bit about what maybe is new or changed in the medical field as far as the last few years?
Shirag Shemmassian
Yeah, and it's always tough to answer that question because things move so quickly in the med school admission space, Brad. What you need to know, at the highest level, it's very hard. And in the last few years, it has gotten harder, and primarily because application rates have soared with the start of the pandemic. So historically, I would say over the last several years, the acceptance rate and matriculation rate for students who are applying to MD programs, and we can get into the differences between MD and DO programs and all that kind of stuff. But it hovers around the low 40%. And so most students who are applying to MD programs in the United States are not getting in anywhere. So it's very difficult. And then the application rates shot up. And so that dip in the last cycle or two. So it's just getting more and more complex. And then the expectations change over time about what schools are looking for. As far as service orientation, and all that kind of stuff. It's not just about grades and research and volunteering hours and things like that, that's more complex, MCAT expectations, change some schools went test optional with the pandemic, there's the rising popularity in some programs for BS MD, which are direct medical programs where students get in from high school, though the number of those programs is going down. So there's a lot of things in flux right now. And there are a lot of challenges with getting into medical school. So lots of different directions to go.
Brad Baldridge
Right. So let's start at the very beginning. I think there's a lot of families out there where mom's an engineer and dad works in sales. And they've got a student that say a sophomore junior saying, 'I think I want to be a doctor when I grow up.' Obviously, if you're not currently a doctor, you probably don't understand what that means. Both from what is a daily work life look like, which I think students need to understand. But also what is the education path and what is expected? As an example, I know it's beyond a four year degree. So what's required to get accepted typically, and when do you make start working towards that? Is that something you do you're doing in high school already? Or how does that work?
Shirag Shemmassian
It depends on the path you want to take. And so it's important to cover the different paths. And Brad, you mentioned something about the parents being in a different field. Let's say they're in sales or engineering or whatever the case is. Maybe there's that situation where the parents don't know, maybe the parents are physicians, but they went to medical school 20-25 years ago, and the game has completely changed, or they're immigrants to this country. And they just don't know how college system works, let alone the medical school system. So this is something that we deal with every single day. So for sophomores, and juniors, I think we should back up and talk about the different ways to go to medical school, let's first talk about the traditional route, the traditional route is going to college, getting a four year degree, a bachelor's degree. And then going to medical school, which is another four years, followed by residency. And residency, for the vast majority of situations is going to be somewhere between three and seven years, this is after medical school. So after high school, it could be anywhere from 11 to 15 years. And that's assuming you don't take any gap years between college and medical school. So the it'll be eight years after high school, let's say you go straight through from college to medical school, so eight years post high school, you'll get your physician's degree. But then to become an attending level physician, one who is fully licensed and all that kind of stuff, that's going to be 11 to 15 years total post high school, assuming you don't take a gap year. And many students take a gap year now between college and medical school, just because the admission requirements are so difficult to meet, you can meet the requirements technically, but your grades might not be there or your extracurricular activities are lacking in some way. And so you need that additional time. That's the traditional route.
Brad Baldridge
Right.
Shirag Shemmassian
The less traditional route, but still a way to get your physician's degree is to do a direct med program. A direct med program is otherwise called a BS-MD, or a BA-MD, or a BS-DO or a BA-DO depending on the type of bachelor's degree you would get or the type of medical degree that you would get. And that's essentially where you get into a joint program, during your senior year of high school, that will take you from undergrad to medical degree in 6-8 years, though the vast majority are 7-8 years. And these are really attracted to some families, because medical school admissions is so difficult. It's nice for folks to know, early on, 'All right, I'm assured a spot into a medical program. And I may not have to take the MCAT.' Again, this varies widely from program to program, where if I do have to take the program, maybe there's a certain threshold, some schools have a higher threshold than others, and so on and so forth. But you end up at the same spot, with an undergraduate degree and a medical degree. But you're assured a spot in medical school with an asterisk, of course, depending on the requirements, but at the time of senior year.
Brad Baldridge
Right. So there's direct admit and many medical fields, and I guess, some direct to a master's in business and some of those types of things that are out there. And I think they appeal to many families again, as well, if I get accepted at the front end, the challenges are done, as long as I meet the requirements, and a typical requirements at, would be maintaining a GPA, doing well in your undergrad courses. Otherwise, they tend to kick you out if you're failing out, of course, what kind of requirements are typical, I mean, you have to have a 4.0 to stay in the program or 3.0, 2.0?
Shirag Shemmassian
It won't be, no, so a 4.0, it's not bad high and a 3.0 is too low. So it'll be, it's gonna depend again, because like with anything else, when it comes to higher education, there are different tiers and different levels of prestige. So you have the high-end programs like at Brown, the PLME program, or 'PLEME', some people call it or the Rice/Baylor program or Boston, all these kinds of stuff. And these are going to have typically more stringent requirements and all this kind of stuff, then certain state schools, which might have lower ones, but it'll be minimum, you're looking at 3.6-3.7 plus types of things. The MCAT scores, though, can vary widely. They could be minimum 514, minimum 517, which are actually very high. They're like 90 plus percentile scores, they're not easy to get. And so there has been a, I think growing discontent among families with some of these programs, because they feel like they were assured when they got in. And then there are these requirements and their students might struggle in school because their college difficulty level and the level of independence required to do well is different. And so some students essentially don't meet those and they don't meet the cut anymore. And the big issue is a lot of these direct med programs, maybe the undergrads weren't as strong or aren't as strong as some of the other schools they had gotten into high school. So now they're having to apply via the traditional route, but coming from a less prestigious undergrad, and they chose that undergrad because they thought they were sure to spot. So it's a very tricky situation and then it gets a little more complicated because there are stories of some schools where the student got into the BS-MD or the direct med program, and midway through the school change their requirements. And so some students who thought they met the requirements no longer did. And now there's legal action taken by families and students applying out, or there are situations where you're sure to spot and then you go and you get a 4.0. And you aced the MCAT. The MCAT is like the standardized test for medical school. And now a student wants to apply out and they're like, 'Oh, I know I have the spotter shirt. Let me try my luck at other top 20 programs.' And the school says, 'Not so fast. If you apply out you lose the spot.'
Brad Baldridge
Wow.
Shirag Shemmassian
So there are all of these. So there's a lot of research you have to do ahead of time people, usually say, 'I just want to get into a BS-MD program.' Well, if you get in, they're not all created equally. So do your homework.
Brad Baldridge
Right? I think that's the key to a lot of this. When you're transferring schools or making commitments among different is you need to know going in.
Shirag Shemmassian
Yeah
Brad Baldridge
Some of the rules so that you don't break them inadvertently. And you know what the requirements are. Can you speak a little bit more to, again, if I'm a parent of a sophomore, junior, senior, if I don't really understand how the process works, we hear a lot about this pre-med idea. What are you majoring in? Why I'm pre-med? Because I'm going to medical school? Is that a true major? And then what happens if you don't get into medical school? What do you do with a pre-med degree or pre-med, whatever it would be? Can you explain that to us a little bit?
Shirag Shemmassian
Sure. So pre-med at the vast majority of schools is not an official designation. So there is an a, quote, 'pre-med major' the same way there's a biology or a psychology or a history major, right? And the schools don't officially label students as pre-med or not pre-med. So most students aren't graduating with a bachelor in pre-med, if that makes sense. And so, pre-med basically means you are working towards the medical school admission requirements. And if we get more specific, it usually means a student with aspirations to go to medical school. And they are enrolling in courses. For biology, chemistry, physics and math, we call them be BCPM courses. These are otherwise known as science courses relative to everything else, which are non-science courses. And then so that's a pre-med student. And a pre med student who's seeking these courses will also be involved in things like research or patient exposure work, like as an EMT, or a medical assistant, or CNA, or working in hospice or at a Crisis Text Line or something like that. In addition, they'll seek physician shadowing, and also a lot of community service, whether or not it's related to health care, that's not necessary. So that's what a pre-med student is. So to answer the second part of your question, Brad, about what does a student with a pre-med degree do. So there's an technically a pre-med major at the vast majority of schools. And so you end undergrad with whatever thing you majored in. So you could be pre-med as a bio major, you could be pre-med with a history major, you could be pre med with an English major, so long as you met, the coursework requirements for medical school, you can technically apply to medical school, right? So you are pre-med. And that's the way it works. So if you graduate with a bio degree, so life science majors are the most popular among pre-med students. That's unsurprising. So let's say you decide not to become a physician while you just completed undergrad, with a bachelor degree in biology. And you're in the same place as everyone else who finished their undergraduate degree in biology who weren't pre med at any point.
Brad Baldridge
Exactly. So typical undergrads might be biochemistry or biology and that type of thing. But have you seen that outlier? That is the history major that then just chooses to take enough lab science? And what would they need to take physics, lab science, calculus, some of those types of things? As long as they take that they can still be pre-med even though that's not their major.
Shirag Shemmassian
Yep
Brad Baldridge
Okay?
Shirag Shemmassian
Exactly. So it's less common, but it's not unusual. I'll put it that way. So there's a sizable chunk of people that apply to medical school as non-life science mzajor. So I'm talking, not bio, not neuroscience, none of those kinds of things. So whether it's like statistics or philosophy, or whatever, it's not a majority, but it's not a tiny amount either.
Brad Baldridge
Right. So in your personal opinion, do you feel like doing something that's closer to the medical related undergrad major is a benefit? Does it help prepare you to be more successful or does it not really matter? And what do medical schools think about it?
Shirag Shemmassian
Hmm. So do I think that it prepares people for medical school or not? I don't think that being a science major or life sciences major is necessarily more helpful. The nice thing about the pre-medical requirements, Brad, so these BCPM courses is that the MCAT tests basically science at the first two year level. So the upper division courses, let's say you started taking advanced neuroscience courses as part of a neuroscience major, those topic areas don't show up on the MCAT. So whether I was a philosophy major, or a biochemistry major, the level of science tested on the MCAT is going to be covered by the pre med requirements, I would have to meet as either major. Now, can someone make the argument that those upper division courses while they just work my quote, unquote, science muscle more? Sure. But does that translate into more success? Not that I've observed. And as far as medical school admissions rates, I mean, they're not wildly different across life science and non-life science majors. In fact, you know, life science majors, actually, versus some other groups of degrees will get in at a slightly lower rate. Does that mean that being a life science major is worse? No, it's just that there's more of them. So among life science majors, there are probably some students who are not cutting it as much academically versus someone who ace their requirements. And then they're like, 'For my upper dibs, because my science GPA is great, I'm going to focus on another area I like like philosophy.' And that might be part of the driver too. And also, you can make a different argument, which is students who take English as a major, because they're doing a lot of reading and comprehension. And the MCAT is actually, in many ways, a huge test of comprehension. It actually assists you with doing well on the in those types of areas. So I think there are pros and cons to different things. But I think that my advice comes down to do whatever major you're most interested in. Because we're not really seeing any meaningful differences across areas of major when it comes to preparation or success rates for getting into medical school. There are some slight ones, they're not huge.
Brad Baldridge
Right, can you speak to the other outside requirements, obviously, you got to take the right courses, and you've got to have good grades. But then there's you mentioned volunteer and shadowing, and describe that a little more detail, because I don't think most again, if unless you benefit, involved in the medical industry, you're not real familiar and don't realize that something that you might have to start that your sophomore year in college to get it done in a reasonable fashion, or end up taking the gap year because you didn't do what you needed to do in your undergrad.
Shirag Shemmassian
Yeah, and the gap year thing, you know, the average age of matriculation into med school these days is somewhere between 24 and 25 years old. So a lot of students are taking gap years. And then you have some students who bring up that average age a little higher, because they are non traditional. So you might have a 28 year old who goes into accounting and says, 'Gosh, I always want to be a doctor, I went into accounting, but my heart always stayed in medicine or in med school,' or someone who's 40 years old, and who knows ran a donut shop for a lot of years. And now they're like, 'You know what, I'm gonna make a complete career change.' Who knows? There are all sorts of people out there. As far as your question goes, Brad, about people who are going to go to medical school, and they know in high school, or they know at the start of college that they want to go there, what are they have to do outside of academics. So we all know that GPA is important. We all know that the MCAT is important. But that's just the numbers. Those are just your stats. What's also hugely important is your extracurricular profile. So what you're doing outside of the classroom, and our four main pillars to extracurriculars for medical school, pillar number one is physician shadowing, number two is direct patient contact number three is community service. And number four is research. And so now I'll go into each of these areas. And shadowing is the first and I'll cover that the first because it's the easiest to cover. It's also the least important of the four. So it's one of those things where you have to get it, but getting it doesn't impress anybody.
Brad Baldridge
Right.
Shirag Shemmassian
So you want to have about 50 to 100 hours of physician shadowing and physician shadowing, if for those who aren't familiar, is essentially observing a physician in their work. So you might shadow a gastroenterologist or a heart surgeon or a pediatrician, you essentially follow them around, observe what they're doing. And that shows the medical schools that you know what a doctor does, you put some time into figuring that out. Ideally, again, like I said, 50 to 100 hours. If you get to the 100-hour mark, you should definitely stop and if you have two to three specialties that you've observed, that's sufficient. So someone who gets 200 hours or 300 hours, after 100 hours, it's really diminishing returns, you're not using your time wisely. I don't necessarily recommend getting more than 100 hours. Now the second area is going to be direct patient contact. So direct patient contact is when you are the one involved in care provision. In other words, you are the one directly providing care to a patient. And then people ask a lot of how's that different from shadowing all this kind of stuff? Well, and so one of the adage is around this, it sounds kind of weird, sounds kind of gross, but I'll say it anyway. It's so close, you can smell them. So of course, to the patient where you can smell
Brad Baldridge
Right
Shirag Shemmassian
And I don't know where this came from. But that's something that people say. And that's also a little bit tricky, because now that we've entered a digital care space, or remote care space, well, I don't know, Brad, I've never smelled anybody through a computer or over the phone. So it's not gonna work as well. But let's talk about some traditional ways of getting direct patient contact and some newer ways that have come out in the remote age. So a traditional ways are going to be some hospital volunteer programs have like a Care Extender program or a special program for undergraduates of that school, where you can apply and get it and you help around with the hospital providing direct care of patients. But then, if you want to become a more essential health care worker, where you're going to be more protected against things like a pandemic, where they say, not all non-essential health care workers you're out for now. To become more essential, you can get a license like an EMT, emergency medical technician, you ride around ambulance, help people get into the hospital, etc., an MA, a medical assistant, a CNA, nursing assistant, you might work in phlebotomy, although that's usually not as powerful because it's a little bit quick, someone comes in, take their blood, they move on and so on. Or you might work in a hospice, or assisted living facility. But then in the digital age, two things that have become very popular, especially among students who love mental health care are number one, working at a Crisis Text Line. So someone's experiencing, I don't know, severe depression or anxiety, they get in touch, and they want a listening ear, so to speak. Or a suicide hotline, someone's having suicidal thoughts, evaluate what they're going through, get them to the right care place, stuff like that. So these are options that have come up. And then there's international volunteer opportunities where, you know, you might go to a different country, and provide work through clinics there. And there might be religious organizations who put this on, there might be other programs that put this on. And these are all ways to get direct patient where you are the one providing direct care. Now, there's almost a subcategory of that which is called scribing, which is very popular among pre-meds. And you're essentially you're taking notes and transcribing things that's happening between the doctor and the patient. I don't love that as a primary patient exposure experience, because you're not the one directly providing care is much more involved in a shadowing. So that's somewhere in the middle, in my opinion. So that's direct patient contact. People always ask me, 'Well, how many hours should I get?' So past shadowing, it doesn't it's not about the hours as much anymore, because you want to have a depth, like a depth of experience. Or maybe you're in a clinic and you see an opportunity. And we're like we could do this better other clinic and maybe you started a new program there. So that also matters. But I would say get hundreds of hours, I'd like to see 300 plus hours, there's no such thing as too many direct patient contact hours.
Brad Baldridge
Right. Okay.
Shirag Shemmassian
So so that's the second pillar. Third pillar, community service. Community service can be healthcare related or not healthcare related. So some students might have a heart for education. And so they started a tutoring program for children with low income backgrounds. Or they might join a Big Brother, Big Sister kind of thing. Or maybe they love nutrition education, and they have a passion for helping certain members of their community who live in food deserts, how to find nutritious food, how to cook it, all this kind of stuff, that kind of thing. Or it could be volunteering at a clinic or setting up a mobile health clinic, maybe they weren't a direct care provider, but they recruit physicians to provide care to underserved parts of their community, annual checkups, maybe it's oral health, or whatever the case might be. So there's healthcare related and non healthcare related, and they're both fine, they show a passion for service. Again, there's no such thing as too many service hours, okay, there's no diminishing returns. So great, get something that's, that's higher number, wonderful. And then finally, research. So research, some people love research, some people really don't like research. And I get it, sometimes if you don't have the heart for it, sitting in a lab and working on cell cultures, it's not the most exciting thing for people. Now, for research, it can be any scholarly work. So let's say you're a part of an honors program where you had to work on a thesis that could work, whether it's joining a lab and being in it for multiple years, working on papers and things like that would be great. People ask me what kind of research counts what doesn't, anything that has some sort of healthcare application will work. So let's go super clearly medical as an example, working on drugs that target cancer cells, that is clearly medically relevant research. And other stuff might not be as clearly medically, maybe you say, like neuro imaging to study typical brain development in infants. It's not necessarily like something is wrong and you're intervening, but you have to understand typical brain development to then understand what is a typical brain development and disorders associated with that, whether it's autism or something else, right? So that would count, it might be a clinical psychology type of experiment where you're doing the diagnostic interviews for people. And it's a study for people with schizophrenia that counts. Or maybe it's healthcare policy, where you're working with folks who specialize in how different policies affect outcomes. And that's going to be used by physicians or politicians, or whatever the case might be to advocate for certain new policies that also has a healthcare application. It's very clear. Now if I studied like, I don't know how to improve math scores in sixth graders, that's not going to be clearly medically relevant. Right? So that one's a little bit more tricky. And obviously, if it's how Russian literature changed over the centuries, that's very, very, very clearly not medically relevant.
Brad Baldridge
Right.
Shirag Shemmassian
So that's the full spectrum. And I hope that guides people's thinking. So again, you want to have hundreds of hours of this, ideally, over the course of years and increasing involvement in it. If you want to get an MD PhD, the magic number of research hours is around 2000. So it's very heavy duty. And that will show you the full spectrum of like the minimum you need to do all the way up to if you're going for these top 20, MD PhD types of programs.
Brad Baldridge
Wow. Okay, so what is an MD PhD program? Most people probably have not heard of that.
Shirag Shemmassian
Yeah, so an MD PhD Program is a dual degree. So you spend seven to eight years in medical school, where typically the first two years is like medical school with everyone else. And the last two years is like the third and fourth year of medical school. But then in the middle, you're in a Ph D program, and you come out of it as a medical scientist, so you have an MD degree and a PhD degree, a lot of these programs are actually federally funded, MSTP programs, and your tuition is paid. So it's longer, but you come out of it with an MD and a PhD, and your tuition is covered. So it's really attractive, they're very hard to get into. But they're very attracted to people who really love research. And the goal is, your typical physician does not have an MD PhD. So if you go to an MD next week, don't ask them, why don't you have a PhD? It's not, it's not a very common thing. So this is usually for people who want to go into academia, and who want to lead labs and do this kind of work.
Brad Baldridge
Right? So the, the top tier cancer researchers and those types of people might have that type of degree?
Shirag Shemmassian
They might. So if you're at a place like a UCSF or a Harvard or a Vanderbilt, all these people are doing a lot of breakthrough medical research, you're more likely to find MD PhD folks there than you are at your local community hospital.
Brad Baldridge
Right. Okay. So you just mentioned, 100 hours here, a few 100 hours there up to 2000 hours, that seems a bit overwhelming.
Shirag Shemmassian
Yep.
Brad Baldridge
While you're also doing your typical undergrad, how on earth does the typical student do it? And because you're going to need to be doing that. Does that change what you do as a high school junior?
Shirag Shemmassian
Yeah, so the reason I talked to a lot about, especially on the research side about ranges is because I want people to understand that there's a hole, you know, we talked about med school, and you know, at a high level these two routes, yeah, direct man and traditional. But within that there's so much variance, right. So for people who go the traditional route their four years in undergrad, like with colleges, there are tears of medical schools, right. So there are some that are going to be more competitive that to get into than others, and some are gonna, and those ones that are more competitive, they're going to have higher average stats, right? They're gonna be higher expectations when it comes to your GPA, higher expectations when it comes to MCAT. Same thing with extracurricular. So a lot of times when we hear about these low acceptance rates, and also what some of these students are doing to get into top tier schools, we can be very intimidating and discouraging, where we're like, 'Well, I don't have a 3.9. I don't have four publications. I'm not a genius, but I do well in school, and I've done a lot of service work, and I just want to be a doctor, like I'm not trying to cure cancer, but I'd want to serve my community. Is there a place for me in medical school?' And the answer is yes, absolutely. There is. And we help people who have top end stats and their goal is top 10 medical schools. We also help people who are maybe their stats are more on the MD versus DO borderline. And DO degrees are doctors of osteopathic medicine versus MDs, which are doctor of medicine. That's the difference in the names. And DO programs have slightly lower average stats to get in and historically that it's been seen as like a less prestigious degree, although you could do the same exact things that an MD can do. Assuming you can get into some of those residencies that are a little bit more competitive and so on. So there's a full range of options for people People who are into this idea of going into medical school, but who might not want to be the MD PhD at the most prestigious program or anything like that. So making sure to plan ahead because you think about for years, I mean, I think this will resonate, especially with the parents of juniors or even seniors, high school flies by, you can, every parent can remember when my kids started high school, 'Oh my gosh, what? We're talking about college applications already, or financial aid?' and stuff like that. In the same way colleges for years, it flies by so having a four year game plan of what courses I need to take what to do in my first year for extracurriculars, physician, shadowing, and working my way up that extracurricular ladder, by careful planning early on, you can do it. And if you need to take a gap year or two, there's nothing wrong with that, you know, it's fairly typical, actually, to meet the requirements. So assuming this is where your heart is, there's a game plan for you. It's just figuring out how you want to approach it.
Brad Baldridge
Right? For sure. So if I'm shopping for my undergrad school, and I think I'm pre-med, are there questions I should ask? I mean, it seems like maybe you implied it, that some schools have partnerships and that type of thing that would help you get some of this activity scheduled. And they might have the relationships. So it's a little easier to get into the hospital, because they send students every year. So you just sign up versus
Shirag Shemmassian
Yeah
Brad Baldridge
Build the relationship all on your own?
Shirag Shemmassian
Yeah.
Brad Baldridge
So what kind of questions are how do you know, I'm pre -med, I'm a junior, mom and dad don't know much about it. What kind of questions should I be asking as I'm kicking the tires at five or 10 different colleges?
Shirag Shemmassian
Yeah, so I'll tell you some of the most common questions that come up. And they're important questions, and I think that some listeners will have these. Number one is, does undergraduate prestige matter? You know, if I go to let's pick schools in the same town, and let's say I want to go to school in Chicago, I'm deciding between the University of Chicago and the University of Illinois, at Chicago. So it's in the same city, or, maybe I'm deciding between us, Scott, Wisconsin Madison and New Chicago or something like that. This prestige, although those are two very good schools does prestige matter? That's one big question. Another question is, do I go to the school, and this is a misguided question, the one I'm about to say, Do I go to a school that's easier? Or do I go to a school that's hard? Do medical schools know that some schools are easier than other? Should I go to the harder school and get a slightly lower GPA? Or should I go to the more prestigious school? And even though it means I'm gonna get a lower GPA, will schools understand? And that's sort of related to the prestige question, I think other questions are going to be? Well, plus the acceptance rate. So students who go to undergraduate school a, what's their acceptance rate into medical school? That's a big question. There's so much nuance in all of these, I'll go through them one by one, Brad. Another question is going to be does the school have a pre-health committee? You know, is there an organization on campus where there are dedicated career professionals, who guide students from undergrad to medical school? That's a question. And those are basically the four that come up most, or I mean, other ones include, you know, if I go to schools in this state, will that increase my odds of going to medical school also in that state? Or will it also hurt me if I try to come back to medical school and right home state? These are the kinds of questions.
Brad Baldridge
Right, let me interject here. So I these literally, you're putting these questions to the college as in, what is your acceptance rate for when your kids are like and? Or is it like you're going to do some research and try and figure this out? Or do you just literally say, 'Hey, I'm pre med, and you got to sell me on your pre-med program.'
Shirag Shemmassian
Both of those things. So research is required on the consumers and or the applicants and their families in. But yes, colleges are essentially trying to recruit the best students to their schools. And so you will have specific universities' pre-health organization, their pre health advising office posts stats online. And during student recruitment weekends, for accepted students, they talk about, 'Oh, our students get in at this rate, and that rate,' and all this kind of stuff. And so you can grill them on these kinds of things. And schools are also a little bit interesting about what data they present and what data they don't present, which is I suppose, true of any marketing information. Right.
Brad Baldridge
Right.
Shirag Shemmassian
And so you have to ask certain targeted questions. So, let's go through some of these questions that I want families to consider let's start with some of the two initial ones, which is does undergraduate prestige matter? And also the should I go to the easier school even though it's less prestigious, all this kind of stuff? Does undergraduate prestige matter? Yes, it does. If I have a 3.8 at Harvard, is that gonna look better than a 3.8? At Cal State Long Beach? Yes, that's just a fact of life prestige. Now, brand names matter. Okay. Now, there are going to be certain schools that they might be more prestigious, but there's great inflation, or something like that. And so it's easier to get a 3.8 and all this kind of stuff. Do medical schools know which schools might practice that more than others? Yes. However, brand name is very powerful. So if you can afford it, you know, and you can go to a more prestigious school, and you know, you believe your student can do very well there. It's not a bad idea for a med school admission standpoint. But there's also this, I think it's a false dichotomy, Brad, when people think that, 'Oh, if I go to the less prestigious or less competitive school or whatever, I'm just going to do better.' So I get a lot of people who, maybe they'll go to a Vanderbilt or an Emory. And they'll get a 3.6, and they'll say, 'Darn it, like, my friends who went to University of Georgia, they have 3.8. If I had gotten into Georgia, I would have got a 3.9. That's not fair.' We don't know what you would have done. Had you gone to Georgia, right? Maybe. So I'm just using an example of, again, two schools in the same state, Emory and Georgia and nothing against or for either of these schools. So these kinds of questions. And my answer is always go to the best school you can get into assuming you can afford it and get all A's. What is this I'm going to go to a less competitive school and do better and all this kind of stuff?
Brad Baldridge
Right.
Shirag Shemmassian
Also, this is something that's a privilege, right? Medical school is not a right, it's a privilege. So you're competing with some of the best of the best students. So you have to be among the best, not complain about how it's unfair how one school is harder and easier, and all this kind of stuff. It's not reserved for everybody. Okay, so you got to be awesome. So the other questions are around, 'Well, is there a pre-med culture at this school?' In other words, if I go to a school like UCLA, which puts out the most where, it's the school where the most pre meds come from, in other words, more students apply to medical school from UCLA than any other school in the country. And right, there are pros and cons to that. If I land that on UCLA campus, I'm walking down seeing the different clubs, you're gonna bet there are more pre med clubs than other schools, right? Do this international volunteering work in South LA, do this, do that? Whatever. That's nice, because there's an infrastructure in place. It's like going to a country as a tourist, and there are a lot of hotels already versus no tourist infrastructure, and you can't stay in a hotel or something like that. Right? So there's a good pre med infrastructure. The flip side to that is, boy, there are a lot of pre meds here. Is it dog eat dog? Is it super competitive? Am I going to get lost? Am I going to be just a number, I don't thrive in big environments? Well, that's something to really consider. But if you want something that's in some ways, turnkey, I walk in, and there are clubs available opportunities available, there's a hospital on campus, all this kind of stuff. That's a nice place to be from an infrastructure standpoint, although you have to balance that with the competitiveness piece, versus a school where there might not be the same pre med infrastructure. And so you have to look for stuff more, but then you can be a big fish in a small pond, there might be professors who are more willing to take on students who are really interested in research, or even though it's a smaller number, there is a very committed pre med group. And if you join that, you can look to senior mentorship and walking, folks who walk you through and stuff like that. So there's that. And then there's also is there a pre health committee on campus? You know, is there an advisory group? Are there professionals who are paid a salary to help people to get into medical school? Yes. Now, I hate to say it, the quality of the pre health advising on campus can be so variable. So just because the school has a pre health advising office, do not assume it's going to be particularly helpful. In some cases it is, and that's wonderful. But unfortunately, in most cases, it's severely lacking misinformation, high levels of pessimism, discouraging students from applying this kind of thing. Which brings us to the fourth point, which is, what is your school's acceptance rate? Right? You have to dig into that number a little bit more. Most schools who are advertising their pre med students acceptance rates are going to say 80 plus 90 plus percent, which is very, those are very high numbers. And you start to dig in into it a little bit more, Brad, you know what you find? There were pre health advising offices, who essentially didn't approve a student's application unless they were a more or less golden, right? And so you say we'll write you a committee letter, but they do that for students who are like, pretty good bets, right? And if you're not a really good bet, they don't write it for you. So they'll say, What do you mean 91% of the students who apply through our program got in?' It's like, well, how many people did you approve? How many people did you say you gotta dig into this kind of stuff?
Brad Baldridge
Right? That's interesting. Gotcha. I want to highlight that a little bit, because what you just said essentially, is they stack the deck by somehow not allowing kids that they think might fail to even go through the process. So they say, 'Well, if we did let everybody that wants to try go through would be at 50%. But we know who the people are going to fail are likely again, they don't know perfectly, but they just say, well, these lesser candidates, we're just going to slow them down. And not even a lot of them apply. And then we don't have to report their negative statistic.'
Shirag Shemmassian
Yeah, and they might apply still, but just not with the blessing of the office. So let me give you another way to an example to demonstrate this. Let's say 100 kids, I don't know, let's say 500 kids come to me who play basketball. And in high school, and I only bring on the team or even try out people who are six five and taller. And then I have a basketball team of 12 people, six, five and taller. 80% of students who play on my team get recruited to play college basketball. Well, okay, you know, like, you know what I'm saying? So, by filtering on the front end, they engage in what's called 'yield protection.'
Brad Baldridge
Right.
Shirag Shemmassian
Okay. So your protection is, I'm greenlighting are giving the thumbs up to people who I have pre qualified to protect my yield. And so that's an interesting question. And so as people and not in like, I'm gonna get your kind of way, but just understand what does this mean? What is this office going to do to help me be among that rather than it being any adversarial? That's not the point. But do your homework, ask these kinds of questions, understand what the stat is telling you? And then that's also going to help you make a very informed decision.
Brad Baldridge
Right, exactly. And I think that's a big challenge, or needing to wrap things up, but I just reminds me of an old joke. What do they call the person that graduated last from medical school?
Shirag Shemmassian
Oh, doctor?
Brad Baldridge
Exactly.
Shirag Shemmassian
There you go.
Brad Baldridge
Yeah. When's the last time you asked your doctor or his undergraduate GPA was or where he did his undergraduate studies? Or even where he got his degree from? I mean, most people say, could you help me or not? Not where to get your education, etc, etc. So there's always that piece of it as well.
Shirag Shemmassian
Mm hmm.
Brad Baldridge
All right. Another challenge that I encounter a lot is families that are talking about their student who says they're going to be pre med. And you look at, you know, their statistics in the process of just getting into college. And they're already not very academically strong. In other words, they've, you know, again, maybe they're the top half of the class, not top 10%. Or maybe their test scores aren't real strong. And from a statistics and engineering background that I have, I look at that, and I say, 'Oh, the odds are really likely.' I mean, it's possible. I don't want to pee anybody's dreams. But you probably need a plan B, can you speak to that a little bit of what a typical doctor looks like in high school. And again, we realize that there are kids that struggled and they turned their life around, and they made it happen. But do we want to be that the shortest person on the NBA team or the smallest line than ever to play football? It can happen, but it's just not likely. So can you give me some thoughts on parents are having doubts? Or what would you recommend if it was your children in that in that situation?
Shirag Shemmassian
Yeah, it's a great question. And obviously, there's so much difference, right from one students to the next, because some students will be slightly above average students in high school. And then in college, where they're, day in day out studying the stuff they love, you just see a major improvement in their performance, or there are some students who might have been great in high school, then they get to college, and the level of challenges is different. And it's the first time they've had a non-A grade. And they're kind of shocked by that, you know, and so they're starting to question things that maybe they do in college with a 3.4 GPA and struggle on the MCAT. And med school is not looking as likely now there are other ways to do this, like, again, going into DO programs and for students who are really low, maybe going to an MD program in the Caribbean and these kinds of things. But let's say now, med school is just not in the cards for you, or you just have a change of heart your whole life. You thought you're going to be a doctor, you get to college, and you're like, I'm not into the doctor thing anymore. That's okay. I think a lot of the anxiety comes from a, because you had bought into medicine for so long. It's almost like who the heck am I like it becomes part of your identity that European men and you're like, I've thought about this for 15 years, and now I'm not gonna do this thing. It's just very different than what I envisioned for myself. And so it's kind of scary, like what's going to happen to me career wise, am I going to be okay and all this kind of stuff, but also for parents, right? And I'm the child of immigrants, Brad, and I laugh a lot about the 'immigrant menu' I call it. Doctor, dentists engineer, Lord, these are your options and pick one of those and, and so someone I don't know, decides to do something different. What do you do that so there are obviously other health professions and non-health professions. And I think that the anxiety is oftentimes tied to a lack of knowledge about what else is out there. And also about, and salaries tied to these things and whether or not I'm going to find them fulfilling or whatever the case might be. Because medicine, let's be real, like, it's nice, because it's an interesting field for a lot of people, you're helping others it can be fulfilling in that way. But it also gives people a pretty nice income, you know, if you paid physicians, 80K a year instead of 300K a year, I don't think med school would be as competitive, right? Let's be real. So that's a part of it, too. So what does it mean for some of these people? Now, there are going to be other health professions, maybe someone might want to be a physician assistant, or a pharmacist or a dentist, or if they're more interested in mental health, or is going to be working in clinical psychology or social work. Or maybe they want to be an occupational therapist, or physical therapist and stuff like this, you can look into it. And obviously each of these is requires its own discussion, right? If I want to be a PA, what does that look like? What are the requirements? What do I have to do, etc? And also, how much does that gonna cost me? How do I make after so there are varying things, but if you're a PA, you make a decent living, education shorter, you get into the field faster and whatnot, it's similar with some of these other fields. But then there are also going to be some non health fields, right. So maybe your son or daughter ends up wanting to become a software engineer, or, maybe they realize that in school, they love stats, and they're a big sports fan. So they join a sports franchise and become a statistician on that team. So they're just going to be other options. And some of them might not have the same level of income associated with them as medicine, or it might not be as trusted of a fee or prestigious of a field. Because when you walk in, and you say, 'Hey, I'm a doctor,' that usually brings up a feeling in people, 'Oh, they're a doctor.'
Brad Baldridge
Right.
Shirag Shemmassian
And so that's also hard for some people to let go. But there are other fields who do just as well, income wise, maybe even better in far less time, who didn't take on as many loans who had compound interest on their side by investing in things early and whatnot. So I encourage people to not just think about it as, 'Oh, my gosh,' but think about the long game. What does this mean for me, from a life fulfillment standpoint, and career fulfillment? Are there other ways? If I want to help people, can I do a different job then volunteer my time to help people in some of these ways that I always like to as a pre med student that's an option? What does it mean, from a financial standpoint? Maybe it allows me to invest in my 401k sooner, or all these kinds of things,
Brad Baldridge
Right? I mean, I guess my, yeah, right. So I can see, as you're getting into college, and again, college, maybe the grades aren't happening, or maybe you don't like the lab sciences, you don't like the shadowing, I think that's, I look back at that and say, one of the reasons they want you to shadow is they don't want to get you through four years of med school, they discover that you faint at the sight of blood, I mean, that they want that to take care of long before you do all that hard work. So they want you to get out there and see what it's about. So you're still committed. But even rewinding earlier than that, I mean, so here's an example. So there's a couple engineering schools, I'm aware of where they're not real selective on the front end, but the course load is tough. And they lose half their engineering majors in the as freshmen, they lose another half as sophomores. So of the 100 kids that signed up to be an engineer, 25 of them are still there. Two years in, obviously, those other 75. Again, a lot of it is the academic challenge. And some of them, of course, left because they don't like the idea of engineering anymore. They move to business. Maybe they always, they just decided they wanted to go to business instead.
Shirag Shemmassian
Sure
Brad Baldridge
But a lot of them just couldn't handle a calculus and chemistry and physics, all at the same time. It was a step up that they just weren't ready for. Yeah, I think you might see something similar in, 'I want to be a doctor.'
Shirag Shemmassian
Mm hmm.
Brad Baldridge
So if you're a parent, and you don't feel like how do you know if your student is going to be washed out in a year, and you really need to encourage the student to have a plan B. Again, you don't necessarily want to prevent them from their dream, they could be the one that turns around and gets it done. But on the other hand, realism is appropriate to write if your student is five, eight, and they continue to say they're going to the NBA, that has happened, but it's not likely. You might need to plan B.
Shirag Shemmassian
Yep.
Brad Baldridge
Can you speak to that a little bit about what types of students are successful or when do we need to plan B or when should we bring up have you seen those in therapy, it's might be a better course. You still work with patients, but it's not as tough it's not as long as that as costly.
Shirag Shemmassian
Yeah. So I want to talk about this. You know, we talked just before this current point about what are different pads and things to consider when choosing those pads. But earlier on, I think there's an important college selection question too. How many times Brad, have you heard? 'Oh, you should go to this school, they have a great X program.' That school might actually have a great program in business or kinesiology or something. Right. But how good is their program? In your second, third, or fourth choice major? What if you go there for kinesiology and say, I hate kinesiology? And now you're I don't know, in the business major. And it's not a strong business program. So you don't want to choose undergraduate programs based on the strength of one department? You have to sort of balance that with how committed and how capable does this students seem in that area. So let's say I'm all in on medicine, this student has never showed interest in anything else. They're exceptionally high achieving, and they love biology. And there's a school that has a great bio program. And their other programs are not great. They're okay, but they're by a program is very good. I'm willing to take that bet. But if they're not great, and bio, or they're like, 'Yeah, I want to go into medicine, I don't know, I just haven't thought of anything I like more.' And they're like, you know, they get some A's, mostly B's. And that same undergrad program might not be a great fit, because their odds of not making it are higher than the first student we talked about. Right? So like with anything else, there's a bet you're making here, right? And so you have to look at those kinds of factors. So don't let like if you know that about your high schooler, be very critical of the schools that they're considering going to, you don't want them to go into that one point, you know, it could be an obscure, like, this one, school is really good and bridge engineering, right, but not as good in the other kinds of engineering or in other programs, or whatever the case might be, but my student is kind of into it, but not that much. Maybe it's a fleeting hobby, whatever. And so make that determination. Now, if a student is just like really struggling academically in high school, mostly B's, some C's, and they're getting, I don't know, their standardized test scores aren't great. I know, there's a lot of drama around standardized tests. That's not where I'm going. But the fact of the matter is, you're gonna have to take the MCAT later, and ACT, SAT scores, you know, higher scores there are also associated with higher scores on other standardized tests. So it's not like odd as just a blip, magically, four years from now all figured out the MCAT. Again, if we're playing the odds, like you said, you use the five eight example of someone trying to make it to the NBA, it's not impossible, but it's statistically improbable, right. And so we have to start thinking about other options as well. Now, the good news, Brad, is the medical school requirements that you might take in undergrad are also similar or the same to other degrees. So if you pursue pre med, and decide I want to be a PA, chances are extremely high, you have also completed the PA requirements. But let's say I want to become an occupational therapist, and then I decided to want to be a physician, I may or may not have completed all the medical school requirements. So in other words, the med school requirements are more strict, and they cover a lot more things. So it has a really nice trickle down effect into other professions. Whereas the other professions don't necessarily have a trickle up effect for medical school. Now, if I was pre dental, I'd be wanting to become pre med easy, right? But if I was like social worker to pre-med, different ballgame
Brad Baldridge
Right
Shirag Shemmassian
And so consider the likelihood level of interest, level of achievement in deciding not only majors, but also schools and tracks that a student might get into. And that's the way I really consider this from student to student.
Brad Baldridge
Right. I think that makes a lot of sense. All right, well, you've given us a lot of great information. And I know you've got a lot more. So how can people reach out and learn more about your undergrad services and your help for medical school services?
Shirag Shemmassian
Yeah, so they can visit shemassianconsulting.com. I know it's not an easy name to spell. It's not intuitive for most folks. So can you make it in the show notes
Brad Baldridge
We'll put links in the show notes.
Shirag Shemmassian
Yeah. So I mean by just by searching the content on our site, so visiting any of our blogs, I've written comprehensive guides to every single topic that we've discussed today about undergrad prestige, what our med school requirements, what's a four-year plan like, what GPA and MCAT score you need? And so there's a contact form on our site where you can send questions anytime or if you're interested in getting our support, but also if you Google our name, so Shemmassian Med School requirements, the relevant guide will pop up that way as well. And and we'd love to assist folks.
Brad Baldridge
All right. Well, again, I appreciate it. And hopefully people will be reaching out. And we'll talk again soon, I'm sure.
Shirag Shemmassian
Cool. Thank you, Brad.
Brad Baldridge
Thank you.
All right. That was a great interview. I don't know about you, but I learned a ton about the whole getting into medical college. As always, we got show notes available at tamingthehighcostofcollege/145. If you could take a minute and share this with some of your friends or family that might be interested in learning more about our podcast, we really would appreciate it. You can also leave us a review in iTunes or wherever it is that you're getting our podcasts that helps people find our podcast. I appreciate your listening. We'll see you here next week. That's all for today.
Presenter
Thank you for listening to the Taming the High Cost of College Podcast. Now, it's time for you to take action. Head to tamingthehighcostofcollege.com for show notes, bonus content, and to leave feedback for Brad. The next step on your college journey starts now.
Brad Baldridge is a registered representative of Cambridge Investment research and an investment advisor representative of Cambridge Investment Research Advisors, a registered investment advisor. Securities are offered through Cambridge Investment Research Incorporated, a broker dealer and member of FINRA and SIPC. Brad owns two companies, Baldridge Wealth Management and Baldrige College Solutions. The Baldridge companies are not affiliated with Cambridge Investment Research.
Transcribed by https://otter.ai
Sign up to receive email updates
Enter your name and email address below and I'll send you periodic updates about the podcast.