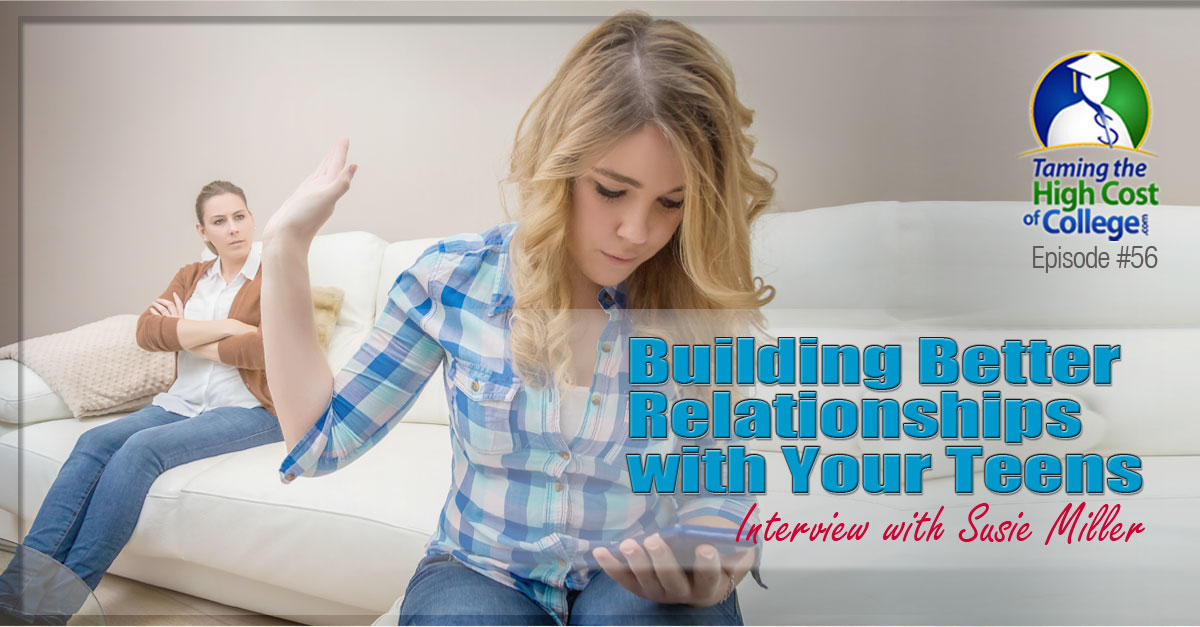 In this episode, Susie shares her experience helping families have better relationships:
Internationally
Former Marriage and Family therapist then changed to coaching.
You can see results in 30 days or less.
Works with people to have great relationships.
Transitioning Through the Teenage Years
"Relationships are the currency of today. No matter what we do, so much revolves around the people involved in it," Miller believes. The teenagers can be defined as:
"Score keepers of pain"

Beginning of pulling away. They no longer believe in super mom or super dad and are now keeping track of the injustices.
Be aware that they are reacting in a way where they will go to the extreme opposite.
Disequilibrium state where their body isn't caught up to their mind very similar to a toddler.
To begin talking about college, start with your own experience. "If you are doing a good job as a parent, your kid isn't going to like you," jokes Miller. It is important to discuss expectations and boundaries as a family. "They are your kids and the final say belongs to you," reemphasizes Miller. With responsibilities come the privileges and consequences when those responsibilities are not met.
Helping Motivate Your Child
Give instructions and sometimes they must be nonnegotiable. If your child says, "No," be creative in a humorous way so they know you are not going to do it for them, but they have to get it done. Kids don't often verbalize their gratitude, but they are grateful because you don't let them ease and skate by. Miller states, "As parents we have to step back because we don't need them to approve or like us. Sometimes we are almost crippling them from understanding what is their responsibility."
Communication With Teenagers
Talking with teenagers is tough. You might have to work to get along. Miller suggests three ways to make it easier:
Spend time doing mundane things with your child, like watching their favorite T.V. show. This gives context and leads into other conversations because you have a common place of a shared experience to refer back to.
Your child will not tell you everything. Set a few standards, such as they are not allowed at a house if no parents are home, and if they break this there must be a significant consequence. The hardest part of teenagers is following through on what you said. "It is exhausting. It is emotionally, mentally, and physically exhausting to follow through with teenagers and they know it and will wear you out," warns Miller.
Try a counter debate where you take each other's side and argue it giving one point at a time.
Conversations should happen while you are doing something else, such as throwing a football around or driving, so you aren't looking right at your teenager, but are next to them.
Preparing Your Teenager for Being Away At College
Take the time to give more independence and name it. Miller says, "It is this idea of slowly preparing them for things with added responsibility and added freedom and seeing how they do." Be sure to name these opportunities as preparation for when they are leaving.
The biggest things when they come back from college are:
Remind them they are still part of the family.
They have expectations when they come home, but it is slightly negotiable because they have been on their own.
These conversations are difficult, but it is easier than if you don't discuss it.
Some ways to prepare for this during high school:
Later curfew
Freedom to test them
See how they do with less rules in a controlled environment

Have them practice staying up late when they have something like chores or another responsibility the next morning over the summer.

Let them learn the hard way in the safety of your own home.
Check up on your kids to build trust. "In our family, the consequences for lying and deceit were always greater than the consequences for what they did. I wanted my kids to know that mattered to me," notes Miller.
Final Tips
One of the biggest things to teach your child about before they go to college is money. Miller suggests giving the actual money to your child to spend so they can see where the money goes in order to learn the concreteness of money. You can start this very early. "I was going to buy the new soccer cleats anyway," says Miller, "but when it came time to purchase those new cleats, out of their envelope came the money so they could physically see where money goes." Pay a wage for chores and when they are old enough to have a summer job they should get one so parents do not foot the bill for everything.
Have adult time where your kids have to go do something independent and you get to be with your spouse. Preserve that adult time so your teenager isn't in your space every hour of the day.
Find a picture of your child as a toddler and place it somewhere you can see it on a regular basis. "Just remember that little toddler is just inside a big body," jokes Miller, "Even in their worst moments they are that little kid still and are trying to figure themselves out." They need you to be the parent even if they are acting like they don't.
Miller concludes, "Be okay if your kids don't like you and trust your gut!"
LINKS AND RESOURCES
"Listen, Learn, Love; How to Dramatically Improve Your Relationships in 30 Days or Less" is available through Amazon and at:
Free guide about navigating the teenage years at:
THANKS FOR JOINING US!
We are starting a new video series called, "The Scholarship Guide for Busy Parents." It is going to be 4 videos that are 12 minutes or less complete with cheat sheets and other resources to help you find and win scholarships. If you are interested in learning more about scholarships please visit:
tamingthehighcostofcollege.com/scholarships
We'd like to extend an invitation to our listeners to share their feedback and questions. Our website offers a couple of ways for you to share your questions with us, and we'd love to hear from you.
Contact Us to submit a question to our email
Leave us a voicemail message on the computer! (We use questions for future shows because it's likely other people have the same question.)
If you find our podcasts helpful, please share us on social media and tell your friends.
The bottom line is that we care what you think and want to help you out, so we'd appreciate you reviewing us on iTunes or on Spotify. And even better, receive automatic updates by subscribing to the show on iTunes or Spotify.
Brad is not affiliated with Susie Miller.