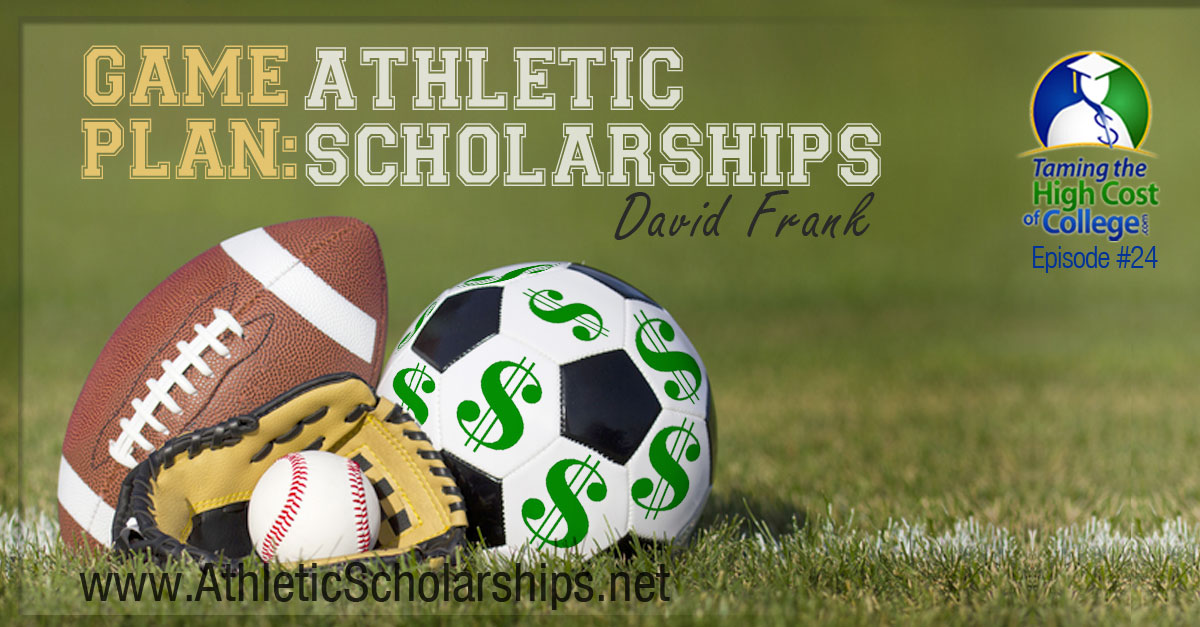 We turn our attention to sports in Podcast 24 – and if you have a promising student athlete in the house, it pays to listen in. With thousands of college coaches across the country who hold nearly as many scholarships in their hands, athletes need to do what they can to get noticed, and potentially earn generous athletic scholarships to attend college.
David Frank, VP of Athnet Sports Recruiting, is here to discuss how that process has evolved and what you can do to raise the potential for your student. He's been in the business for about 15 years, and saw the evolution of communicating with coaches go from emails to online profiles. Athnet's website, AthleticScholarships.net, therefore provides the opportunity to load athlete profiles for better exposure to coaches across the nation.
We weigh the benefits and the downsides to entering college through athletic scholarships and the process involved in evaluating the best fit for your family
What to put into a profile
How the athletic scholarship system works and when to contact coaches
David's 3 Quick Tips for families considering pursuing athletic scholarships
Later, we answer an often-asked question about how to approach campus visits to gather the best information to make a solid decision on which college is right for your student.
What led to the creation of Athnet?
Himself a college athlete, who gained admission with a scholarship for golf, David met Athnet owner Mike Lancaster. Both had been recruited via emails to and from various coaches, but both realized that the need and ability for greater exposure for athletes to connect with coaches was there. They developed the website AthleticScholarships.net, to incorporate profiles for students to upload their information.
What should athletes post to their profiles?
Student athletes should post
Athletic stats
Their school location
Academic information
Weight, height and other vital stats
Any other pertinent information that may be relevant to the sport they're seeking
Videos of their performance in practice or in games
There is no cost to post a profile, but services like one-on-one recruitment coaches, SAT test prep and enhancements to get videos made are available for a fee.
What steps should families take if their child is interested in pursuing an athletic scholarship?
Determine how committed your family will be to a given sport: note that the trend is to pick one sport and participate in not just a high school team, but also with elite or club leagues and off season training; all of these things incur costs as well as a time commitment
Seek out those club or traveling teams that will keep your athlete in the game, but also showcase his/her talents to a wider audience of coaches
Interview coaches to determine their needs fit with the expectations of the athlete
Year round training will also help improve and deepen the skills needed for a sport; this also leads to increased playing and practice time, and hence discovery by other coaches
The "Full Ride" Scholarship: What are the Odds?
It's likely every parent's dream that their son or daughter will find favor with a top school to gain a scholarship that covers everything – tuition, books, room and board, and other benefits. However, it's important to understand the landscape of athletic scholarships.
As opportunities exist, football provides the most opportunity for scholarships. David explains that Division 1 (D1) college coaches can hold as many as 85 full scholarships to field their team.
However, if your student excels in baseball, the odds are much less.
In general, baseball coaches may have only 12 scholarships in which to build a 30-man roster. And they may decide to split scholarship offers in half or in quarters to provide at least partial relief to field a team. Or, the best offers may be given to key position players like pitchers, with the remainder falling to valuable hitters, or other strong position players.
The best scholarships may also be reserved for juniors and seniors in a program as well, because they have been more seasoned, and are more likely to start games or spend the least time on the bench.
The bottom line here is to do the research on your given sports programs, know your athlete's strengths, and set your expectations accordingly.
Also important to note: D1, D2 and NAIA colleges offer scholarships; D3 colleges and Ivy League schools do not. However, tuition breaks can be offered based on their standing as an athlete at these institutions.
In addition, there is the potential of being given preferential treatment in the admissions process, as the coach may walk the athlete's admissions packet to the top of the counselor's stack.
What are the Benefits of Athletic Scholarships, Beyond the Obvious of Free or Reduced Tuition?
Unique housing – often colleges will have designated dorms for student athletes, designed to promote the community within the program, and providing access to amenities designed to support their conditioning
Academic perks – preferential placement when registering for classes so schedules don't clash; tutoring is also a likely bonus to help students manage the demands of classes v. their sports schedule
Networking – the ability to bond with other athletes, during and even after college
Job opportunities – Athletes are often singled out in the workplace because they have demonstrated commitment and teamwork; and a recruiter who went to the same college will undoubtedly give an athlete's resume a second glance
What are the negatives?
Currently the model for scholarships has come under some scrutiny, and has been in a state of flux in recent years. The rules may change, and require strong planning within the family should things change from one year to the next.
Likewise, there are no guarantees for athletic scholarships in general. An injury to the athlete, the firing of the head coach or other changes to university policy can mean a scholarship the student enjoyed one year is gone the next.
Time commitment: It's not just playing time, it's practice and conditioning. And coaches expect this of their serious athletes year round. Understand the demands of your chosen major and evaluate what impact it could have on your sport.
What are the Basic Academic Requirements for Competing at the College Level?
NCAA rules currently require a 2.3 GPA, with grades assessed from 16 core courses (math, science and English). However, it's important to note that these may not be enough to gain admission to a chosen school.
Families therefore should establish academic goals because NCAA eligible does not equal College eligible. If students or families view academics as a necessary evil to maintain an athletic scholarship and hopefully a lucrative career at the professional level, it's time to re-evaluate your expectations.
It's also a good idea to interview coaches to get their academic philosophy, and David advises that the more prominent the athletic program, the less likely a coach will be willing to accommodate conflicts posed by academic schedules. Talk to any coach about your academic goals and your major before you commit to playing for them to make sure it's a good fit.
In short, don't let the athletics use the student; let the student use the athletics.
How do You Know if Your Athlete is "Good Enough?"
Consider current performance in elite or club leagues – if you perform at the same or better level, it's a good indication that you can expect to belong in college
Engagement with coaches: If you are getting contacted by D2 or NAIA schools, and your dream is to play at a D1 school, it's time to re-evaluate
Engage current club or elite team coaches for their opinion
Research the teams you'd like to play for and view their rosters to check on the stats for their players and compare them with your own stats
When to Get Started on the Recruitment Process
For female athletes, as early as freshman/sophomore year in high school
For male athletes it's slightly later as they develop later, but can also be as early as sophomore year
In rare occasions, coaches start identifying talent as early as eighth grade
It's also OK to start contacting coaches to assess your talent; if you're a top notch player, a D2 or NAIA coach will tell you to seek greater opportunities; the reverse is also true
If your senior isn't getting calls, don't wait, be proactive in sending emails and video directly to the coaches; in general, D2 coaches wait until D1 coaches start locking in players before they make their own offers.
If you haven't done so already, post your profile on the AthleticScholarships.net website.
David's 3 Quick Tips
Set expectations as a family of what you want to achieve through sports; it should not be to get famous or to make money
Ultimately, pick the school you want to attend, even if you aren't an athlete there
Have fun – this is a stressful process, and you will be required to make tough decisions; be prepared, and be sure to enjoy the process.
To contact Dave – email him at dave@AthleticScholarships.net
Today's Question
A client asked me the other day how to get started and what to do on a campus visit. This is a question we get a lot, so it's obviously a concern for many.
First of all, understand the three types of visits:
Preliminary – generally in person, like a walking tour, and it's used to gather basic information; realize that there is much on these visits that are the same for most colleges, so feel free to visit a local school to get that information, even though you may not plan on attending there
In-Depth – On campus visits, which take nearly all day. These should include gathering information from the Financial Aid office, Admissions, interviews with specific academic instructors or advisors. These are generally also the first on campus visits for cross-country schools.
Accepted Senior – This allows the student one more impression of the school and can be an overnight stay in a dorm or a day long shadowing of a current student. This is not a visit for the parents, unless they've made arrangements elsewhere to stay.
There is also something I call the stealth visit, which is basically a stop-n-go visit just to get a look at the campus buildings. I don't really count these as visits but I know people do them. For some families it's enough to make a decision on whether or not to keep the school on their list.
I do also recommend to make a VISIT PLAN:
Map out the geography of where you want to visit as well as how it will work into your family's schedules
Whether it's a full-blown spreadsheet of dozens of schools or just a short list of 3, keep a record of each school you're thinking of visiting, including positives and negatives, programs, etc.
Consider virtual tours – we spoke with Campus Tours Founder Chris Carson in Podcast 18, which explains what you can expect from a tour on your own computer of hundreds of campuses.
LINKS AND RESOURCES
Get started with Athnet's Website to post your athlete's profile.
Contact David Frank
Got questions on Campus Tours? Listen in to Podcast #18 with Chris Carson
Take a Virtual Campus Tour
THANKS FOR JOINING US!
We'd like to extend an invitation to our listeners to share their feedback and questions. Our website offers a couple of ways for you to share your questions with us, and we'd love to hear from you.
Contact Us to submit a question to our email
Leave us a voicemail message on the computer! (We use questions for future shows because it's likely other people have the same question.)
If you find our podcasts helpful, please share us on social media and tell your friends.
The bottom line is that we care what you think and want to help you out, so we'd appreciate you reviewing us on iTunes or on Spotify. And even better, receive automatic updates by subscribing to the show on iTunes or Spotify.
Sign Up for our Newsletter and receive our FREE reports!
Get more need-based aid
Find Scholarships
Find a Great College at a Great Price
Connect with other Parents and Students