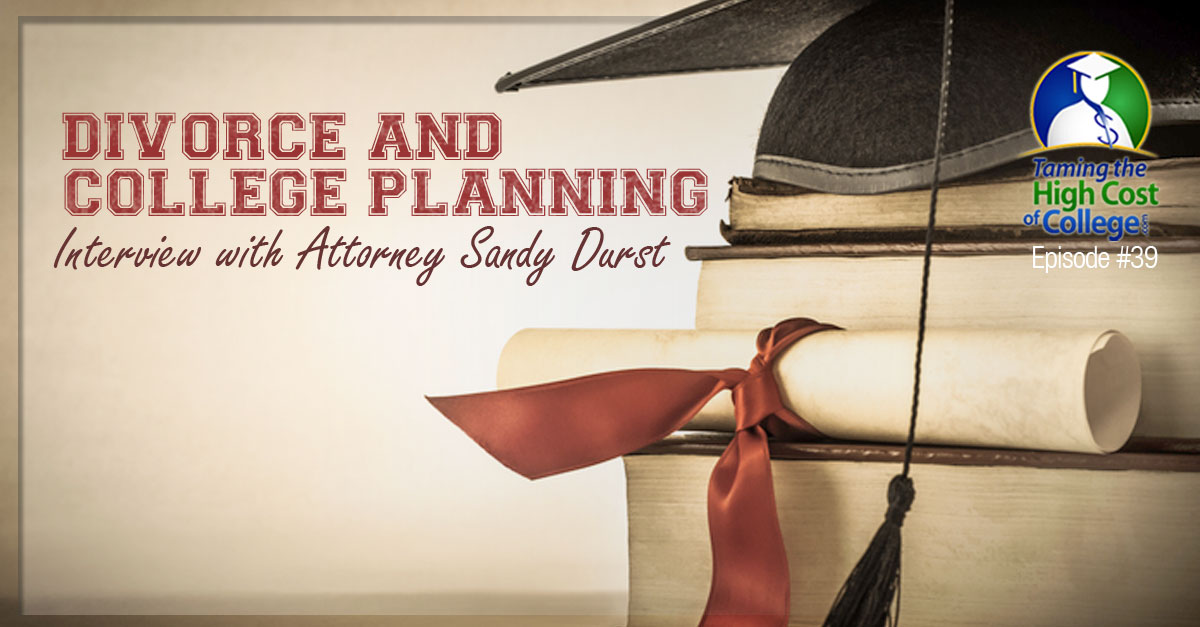 Divorced parents need to be on the same page when it comes to college planning and finance for their children.
Sandy Durst is the founding partner of the Durst Firm, a law firm that deals with family law and divorce.
99 percent of the practice is devoted exclusively to divorce and family law matters in New Jersey.
Sandy has about 16 years of experience.
Laws have become complicated, so such experience and focus helps clients with divorce and related issues.
Durst shares his knowledge and experience when it comes to divorce laws in New Jersey, but every state's laws vary. If you have questions, please contact an attorney in your state for individualized guidance and advice.
New Jersey Cases
Durst provides background on cases in New Jersey that have hit the news, including ones where children suing their parents to help pay for college.
Rachel Canning: Her parents were married but had a disagreement about how much or if they would pay for college. So, Rachel sued her parents to compel them to pay for her college education.
Another New Jersey Student: Sued her divorced parents to compel them to pay for her college education. Although the parents were divorced, they shared a same position about their child's college education. But that did not match their child's position – getting funded by grandparents. "The family dynamic there is strained – to say the least," said Durst.
New Jersey is somewhat unique. It is only one of four to six states that can, as part of a divorce process, impose upon the parents to be responsible for their child's college expenses.
"If you're getting divorced in New Jersey, whether it is fair or not or whether you like it or not, the obligation to pay for college can be opposed upon you (the parents)," said Durst.
Parents and Financial Aid
College is costly. When students apply for financial aid, the amount they are given (if anything) often depends on how much money their parents make. Plus, the parents have the choice to not pay for their children's college education. Then, funding for college can become an issue.
Not providing funding does not mean that the parents do not love their children.
Instead, it can come down to feasibility and means due to the high cost of college.
The more you can plan and layout the expectations and rules in the divorce process, the better position parents will be in when it comes to their children's college education.
Scenarios:
There are various scenarios that come into play with divorce and college:
Parents have been divorced for a while, and their child is about to go to college.
Parents getting divorced in parallel to when their child is ready to go to college.
Parents are getting divorced while their child is already in college.
Parents may have differing opinions on college and whether they should pay for it or not. One may believe in the value and importance of college, while the other does not. Legally, however, they may be forced to pay for their children's college education. Again, it depends on individual state laws.
Child Support:
Child support money may become questioned when it comes to college:
Parent who provides child support: Why wasn't some of the child support money saved for college?
Other parent: Used the child support to pay for immediate day-to-day needs; did not have any extra leftover to save. My ex makes a lot of money, why can't he pay for it?
Parents who do not identify rules during the divorce process and when the children are young are setting themselves up for vast misunderstandings.
"I think it needs to be addressed some way," said Durst. "Leaving it out is a bad practice. You want to plan as much as you can – given the circumstances."
When divorced spouses get remarried
As far as financial aid is concerned:
Sometimes the new spouse's assets and income are included in the financial process.
"And that creates just an emotional and personal dynamic you can't avoid," said Durst.
Planning Ahead:
Divorce is complex and often not a good time to talk about college. In reality, it is an opportunity to establish direction.
Placement/custody: Which parent a child spends the majority of their time with can impact financial aid.
Parent with less income should fill out the financial aid forms.
Tax rules can differ from financial aid rules.
"Communication, cooperation, and then flexibility are really kind of indispensable as you work through your divorce, and you work through your issues with kids as they pertain to … the college expense issue," said Durst.
Parents: Focus on the kids rather than fighting with one another!
Decisions:
There are a lot of decisions that can make a huge difference when it comes to financial aid:
529 Plans: It does not matter who owns them because they are a parent asset.
However, whoever owns those 529s, they have to report them on the Free Application for Federal Student Aid (FAFSA).
"When these accounts exist, how are we going to use them?" said Durst.
College is one issue but you need the right type of assets to rebuild your life after divorce.
Of course, there are different assets to consider during divorce that will impact a child's college education.
However, there is also the option of the student directly receiving student loans, scholarships, etc.
Modern Realties:
Plans that parents made previously may no longer be feasible due to the changing economic times: Layoffs and the declining value of 401ks become serious issues.
"The desire or the intention is still there. But the financial ability has shifted dramatically, and we can't always do what we wanted to do," said Durst.
LINKS AND RESOURCES
The Top 10 Financial Aid Mistakes the Divorced Parents Make
The Impact of Divorce on College Planning
The 16 College Planning Questions Divorced Parents Need to Discuss
Rachel Canning
The Durst Firm
Twitter: Divorce Lawyer NJ
Facebook: The Durst Firm
sandy@thedurstfirm.com
THANKS FOR JOINING US!
We'd like to extend an invitation to our listeners to share their feedback and questions. Our website offers a couple of ways for you to share your questions with us, and we'd love to hear from you.
Contact Us to submit a question to our email
Leave us a voicemail message on the computer! (We use questions for future shows because it's likely other people have the same question.)
If you find our podcasts helpful, please share us on social media and tell your friends.
The bottom line is that we care what you think and want to help you out, so we'd appreciate you reviewing us on iTunes or on Spotify. And even better, receive automatic updates by subscribing to the show on iTunes or Spotify.
Brad is not affiliated with The Durst Firm or Sandy Durst.
Sign Up for our Newsletter and receive our FREE handouts!
Divorce handout – 3 Aspects of College Planning
Divorce handout – 16 College Questions
Divorce handout – Top 10 FA mistakes that divorcing parents make