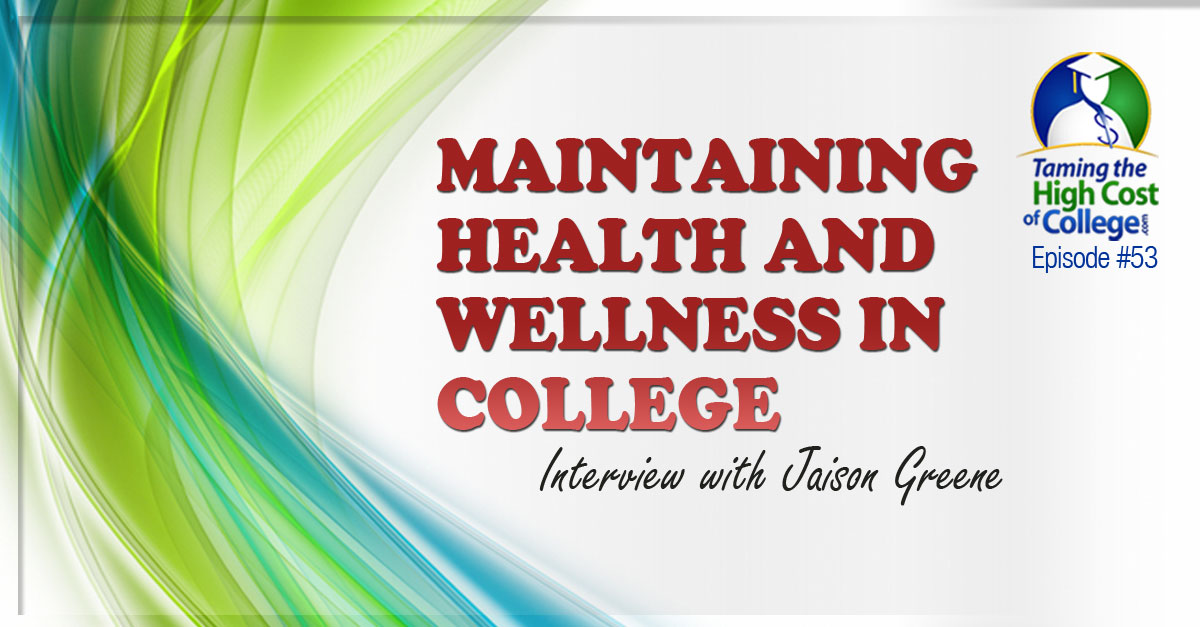 Jaison Greene gives advice on healthy and mindful living:
Holistic health coach in New York City.
Didn't have the best eating habits, but became interested after some immediate family was diagnosed with cancer.
Graduated from the Institute of Integrative Nutrition, including the advanced program.
Began consulting with clients and helping people eat better on their own terms.
Laying a Healthy Foundation
"What we learn, growing up, about food is usually what we carry with us into adulthood. It is very important to instill some best practices and get your children to be thinking about their own health, wellness, and nutrition," says Greene.
Some habits to instill in high school:
Help your child recognize when they become stressed and how to alleviate that stress in a healthy way.

Greene suggests doing deep breathing exercises and discussing what their feelings are.

Pay particular attention to food so as not to over, or under, eat.
Each child and family is different, but it is important to have the conversation before arriving at college.
Eat a nutritious breakfast everyday.
Avoiding the Freshmen Fifteen
Both genders are susceptible to weight gain due to stress of being in a new environment. Greene recommends that parents can at home, "Start to establish some clear best practices with your child around eating and around what happens when things don't go their way or they are upset about something."
Eating is how most people deal with stress. Some things to do instead of eating:
Exercise
Calling home to talk to a trusted friend of family member
Write down feelings
Listen to music
Take a nap
Parents can talk about their own experiences with nutrition in college and how it was difficult to change their behaviors. "If you are younger it makes it easier to continue these good habits," notes Greene.
Having Quality Meals Makes a Difference
Foods need to have nutrition to get you through the day. Breakfast is the hardest meal for most students.
A few easy food ideas are:
Have something green at every meal
Cereal and milk, with a piece of fruit as a snack
Smoothies
Yogurt and granola
Energy bar that isn't high in sugar
Greene gives an easy way to remember the importance of meals as, "Eat breakfast like a king or a queen, eat lunch like a prince or a princess, and eat dinner like a pauper." Breakfast sets your body up to have the most energy for the day. If breakfast is skipped, the energy must be borrowed from other parts of the body and has a detrimental effect over time.
College Meal Plans
Colleges are providing more choices with their meal plan to be more competitive and it is something to consider when choosing a college. Visit the dining hall in person and ask questions about the meals. Greene stresses, "If you include something green at every meal, cooked or from the salad bar, you are giving yourself a better shot at being successful overall."
Also giving permission for a cheat meal one day a week allows some freedom and flexibility.
Greene recommends, when communicating with your child about what they plan to eat in college, "It is more important to have an open mind and have an open dialogue so it isn't just your law as the parent."
Quick Nutritional and Wellness Tips
Some final nutrition and wellness advice from Greene:
Have a cheat day in mind where students plan to eat the healthier foods and salad during the week, but have the freedom to eat unrestricted at a scheduled meal once a day or once a week.
Drink water and bring a water bottle with you everywhere.
Set up a sleep routine to ensure a better night's sleep.
LNKS AND RESOURCES
THANKS FOR JOINING US!
We are starting a new video series called, "The Scholarship Guide for Busy Parents." It is going to be 4 videos that are 12 minutes or less complete with cheat sheets and other resources to help you find and win scholarships. If you are interested in learning more about scholarships please visit:
tamingthehighcostofcollege.com/scholarships
We'd like to extend an invitation to our listeners to share their feedback and questions. Our website offers a couple of ways for you to share your questions with us, and we'd love to hear from you.
Contact Us to submit a question to our email
Leave us a voicemail message on the computer! (We use questions for future shows because it's likely other people have the same question.)
If you find our podcasts helpful, please share us on social media and tell your friends.
The bottom line is that we care what you think and want to help you out, so we'd appreciate you reviewing us on iTunes or on Spotify. And even better, receive automatic updates by subscribing to the show on iTunes or Spotify.
Brad is not affiliated with Clean Fun Living of Integrative Nutrition.