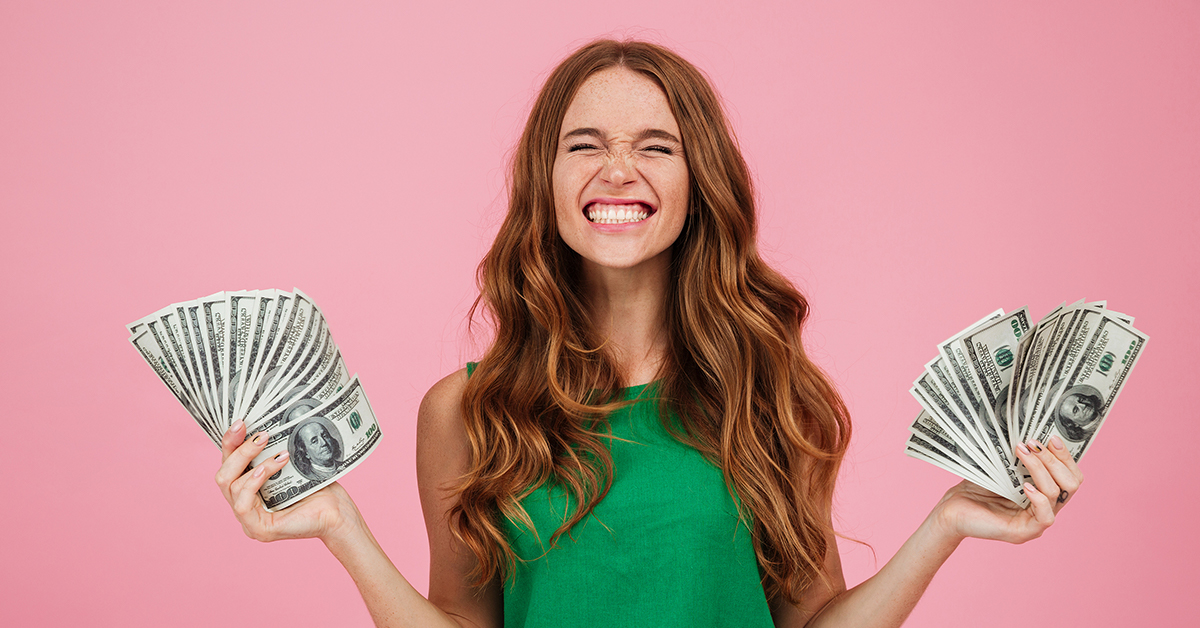 Every parent loves the idea of free money to help your child pay for college, and scholarships are one way to get it.
But first your student has to win scholarships, and that requires one of three things:
Your family must show a financial need
Your student must show strong academic merit
Your student must meet specific unique requirements
The good news is that you can win need-based and merit-based scholarships relatively easily, as long as you qualify.
All you need to do for most of these scholarships is apply for admission and submit your financial aid forms. For other scholarships with unique qualifications, students need to do something more.
However, no matter what sort of scholarships you student is pursuing, there are 10 strategies they can use to improve their chances of success.
These are strategies I've shared with hundreds of students and families to help them plan and save for college over the past 15+ years. Now I'd like to share them with you, so let's jump in and get started.
Here are the 10 things you can do to improve your child's chances of scholarship success.
1. Select private colleges that have a history of being generous.
Private colleges are the most generous when it comes to scholarships. This is because they're generally more expensive, and they need to offer more aid to keep costs affordable for students.
You can look at the scholarship statistics at Big Future or College Navigator to see what typical first-year financial aid packages look like, along with need-based and merit-based scholarship statistics. You can try to find some schools that are a good fit but also have good numbers in need-based or merit-based scholarships.
2. Select schools where your student is above average academically.
If your student wants a chance to win merit scholarships from colleges, they should apply where they're a rock star or at least well above average among applicants. That usually means being in the top 25% of applicants.
Many colleges offer scholarships to applicants in this category. And it's important to keep in mind that your student might be average at really competitive schools but might be above-average at other schools. Consider applying to schools where your child is above-average or even stronger.
If have a really strong student, you might be in the running for a full-ride scholarship. Depending on the school, they will usually have a handful of full-ride scholarships that somebody is going to win. Why not your child?
3. Avoid "stretch schools" where your student will just barely be accepted.
Some students have "stretch schools" on their list. These are schools where they would barely qualify for admission, but they would love to attend college there if they could get int.
Students like this might say, "I would love to go to Northwestern or Stanford if I could just get in. I'm not sure if I will or not, but it would be great if I did."
Maybe it's your dream to go to one of those schools. But it's also asking to pay full price.
If you're a marginal applicant, you're not going to qualify for merit-based scholarships at most
colleges. And unless you demonstrate a financial need, you might not qualify for need-based scholarships either.
If you're applying to a public college or university, this won't be as much of a factor. Public
colleges don't offer many merit-based or need-based scholarships because their baseline costs aren't as high as private universities.
But if you're looking at private colleges and want to increase your chances of receiving a scholarship, you may be better off going to a school where you're a more qualified student and especially if you're in the top 25% of all applicants.
There are exceptions to this, but it's a good general rule to follow.
4. If you can demonstrate a financial need, choose colleges that meet 100% of financial need.
There are many colleges that meet 100% of financial need. When you submit your financial aid forms, they figure out how much your family should be able to pay, and then they offer financial aid to cover the difference.
However, these schools tend to be very competitive. If you don't qualify for admission at these highly competitive schools, you could consider other colleges that tend to meet at least 80% or 90% of financial need.
Schools that meet a high percentage of financial need tend to award more need-based scholarships, so if you can demonstrate a need, these colleges may be a great choice.
Statistics on meeting financial need are available at College Navigator and Big Future, where you can see the latest reported numbers for each school.
If you're looking at private schools, you can also check out my article on Why Your Assumptions About College Costs Are Probably Wrong. In the last two sections of this article, I
provide lists of elite private colleges that meet 100% of financial need, and I break them into two categories, including those that also offer merit aid and those that don't.
5. Encourage your student to get involved in extracurricular activities.
We don't want to encourage students to pad their resume with extracurricular activities just for the sake of adding them to their college applications. But they should do something to expand their horizons beyond just getting good grades.
Your student should find some extracurriculars beyond just studying hard, whether it's
activity at school or outside of school. Find things that they enjoy and that could make them college-worthy or qualify them for a scholarship.
If it's something they enjoy and they're passionate about, they are more likely to excel at it. And usually there's a way to turn that excellence into a scholarship opportunity or something that truly stands out on their resume, rather than just an activity they did because they thought they should be doing it.
6. Have your student take their extracurriculars to the next level.
For students who have a long list of extracurriculars that are boring and average, pick out a couple and take them to the next level.
Instead of just joining a school club or volunteering for a non-profit charity, maybe your student can serve as president of the club or launch a non-profit initiative of their own. If your student is active in French club but isn't part of the leadership team, they should look into joining the leadership team. If they're already in a leadership position, they can look for ways to get involved further on the county, state or regional level.
Look for ways to take things from mere participation to being much more active and showing leadership and initiative.
Also, if your student is busy and needs to give up any extracurricular activities, activities or passions, keep the ones that are unique. Being on a school athletic team is great, but it's far from unique.
If you helped create the school judo club and you're the club president, or you're a leader in a
martial arts organization in your city—outside of school—that's less common and shows more initiative. If you need to cut back on activities, look to keep the ones like these that set you apart from other students when schools are deciding to award scholarships.
7. Adjust your finances in order to increase your financial need.
For the purposes of awarding financial aid and need-based scholarships in particular, your family's financial need is based on your income and assets.
If there are things you can do to adjust your income and/or assets so you show a greater financial need and increase your eligibility, you may qualify for more scholarships from both colleges and other organizations.
For example, you might be able to defer a job bonus or additional income to the next tax year, to minimize your income for the base tax year for the purposes of applying for financial aid. Or you may be able to move around some of your assets to achieve similar results.
Likewise, you want to avoid mistakes with your finances and assets that could reduce your financial need and qualification. To learn the do's and don'ts, read my article on the 12 Terrible Financial Aid Mistakes to Avoid. I'll show you the mistakes that often reduce financial aid and scholarship eligibility and how to avoid them.
8. Look into all the scholarships through your school, city or state.
Some colleges and states have programs where you can qualify for free tuition if you meet the right asset and income requirements. Some also offer scholarships of differing values up to the cost of tuition.
Some of these scholarships may be based on your city, county and state. So make sure to do some research and look into all the local need-based scholarship and financial aid programs available to you. If you qualify, you find an entirely new source of money to help cover your college costs.
Also make sure to check with your high school as well as local foundations, business groups or other entities in your town to find out what other local scholarships might be available.
Often there are scholarships available to students from the local community, and you can find out about these at your school counselor's office, school bulletin boards or websites, and Google searches.
Local scholarships are often much less competitive because they're specific to your high school or local area as opposed to national or statewide. This means there will probably be fewer applicants to compete with, and if you're a "rock star" among these candidates, you may have a good chance of winning a scholarship.
9. Build a scholarship team.
If you're looking for private scholarships beyond the need-based and merit-based scholarships that you can win by simply applying for college and submitting your financial forms, build a scholarship team.
There are thousands of private scholarships with many different qualifications, benefits, and funding organizations. That means it can take a fair bit of time to find and research them.
If you can build a team and work together with parents, relatives, friends, or anyone else who's willing to help, you can potentially share the workload, share search tips and information, and find good scholarship opportunities.
10. If your student is first-generation, get involved in applicable scholarship programs.
If your student will be the first person in your family to attend college, they can potentially win scholarships designed for first-generation students.
Often these are grants as part of the federal TRIO programs, which are designed to provide services and assistance to first-generation college students, individuals with disabilities, and people of low income or disadvantaged backgrounds. But there are also many private and institutional scholarships for first-generation students as well.
If you qualify, look for any of these or similar scholarship and grant programs for first-generation students.
Looking for More Scholarship and College Planning Advice?
Check out my free articles and resources to help you learn more about scholarships and develop a winning college plan for your family.
Worried about the high cost of college and how to plan and save for your child's future? You can hire me to help you develop a winning college financial plan for your family, with strategies that can potentially save you thousands of dollars on your costs.  Visit my financial advising website to learn more about my professional services and schedule a free 30-minute consultation.
Too many parents and students get caught up in the hype about scholarships, or they miss out on scholarships because they think they won't qualify. Here's the real story about scholarships, how they work, how to decide if they're the right fit for your student.
Learn everything you need to know about scholarships and how to determine if they're worth your time. Get all the advice, tips, and examples you need in an easy four-video course you can complete on your own time, and in less than an hour.
Subscribe to my free e-newsletter and get great tips and advice on how to plan and save more money for college, how to reduce your costs, and how to put your student on the path to a bright future.
Learn the 5 key parts of a good college financial plan and how to get started.
Find out if the 5 types of federal aid are available to your family and what they mean for you.
Find out the 6 ways to pay for college and the crucial things to keep in mind for each one.