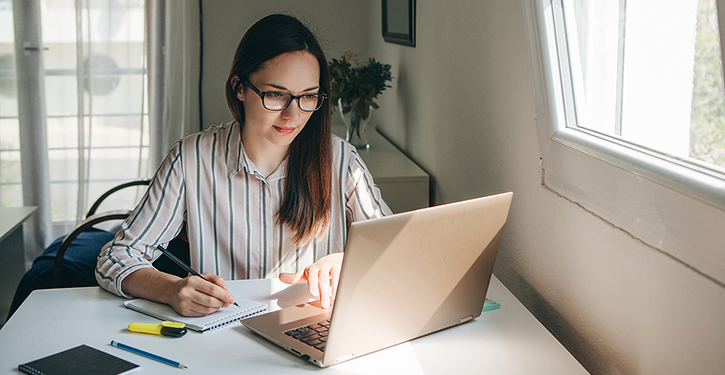 If you have a student who has just finished their junior year and is heading toward their senior year, the coming months are filled with uncertainty.
Many of us who have college-bound students have been struggling with changing family finances, disruptions to work and school, and all the challenges of stay-at-home restrictions and getting our families through COVID-19.
However, we can't let that get in the way of planning for our kids' future, especially for high school juniors who will be seniors this fall.
If you have a junior at home, here are some key areas where you should continue your college planning, re-assess where you are, and determine how you may need to proceed in the coming months.
Review and Revise Your College Financial Plan.
The COVID-19 pandemic has already taken a big toll, with many people temporarily or permanently losing jobs and income. Even if your job has remained secure and you've been able to continue working, many families fear the long-term impact of the pandemic and what this could mean for future job security and finances.
This is why families should already be looking at their finances and making contingency plans for college. COVID-19 may force some families to re-do their college financial plans or alter some of their working assumptions.
Here are some options you might need to consider moving forward:
Start over. If your financial life has changed drastically (e.g. you lost your job or closed your business), you may need to totally rework how much you can afford for college and how you'll pay for it.  You'll need to throw out your old plan and create a new one based on your
new reality.
Focus on affordability. There's still time to change the schools that are on your student's list.  You can add schools that are more affordable or more likely to offer better financial aid.  The challenge now is being able to predict price, financial aid and scholarships so you can ensure better outcomes later.
Recalculate need-based aid. If there's been reduction in your income or assets, you may qualify for more aid. Or you will now qualify for aid where you wouldn't have in the past.  You may qualify for better loans, more scholarships or state and federal grants. If your finances have changed, you can use my Estimated Family Contribution (EFC) calculator to get an updated estimate on your financial aid eligibility.
Consider student loans. Many families have been planning to pay for college without using loans. This may need to change for some families, and loans may be a good option to pay for college in the short term.
For example, I helped a business owner repurpose existing savings to get his business back on its feet. Now we plan to use student loans to pay for college for his high school junior, who's heading into his senior year.
To learn more about student loans and the best options in terms of interest rates and terms, check out my Quick Guide to the Best Student Loans.
Rethink the expensive colleges. Can you really afford to spend $60,000 to $80,000 per year on college for your kids?  Even if you can afford it, is it worth it? Are there more affordable options?
When you're applying to expensive colleges, you really need to know if you'll have a chance at need-based or merit-based scholarships or if you'll pay full price.
Don't assume colleges with high price tags will automatically cost you a lot. But also don't assume your student will get need-based or merit-based aid and scholarships to make high-cost colleges affordable. Instead of assuming, do proper planning and research to know where you stand, so you can make an informed decision.
I've seen situations where expensive, prestigious schools are the low-cost options for some families. Sometimes they can cost less than the local state school. But I've seen many situations where the same prestigious schools cost way more than other colleges. And sometimes the lower-cost options are other prestigious schools that are just a better fit for your student or financial situation.
You can learn more about how costs really work at different types of colleges and what your costs might be in my article on Why Your Assumptions About College Costs Are Probably Wrong.
Stay On Top of Testing.
Let's start with the bad news.
College testing for juniors has been a disaster. ACT and SAT tests were cancelled for March, May and June of 2020, and this has prevented many students from taking their first test, while others who had planned to re-test this spring have lost an opportunity to improve their scores.
The ACT and SAT test administrators are scrambling to set up new test dates and sites but so far it has not been going smoothly. There are very few test locations available in various states, so getting a test spot is likely to be a frustrating experience, if it's even possible.
However, let's take a look at the good news.
Colleges are giving us a break. Colleges realize that students are in a predicament with testing, and many are changing their test requirements temporarily or permanently.
Many colleges are making the SAT or ACT test optional for admissions consideration for the upcoming 2021-22 school year.
Others are going test-optional permanently, as the tests come under increased scrutiny for how fair they are and how effective they are at indicating a student's future academic potential. In fact, hundreds of colleges had already opted out of requiring the SAT or ACT test long before COVID-19 came along, and that number is growing as a result of the pandemic.
The test companies are trying to help. The test companies are working hard to reschedule and redesign testing and test administration to deal with all of the cancellations.
If you have a high school junior who's already been affected by testing cancellations, make sure to get the latest updates on the SAT test and the latest news and information about the ACT test.
The test companies have plans moving forward, but things could still change, so you need to stay on top of these developments.
The Three Testing Options
Depending on your situation, there are three main options for how to deal with SAT and ACT testing:
1. Go with the scores you have.
If your student already completed at least one round of testing, you can go with the score or scores you have. Some students had planned to take the SAT or ACT more than once, to improve their scores, but you can always go with your existing score and forego future testing.
If your scores are already good enough to get into the colleges on your list, then there may not be much risk with this strategy. But if your scores aren't where you want or need them to be, you might need to find out how much that will impact your admission chances and whether you should consider different schools.
2. Take the next available tests.
If you didn't get to take the SAT or ACT due to cancellations, or you still need to improve your scores, you can get the latest information from the links above and arrange to take your tests. But the whole process is now on a different timeline, and if you were planning to apply to colleges this fall, you'll need to take timing into account.
3. Skip submitting test scores.
Many colleges no longer require the SAT or ACT test for admissions consideration, and many have temporarily or permanently suspended testing requirements in the wake of COVID-19. This means you may be able to bypass testing or skip submitting your test scores, depending on the colleges where you plan to apply.
However, before you decide not to take the SAT or ACT test, be very careful about this strategy. Some colleges will still want scores, and some may give your application a boost if you provide them, even if they're not technically required.
Additionally, certain institutional scholarships may still be based partly on test scores, which could impact your student's eligibility or qualification for free money to help pay for college.
Unfortunately, there's just a lot of uncertainty here. Many students don't know the colleges they're going to apply to yet, and even if they do, most schools don't have a well-defined test-optional process. Thus, it may still be a good idea to prepare for tests and take them.
Find New Ways to Make College Visits.
As I've discussed previously in my blog on making virtual campus visits during COVID-19, the coronavirus pandemic has completely disrupted the usual college visit process.
Campuses have been closed down and they won't be returning to normal anytime soon. To the extent that some of them reopen, they'll be doing so under restrictions and with considerable precautions. Many will continue to offer online classes exclusively in the coming months, even with a new school year on the horizon.
This summer, many colleges will likely remain closed or will be limiting access to their campuses by the outside public. That could include prospective students who might be applying to attend school there.
We may see some schools resume campus visits, but they would likely be quite different and severely restricted due to COVID-19.
Here are the four main options for parents and families when it comes to college visits during the COVID-19 era.
1. Make virtual visits now.
Whatever ends up happening, you should be making virtual campus visits right now, and
you should be following the schools on your list via social media and e-newsletters for the latest news and updates on in-person visits or available alternatives.
Many schools already had virtual visits available through their websites or other third-party online platforms, but now we're seeing other schools get on board. There are several websites where you can find free virtual campus tours for over 1,000 colleges and universities in all 50 U.S. states, including:
Don't forget that individual schools often have virtual tours available on their websites too, usually in their admissions section.
Many also provide website videos, YouTube videos, or other interactive resources to learn more about their campus. Find out what's available from the schools on your list, and use those alternative options for now.
2. Plan for possible on-campus visits.
Depending on how things play out and the specifics of state and local restrictions, some colleges may offer on-campus visits at some point over the summer. It's difficult to predict, so you'll need to follow the schools on your list via their e-newsletters and social media to find out what they plan to do.
You may need to be prepared to make a last-minute decision and visit a school if campus visits suddenly become available. But you also need to consider the risks to your family's health and safety.
3. Hope that things turn around for the fall.
In the fall, college visits are normally a regular occurrence, with students visiting schools to help evaluate their options during the application period or while they're awaiting admissions decisions.
However, it remains to be seen whether any such visits will be possible and made available. In the meantime, take advantage of alternatives such as virtual campus visits, where you can "visit" a campus and access 360-degree campus walkthroughs, videos, photos, faculty and student interviews, and other resources online.
4. Only do accepted senior visits.
The spring following the fall and winter admissions process is often a time for accepted senior visits. This is when seniors who've been admitted to a college make a final visit to help them choose their preferred school.
We may see a resumption of campus visits by the spring of next year, so you can always plan to save your on-campus visits until this time. However, unless you already made some campus visits before COVID-19, this means you may be finalizing your list of schools and deciding where to apply without ever being on campus.
Under the circumstances, though, it may be a reasonable option. If you're applying to multiple schools, you can wait to see where you're accepted and then try to visit those schools to make your final decision next spring. But you'll want to find out if the schools on your list are planning to make visits available at that time or what the odds are that you'll get this opportunity.
Stay in Touch with Schools.
No matter what you family and student situation might be, there are a few important to-dos to keep planning for college despite all the challenges of coronavirus.
1. Stay in communication with the colleges you're interested in. This is primarily the responsibility of your student. Parents can do it additionally, but not instead of the student.
If your student hasn't done so already, have them get on the email lists for the colleges under consideration. Follow them on social media too, and make sure to check email and these social feeds regularly for updates.
2. Reach out to colleges to ask questions or request help if you need it. Schools know that this is a confusing time, and there's a lot of uncertainty about what to do. They have staff available to help, and they're certainly interested in recruiting students, encouraging them
to apply, and helping them learn about their institution. Take advantage of these resources whenever you need them.
3. Be polite, empathetic and gracious when you communicate with colleges. We're all grappling with the challenges of COVID-19, and that includes colleges as they try to keep up with student and family demands for information and assistance. Keep this in mind when communicating with the schools on your list, and be polite, emphatic and gracious.
However, don't be afraid to be persistent. It may be difficult for colleges to respond as promptly as usual, and some may have a hard time managing the volume of questions and requests they receive. But don't give up, and be persistent when you need to be, so you can get the answers and help your student needs.
Don't Forget: I'm Here to Help.
Hopefully this article has helped get you thinking about how to keep planning for college and take the right steps, even though this year is proving hard to predict.
As always, though, there's one thing you can rely on. There are many free resources on my website to help you plan for college, and I've included some recommendations below.
You can also reach out to me for personalized and professional assistance. As a Certified Financial Planner® and College Planning Specialist, I've helped hundreds of families develop a winning plan, find the right school, and figure out the best ways to pay for college.
To learn more about my services and schedule a free discovery call to find out how I can help you take the stress and worry out of college planning, visit my College Planning Services page now.