Podcast: Play in new window | Download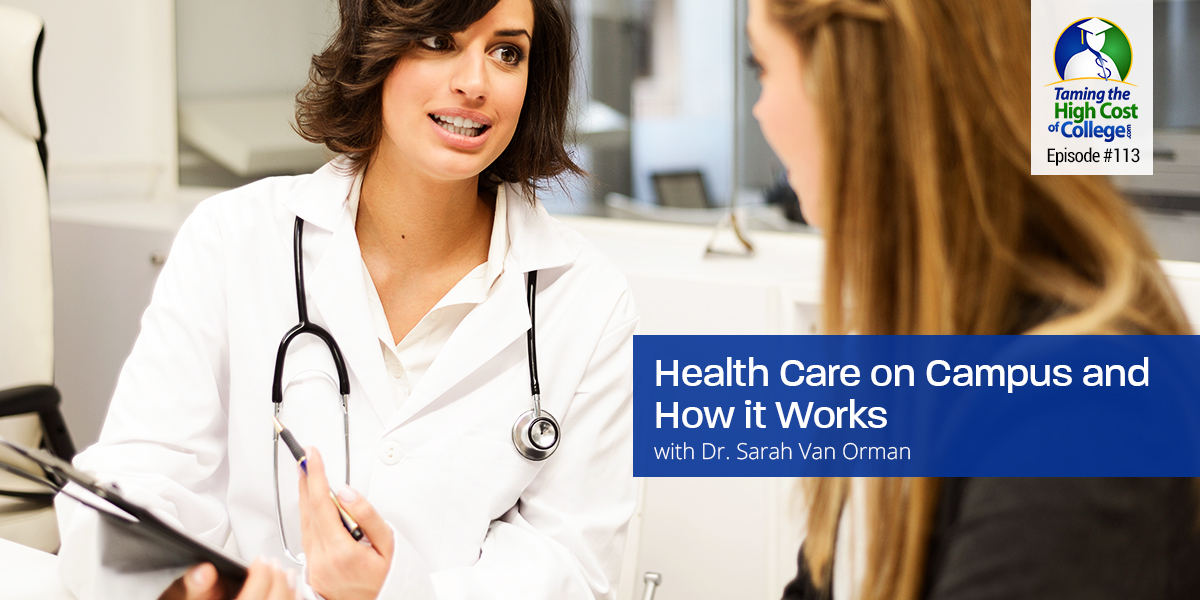 Healthcare, insurance, and everything health related that you need to understand when you send your student to college are what we cover in our episode today with expert Dr. Sarah Van Orman. She is a former President of the American College Health Association and a primary care physician with a focus on keeping students healthy and successful in college. "This is the opportunity to be teaching your student about being a health care consumer," shares Dr. Van Orman.
Questions Answered Today:
What are health services at a typical university and how do they work?
Factors that impact services available include size of school and the needs of students.
Campuses that have residential students provide some sort of health services that include:
Primary medical care

Sprained ankle, sore throat, screenings, check-ups, or anything like that

Typically has a lower co-pay

Mental Health services/Counseling services

Crisis counseling and short-term counseling are generally provided

Psychiatric services are not as common

Services are growing rapidly

Can help refer to a professional in the community to make sure all needs are met

Public Health

How do we keep and maintain a healthy community?

Promote education and safety around campus that most students don't realize are part of the health services
If the college specializes in something unique, such as travel care, you will find that more readily accessible on that campus.
"Most students will be covered by their parent's insurance in network," notes Van Orman. It is important to consider what is provided by the student health services that might cover outside of their regular insurance. This varies by the health service and by the insurance.
Dr. Van Orman strongly recommends that parents of seniors in high school understand what coverage their child has and to see what options will be available where they will be going to school. Talk to your provider and ask about medical scenarios to see if your child must come home for treatment or not.
Some ideas to research include: A student health insurance plan, looking through your employer for the option to select a PPO so there is better coverage out of network, supplemental plans available, does the university provide an insurance policy, etc.
These are great questions to ask during your college visit before selecting a school- especially if your child has a pre-existing condition!
Some campuses require a verified policy in place, but some don't.
Some extra advice from Dr. Van Orman:
Stop by the student health services building during your campus tour

Make sure you know all services that are available and that your student can access them

Also includes what your campus is doing for wellness, recreation, and nutrition

Help your student become more independent

Turning in and picking up prescriptions, understanding co pays, etc.

Be sure your student has their insurance card and prescription card because it is likely possible your child with have a health or mental health crisis

Don't be afraid to call the health services, but be aware of privacy laws

Talk to your student about release of information and when you want them to contact you
In most states, the next of kin has power of attorney if a student becomes incapacitated. If you have someone you specifically want as having power of attorney due to a complex family situation, you would want to legally file for power of attorney.
LINKS AND RESOURCES:
BRAD RECOMMENDS:
Core Area- Tax Planning
You need to understand how college and taxes work together. Most families don't realize they could, or should, be doing this!
American Opportunity Tax credit:
Married couples under $160,000 of income and singles under $80,000 of income

Phases out between $160,000 – $180,000 for married couples and $80,000 – $90,000 if you are single

Can claim a tax credit up to $2500, as long as you pay $4,000 in tuition expenses. If your income is near the limit of phasing out, you might want to plan in order to get the maximum credit where possible.
Also, the 529 plan usually has a deduction available when contributing for most states.
Optional Area- Special Needs
This covers everything that might be unique to your student if they need additional help for any reason. It will impact your college search so that you find the right school that is the right fit.
Episode 8: Helping Students with Learning Disabilities Prepare for College
THANKS FOR JOINING US!
We'd like to extend an invitation to our listeners to share their feedback and questions. Contact us to submit a question to our email.
If you find our podcasts helpful, please share us on social media and tell your friends!
The bottom line is that we care what you think and want to help you out, so we'd appreciate you reviewing us on iTunes or on Stitcher. And even better, receive automatic updates by subscribing to the show on iTunes or Stitcher.