Podcast: Play in new window | Download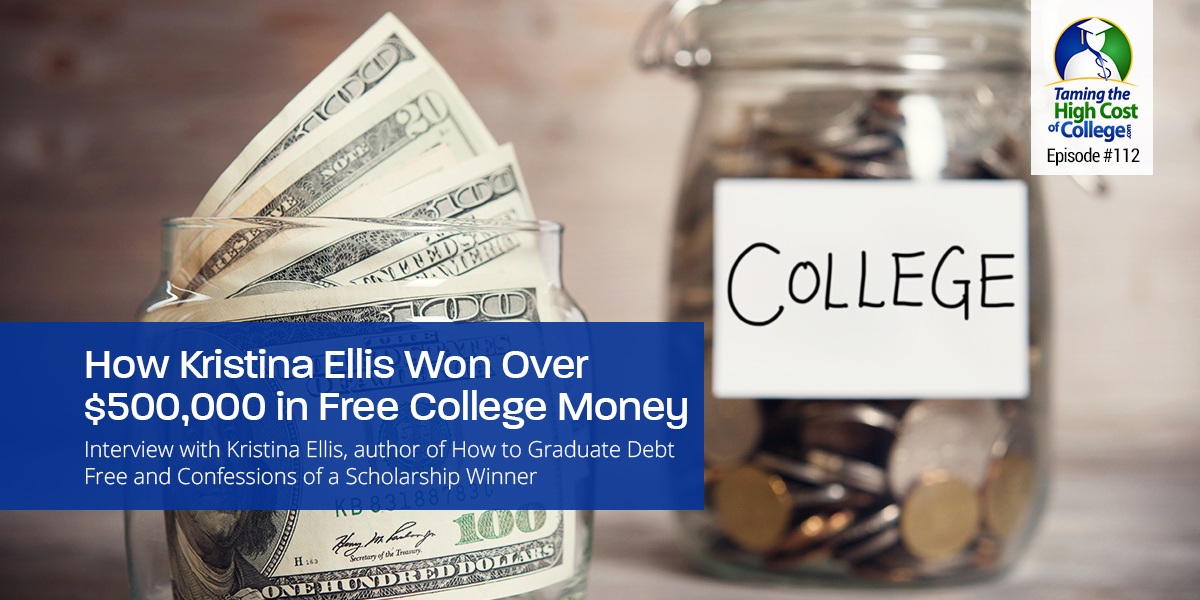 Get the ball rolling on college planning right now with scholarship expert Kristina Ellis. She swings by the show to share her secrets of how she won over $500,000 in free money for college. She started researching her junior year, but really put the pedal to the medal during her senior year. "I often recommend to students to not get too stressed about filling out the applications their sophomore and junior year," says Ellis. Get the rest of her can't miss tips in this episode!
Questions Answered Today:
What was your scholarship experience like?
"For about 6 months I sat in a library with my mom and worked, worked, worked on filling out those applications," describes Ellis. She strongly recommends waiting until your senior year and spending your time during your sophomore and junior year building your resume and having experiences.
Freshmen year is when Ellis started looking at applications to plan what she wanted to do during high school to tailor herself to future scholarship and application essays. This made her intentional in committing to activities she loved doing, but that would be great to write about.
What should parents do (and when) to make the scholarship process work successfully for them?
"I definitely encourage parents to start early," notes Ellis, with early financial conversations starting freshmen year. You can start as early as possible, such as kindergarten, to get involved in community service and start offering those experiences to build that character in your child.
Show your student what loans look like financially and how paying that debt off will impact their life. The better they understand what debt is, the better off they will be.
Set up a "scholarship night" where once a week you sit down and look at scholarship applications and fill out a few.
"It is a numbers game," warns Ellis, "You have to keep trying, you have to keep applying; it might take multiple attempts and multiple rejections before you win a really great award."
On your scholarship night each week you should:
Start with scholarship databases and create a targeted list of 25-50 scholarships to pursue that match your student well.

Look into programs to figure out the "why" in the who. Why are they giving away this award? What do they value? What kind of person are they looking for? Get to know these programs that are giving away money to tailor make your responses.

Once you have a few tight essays, you can recycle the foundation and take the time to customize the details to each program. Find the balance.
College ROI (Return On Investment) means, "looking beyond the prestige of a school and their rank, but also looking at what school will profit you the most in the long run based on your projected earnings," states Ellis.
This includes:
Net price

4 year completion rate

Earning potential

Opportunity cost
It is important to figure out from a financial perspective what school will really be the best for you and to go there, no matter where else you might have been accepted.
Just getting accepted is half the battle, you have to look at the finances as well, which is where scholarships come into play.
Example: Getting into an ivy league school with $0 in financial aid is not as great as getting into a state school on a full academic scholarship.
Ellis understands that sitting and filling out scholarship applications doesn't sound very fun to a lot of students, but she is an example of how it is totally worth it. Her book "Confessions of a Scholarship Winner: The Secrets That Helped Me Win $500,000 in Free Money for College" was written in a way to communicate with high schoolers, but it also helps parents by describing exactly what you should do to support your student through this process.
"How to Graduate Debt Free: The Best Strategies to Pay For College #NotGoingBroke" was written for students again, but really goes into depth on the best way for parents to start financially saving. It also includes some pre-college action of how to plan high school and a great financial aid breakdown for everyone, even those that think they would never qualify for any extra dollars.
Bottom line: Get involved and spend some time learning about the world of college finances as soon as possible.
"If you are a junior or senior that thinks they missed the boat on scholarships, I want to encourage you to still go through the process. There are tons of scholarships given out senior year and throughout college," suggests Ellis. There are scholarships out there for everybody!
LINKS AND RESOURCES:
BRAD RECOMMENDS:
Core Area- Saving and Investing
Lots of families have saved something for college already, but there are lots of opportunities to start saving now.
Three things to consider while saving and investing for college are:
Impact on Financial Aid

Tax Benefits

Rules and Restrictions
For example, having money in a bank account will count against your ability to get financial aid, you pay a little bit of taxes on the interest, but you have few rules and regulations about spending that money on whatever you want whenever you want.
529 plans still count against you for financial aid, but there are numerous state and federal tax benefits. There are also rules and regulations about how and when this money is spent.
Saving and investing can be done at any time by parents and doesn't really need the involvement of the student.
Figure out what you can save starting right now- even if your student is just a few weeks away or year away.
Loans for college come with loan payments. So, if you can afford to pay that monthly payment, theoretically you should be able to save that same amount each month which will prevent you from having to take the loan out at all.
Optional Area- Family Funding
If you have grandparents or other family members that say they want to help give towards college expenses, from a financial aid standpoint it is sometimes good and sometimes bad.
You don't report this on the FAFSA, but once the money comes to the individual to pay for college it DOES go on the FAFSA as income to the student.
With good planning, you can time when this money is provided (maybe, say, the junior year). Plan how to maximize this money so it won't impact financial aid and other resources in a negative way.
Key factors to consider are:
Will you qualify for any financial aid without this money?

Are you being provided with a large sum?
Being given $1,000 doesn't have the same impact as $100,000 on future requests for financial aid. Try to work this opportunity in a smart way for the most benefit.
THANKS FOR JOINING US!
We'd like to extend an invitation to our listeners to share their feedback and questions. Contact us to submit a question to our email.
If you find our podcasts helpful, please share us on social media and tell your friends!
The bottom line is that we care what you think and want to help you out, so we'd appreciate you reviewing us on iTunes or on Stitcher. And even better, receive automatic updates by subscribing to the show on iTunes or Stitcher.