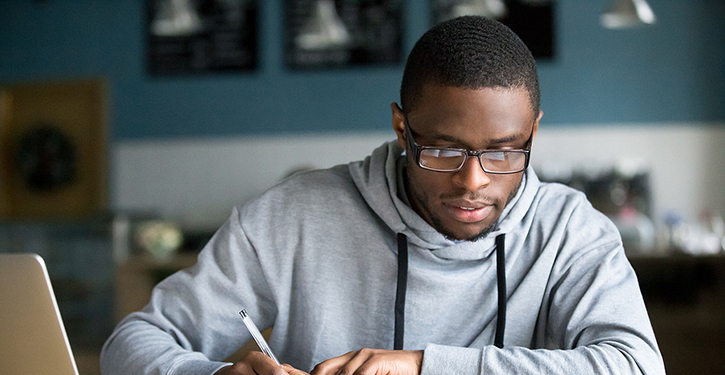 If you have a college-bound student who just graduated from high school, it's been a rough year. Unfortunately, there's a lot more uncertainty ahead.
Many families are struggling with changing finances and employment, and there are many questions about whether colleges are going to open this fall and how they're going to operate.
But now's the time to sort it out, update your college plans, and determine your next steps. Your student's future is on the line, so you want to do your research and act quickly.
In this article, we'll take a look at a few key areas where you should focus your attention as you plan for college this fall or decide to take a different course.
1. Family Finances
The COVID-19 pandemic has taken a major financial toll on many families who have temporarily or permanently lost jobs, income, savings or investments.
Even if your job has remained secure and you're financially unaffected so far, many families fear the long-term impact of the pandemic and what this could mean for future job security and finances.
This is why families should be looking at their finances and making contingency plans for college. COVID-19 may force some families to re-do their college financial plans or alter some of their working assumptions. It might even require some students to choose a different school to minimize costs.
However, a financial disruption doesn't mean your student has to give up going to college or wait to enroll. There are many options to help you pay for college and make it more affordable, even if you've lost income or other assets.
Here are three options you may need to consider:
Start over. If your financial life has changed drastically (e.g. you lost your job or closed your business), you may need to rework how much you can afford for college and how you'll pay for it. You'll need to throw out your old plan and create a new one based on your new reality.
Focus on affordability. There may still time to change schools if you need to consider colleges that are more affordable or more likely to offer better financial aid. The challenge now is timing, applying and enrolling, and sorting out price, financial aid and scholarships so you can save on costs.
Recalculate need-based aid. If there's been reduction in your income or assets, you may qualify for more aid. Or you will now qualify for future aid where you wouldn't have in the past. You may qualify for better loans, more scholarships or state and federal grants. If your finances ave changed, you can use my Estimated Family Contribution (EFC) calculator to get an updated estimate on your financial aid eligibility.
2. Re-Examining Loans
If your family finances have changed or you're simply looking for a way to reduce your college spending at a time of uncertainty, you may want to re-examine student loans.
Right now, interest rates on federal student loans are at historic lows due to COVID-19's impact on the economy. Those rates will be in place for the entire 2020-21 school year. Banks and other financial institutions may also be offering lower rates on private loans as well.
This means you may be able to borrow money for college at considerably lower cost than usual. Doing this can help you pay for college, replace college savings that you've had to use for other purposes, and help maintain liquidity and cash reserves in this challenging time.
To learn more about student loans and which ones might be the best for your family, read my article on The Best Student Loans. It covers all the different ways you can borrow money to help pay for college.
Once you've mastered the basics, you can read my in-depth articles on federal Direct Loans and parent PLUS Loans, which explain these best-available federal student loans in more detail.
3. Determining if College Will Start
A big question right now is whether college will start in the fall. Most schools are planning to re-open by the fall, but not all of them will be doing it the same way.
Many colleges such as the University of Wisconsin and the University of Michigan are planning to reopen their campuses with a mix of in-person and online courses.
Others, such as the schools in the California State University system, are planning to continue to hold most classes online through the fall. But they're leaving the door open to resuming some in-person classes as circumstances allow.
This creates a lot of uncertainty for parents and students, especially when it comes to housing, meals, choosing classes, and figuring out whether your student needs to be on campus. Things could change too, depending on what happens with COVID-19 and whether lockdowns or other restrictions resume.
Here are a few things you should do sort out the uncertainty:
Stay in touch with your school via email, its website and social media
Find out what your college's plan is for the fall
Decide if your student is going to enroll
Explore your options if you decide to wait a year or enroll elsewhere
If you decide to enroll, prepare with your school's plan in mind
Develop contingency plans in case things change
Stay up to date with developments as they unfold.
4. Re-Examining Your School Choice
Depending on your family's situation and what's happening at your college, you may need to re-examine your school choice.
For example, if you've lost a job or considerable income due to COVID-19, you may need to look at college affordability and decide whether to take out student loans, wait a year to enroll, or choose a less expensive school.
If your college is only offering online classes, if you're concerned about your student's safety on campus, or your school will be closed this fall, those are all reasons why some families might consider changing schools.
But changing schools is a potentially life-altering decision, and it may be too late to apply and get accepted elsewhere for fall enrollment. If there's a way for your student to delay their enrollment at the college they've chosen, it might be better to wait to enroll rather than switch schools.
Whatever you do, it's important to think things through. Before your make a change, consider the short-term vs. long-term risks and rewards, and don't forget to explore all your options to make things work.
Keep in mind that financial aid and student loans may help you access funds to help make up for lost income or investments and pay for college. If online classes are a concern, don't forget that they're probably temporary.
Many colleges are trying to offer a mix of online and in-person classes, and your student can always try to make the most of a difficult situation during their first year and hope that things get back to normal starting with their second year.
5. Preparing to Go to College
Many colleges seem like they're going to open in the fall and give things a go. But there's a lot of uncertainty about how all of this is going to work and what will happen if they need to shut down again.
This is why it's important to stay in communication with your college and stay on top of any new updates and developments. Things are changing rapidly, and you need to know what's going on so you can be prepared and follow any new process for going off to college.
Here are a few key things to be thinking about:
Summer Orientation
Since many campuses are still closed and may continue to be closed during the coming weeks and months, summer orientations are in question.
Some colleges may try to do orientation online instead of on campus. Others might offer orientation in the fall, before classes start.
Whatever happens, your student will need to take advantage of the opportunity. Pay attention and stay connected with your college for any news and updates on orientation. Things may change more than once, so make sure you're on top of this.
Dorms and Meal Plans
A big challenge for colleges will be figuring out whether they can safely house students in dorms and serve meals to thousands of students during COVID-19. Social distancing restrictions and COVID-19 outbreaks may prevents schools from allowing large groups to assemble or reside in close quarters.
This is why many colleges are planning to offer a mix of in-person and remote classes, while others may attempt to operate entirely online for the fall and maybe even the winter.
If your student is heading to campus and will be residing in a dorm this fall, you need to know how your school is planning to handle student housing and meals.
How will it work, what will it cost, and what will be the restrictions? How will it differ from what you were expecting before COVID-19?
Keep in mind that campuses might shut down again in the future, and they might move all classes online in the event of a virus outbreak or resumption of COVID-19 restrictions. You'll need to find out if there's a refund policy for housing and meals in the event this occurs.
Course Selection
Many colleges have students register for fall courses during summer orientation. But since summer orientation is now in question, you need to know how your student will register for freshman courses.
Will it happen online? Will there be an online summer orientation where you can register? Find out how your school will be handling course registration and plan accordingly.
Another key consideration is choosing courses that are online-friendly in case college doesn't end up starting in the fall or there's a future campus shutdown. For example, a lecture class is easily taught online, but a science class with a laboratory requirement is much harder to replicate via the web.
Find out how your college is planning to handle courses in the event of a shutdown, and keep these factors in mind as you choose your classes. This way, you hopefully don't end up with cancelled or incomplete courses that don't deliver the learning experience your student wants or needs.
Need More College Planning Help?
Hopefully this article has provided some good reminders of what you should be working on as your student plans to enroll in college this fall (or pursue a different plan).
However, if you need additional advice or need help figuring out how to pay for college and manage your family's finances at this crucial time, you can contact me now for professional college and financial planning guidance.