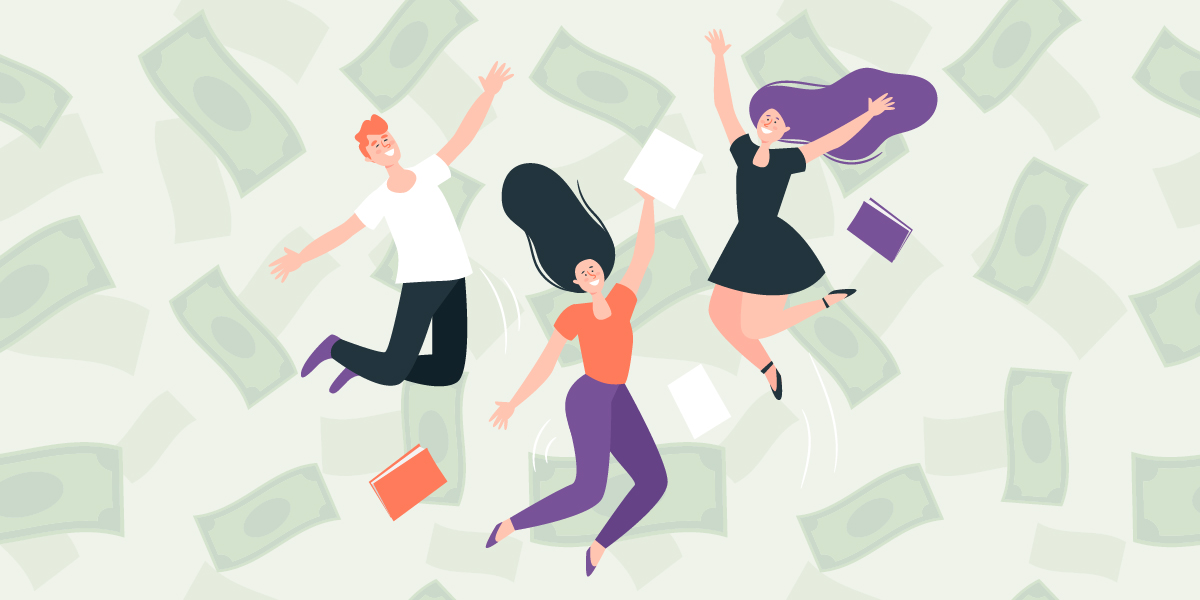 There's great news for students and parents who'll need to take out federal student loans to help pay for college. For the first time in three years, interest rates will decrease for new borrowers.
Here's a quick break down of the student loan rates we should be seeing soon from the U.S. Department of Education.
For new borrowers who take out loans from July 1, 2019 to June 30, 2020, I'm estimating that Federal student loan rates will be:
4.53% for Direct Loans (both subsidized and unsubsidized)
7.08% for parent PLUS Loans
These new rates represent a sizable drop compared to the previous rates for 2018-19, which were 5.05% and 7.6% respectively. The rate cuts represent a decrease of 10% for undergraduates and around 7% for PLUS loans.
How Do We Know Rates Are Going to Drop?
Federal student loan interest rates are tied to the U.S. government's cost to borrow. Each year, there's a May U.S. Treasury auction that determines the rates benchmark for the upcoming year. The rate set for a 10-year U.S. Treasury note is used as the basis for student loan interest rates for the coming year.
This year's auction resulted in a significantly lower yield than last year's, so we'll see student loan rates decreasing. If this sounds like gobbledygook, don't worry. The important thing to know is that it means rates will be going down for new loans for the 2019-20 school year.
What About Existing Borrowers and Loans?
Unfortunately, if you've previously taken out a federal student loan, your interest rate won't change. Your rate will remain the same. The new rates only apply to new money you borrow for the upcoming school year.
Does This Affect Private Student Loans?
No. Interest rates for private student loans are set by individual banks or other financial institutions. The new federal student loan rates won't apply to private loans. However, private student loan rates can sometimes be better than federal rates, depending on your credit and qualifications.
When Will the New Rates Be Official?
Normally the U.S. Department of Education announces new rates within a few weeks after the May Treasury auction, so we're probably just days away from an official announcement. Once the announcement is made, I'll be sending an update to my e-newsletter subscribers and will post the official rates at my website, Taming the High Cost of College.
Where Can I Learn More?
It's important to understand all types of student loans and their impact on your college financial planning. To learn more about federal student loans and other types of federal financial aid, you can read my article on the 6 Types of Federal Financial Aid.
It's also a good idea to get an estimate of how much your family will be expected to pay for college expenses, so you can determine whether you're likely to receive any financial aid and whether you may need to use student loans or find other funding sources. You can get started by using my Expected Family Contribution (EFC) Calculator.
As always, if you need help understanding student loans or you'd like to engage my services to help you develop a good college funding plan for your family, contact me now.
---
Want More Help with College Planning?
Subscribe to my free e-newsletter and get great tips and advice on how to plan and save more money for college, how to reduce your costs, and how to put your student on the path to a bright future.
You can also check some of my other helpful blog articles and resources below.
Helpful Articles
Learn the 5 key parts of a good college financial plan and how to get started.
Find out the 6 ways to pay college and the crucial things to keep in mind for each one.
Find out if the 6 types of federal aid are available to your family and what they mean for you.
Learn the 20 things virtually everybody should work on when planning and saving for college.
Don't make one of the biggest decisions of your life without reading this article.
More Resources
Enroll in my video course to learn the best ways to plan and save for college, lower your costs, and create a winning college financial plan for your family.
Calculate your need-based financial aid eligibility based on federal formulas.